Sláinte! Ireland, The New Album, And Beyond!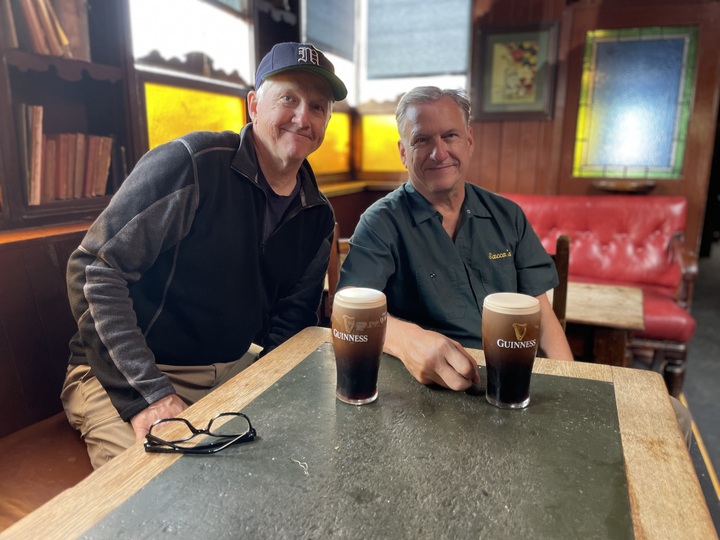 Sláinte—
That is the Irish word for "Good Health". It's generally blurted out when you're about to pour copious amounts of alcohol down your throat at a pub in Dublin. I've a added a picture here of my brother and I, pre-toast, at a pub in Greystone, Ireland. I've just returned from two weeks leading a tour group around this beautiful country, and I'm still floating.

It may be a genetic thing, since I have some kind of DNA roots in the British Isles. I haven't traced things specifically to a place or a headstone, it's more of a feeling. It's a love like you feel for home.

I guess we all have these places. And maybe they shift over the years— I have the same affinity for Big Sur, CA and Homer, AK but those are towns, and Ireland is a big wash, a whole country, that feels like home. It's beauty, it's overcoming of hardships, the general cultural role that music plays in the daily lives of people. I love all of that. I can't claim those things as my own, but my empathetic self kicks-in when I am gazing about the shoreline and I feel those things deeply.

And I loved being away. Traveling again! An airport. Who knew you could miss them?

The next two months are filled with shows in the United States— including this weekend at Jammin' Java in Vienna, VA and the Tin Pan in Richmond.
Tickets are available for both weekend shows at these links:
Jammin' Java: https://www.jamminjava.com/shows/ellis-paul-2/
Tin Pan: https://www.eventbrite.com/e/ellis-paul-tickets-342376857397
After those two dates I will be driving up and down the East Coast with Radoslav Lorkovic in the car to the palm trees in Florida and then NH, MA— where the colors will be changing to bright yellows and warm amber. Rad will be playing keys with me on the road for the first time in many years! We will be singing old songs and new! Laughing all along the way.

I hope you will venture out in the upcoming months and experience what live music will do for your soul.
Get boosted, and get out again!

Some further notes on the state of being Ellis Paul below—

MY LIFE AS A MUSICIAN
My life as a musician was threatened by the onslaught of COVID in 2020. That first day in March of 2020 when the world shut down and the cancellations came pouring in will haunt me forever. I was only half way through the cycle of promoting The Storyteller's Suitcase my last album.
But thanks to the support of a gracious and giving audience of PATREON supporters, and fans outside of that, I've been able to survive. Livestream shows like The Traveling Medicine Show, teaching songwriting over zoom, performing for gatherings over zoom, recording custom songs for people for anniversary's and birthdays etc.
Whew! I had to juggle a few balls in the air! But I've found more sanity being home doing all this. More time to write and do the things I love the most that are at the heart of my creativity and my business. Connecting to my art and the people that care about it is all I want to do.

I'm touring again, as are all musicians. But it's different. It's like playing in an alternate universe. The halls are often half full. But the people that do come show wild amounts of enthusiasm! Like they've been let out of their cages! The joy is almost blinding.

I have an older audience, I'm not sure my live performances will ever have the same numbers as before COVID. But I love playing live. I'll be balancing and juggling this path of being on the road and being home and on line, and doing things like livestreams, custom songs, leading tour groups around the world. And being home more, working, writing, and creating the most beautiful art that I can.

I just want to say thank you.

THE NEW ALBUM
I just put up a portable vocal booth in my studio. It's looks like one of those magician boxes where a lovely assistant steps in and is is made to disappear! Hopefully I will survive it! We are in the final stages of the new album and it is sounding beautiful. I'm so proud of it. In December, by Christmas, I will be releasing the digital version to everyone who contributed to the fundraiser and all members of my PATREON channel!
The hard copies will follow in the mail in the months after!
To join the fundraiser:
https://ellispaul.com/fundraiser/
To join PATREON! More cool stuff coming in the upcoming months!!
https://ellispaul.com/fundraiser/

VACATION TOURS AHEAD
Alaska Cruise Celebrating 30 Years as a Musician! With Don Conoscenti, Darryl Purpose and shows at Alice's Champagne Palace! May 2023
https://fanclubcruises.com/event/ellis-paulnorth-to-alaska


Ireland in 2023!
https://www.inishfreetours.com/tour_leaders/ellis-paul/

I hope to see you all sometime in person, or online face to face!
Very best—
Ellis