Ellis Paul Newsletter: July 4, 2022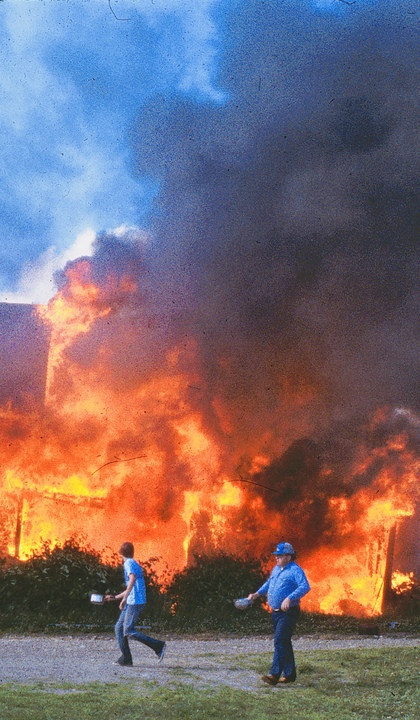 Happy Fourth of July—
I have so many good memories of the 4th of July...including the year my family farmhouse burned down during the 1979 annual family reunion. I wrote a song about it! Here is the video link for that song: https://youtu.be/KXKF9Y7B5f4

But that wasn't my favorite memory, although it was a doozy. My favorite memory of our Independence Day holiday was back many few years ago when I was scheduled to perform at the New Bedford Folk Festival. The emcee was about to announce my name when my phone rang. It was my sister calling to tell me my wife was going into labor, was and on her to way to a hospital in Brunswick, Maine with her parents in tow.

For some reason I still went on stage but told the waiting crowd that I had to go...that my wife was having a baby. I played one quick song then packed up my guitars and gear and headed for I-95. It would be a 3-4 hour drive.

Because it was the 4th of July and the sun was beginning to set, by the time I hit I-95 in Massachusetts, the towns on either side of the highway were beginning their fireworks display celebrations. They were huge. I was driving 80-90mph and wired with an adrenaline rush like none other I'd ever had through my bloodstream. The fireworks bursting outside my windows brought a surreal sense of joy, and made feel like in the middle of a movie of someone else's life. But it was mine, and I was having a kid! I was flying. Spiritually and literally— down the highway.

As the sun was setting, and the fireworks were growing brighter against a darkening sky I felt a greater sense of calm and hopefulness. I kept calling Sharon and my sister — I was gonna make it to the hospital on time.

I arrived around 10pm and Sharon was surrounded by a calming team of birth nurses. The hovered around her like bees around the Queen, and eventually in the wee hours of July 5th Ella was born.

Ella turns 18 tomorrow. She's heading to college in a month or so. And every time I see fireworks, I wish I could relive that night years ago, the rush up the highway to a hospital where I held her in my hands for the first time.

Lots of news to tell you!
The Album Recording & Fundraiser
I spent four days last week in Woodstock beginning the long prep was of recording this new album. It's called "55"- I'm loving the songs! If you'd like to support the project— and please do! Here's the link—

https://ellispaul.com/fundraiser/

30th Anninversary Cruise to Alaska!
To celebrate my 30th anniversary as a full time musician, I'm heading to Alaska and to Alice's Champagne Palace with musician friends and and a side trip to Homer!
Click here to come along!

https://fanclubcruises.com/event/ellis-paulnorth-to-alaska

Lots of shows below!
See you online or onstage!
Ellis
Upcoming In-Person Shows:
Details and ticket information for these and other upcoming in-person shows can be found at www.ellispaul.com/calendar
Thursday, July 7, SPACE, Evanston, IL
Friday, July 8, House Concert, Madison, WI
Wednesday thru Saturday, July 13-16, Woody Guthrie Folk Festival
Saturday, July 16, The Magnolia Moon, Guthrie, OK
Wednesday, July 20, The Loft at City Winery, NYC
Thursday, July 21, Club Sandwich, Sandwich, NH
Friday, July 22, Log House Concerts, Westport, MA
Sunday, July 31, Ossipee Valley Music Festival, S. Hiram, ME
Thursday, August 11, Kennett Flash, Kennett Square, PA
Friday, August 12, The Atlantic BKLN, Brooklyn, NY
Saturday, August 13, Passim, Cambridge, MA
Sunday, August 14, The KATE, Old Saybrook, CT
Saturday, August 27, Sterrett Center, Lawrence, IN (with Vance Gilbert)
Saturday, October 1, Jammin' Java, Vienna, VA
Sunday, October 2, Tin Pan, Richmond, VA
Thursday, October 13, House Concert, Lutz, FL
Saturday, Octobr 15, Cafe Eleven, St. Augustine, FL
Sunday, October 16, House Concert, St. James City, FL
Thursday, October 27, Flying Goose, New London, NH
Friday, October 28, The Music Hall, Portsmouth, NH
Saturday, October 29, The Fallout Shelter Studios, Norwood, MA
Thursday, November 10, The 04 Center, Austin, TX
Friday, November 11, Mucky Duck, Houston, TX
Saturday, November 12, The Blue Door, OKC
Friday, November 18, Me & Thee Coffeehouse, Marblehead, MA
Saturday, November 19, The Chocolate Church, Bath, ME
Friday, November 25, The Evening Muse, Charlotte, NC
Saturday, November 26, Eddie's Attic, Decatur, GA (2 shows!)