THE ROAD GOES ON THROUGH SOUTH ORANGE, AUSTIN, HOUSTON, TIMONIUM, DALLAS, PITTSBURGH, AND DAYTON!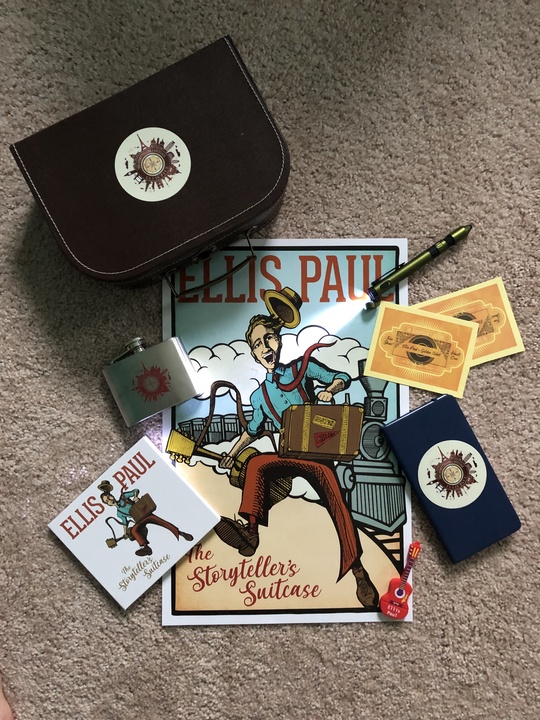 The Storyteller's Suitcase is here!

It's here! After a year of planning, recording, editing, designing and manufacturing, three thousand copies of The Storyteller's Suitcase arrived at my front door and they look spectacular! This, of course, means I will have them at ALL of my upcoming shows starting this weekend in New Jersey SOPAC! I truly believe this is the best collection of songs I've ever released, and I can't wait to share them with you. The CD includes ia 34-page booklet of drawings, lyrics and backstories to the songs.

The Fundraiser for the project ends April 1st! No fooling! We still have to raise funding for radio promotion and videos. Please help to keep my music singing out in the world by joining in the last week of the Storyteller's Suitcase Fundraiser here: Storyteller's Suitcase Fundraiser

The official release of the album is May, but you can order yours through the fundraiser until April 1st. After April 1st it will be available via my website storeit will to my website store.

If you have contributed to the Fundraiser, your shipments will be going out in the first two weeks of April. We are still waiting for your t-shirts to arrive! But the photo above is some of the swag available to you for contributing!

Thanks again for supporting my music over the years.

See details below about upcoming shows!
One note! The vacation excursion for week Monhegan Island in Maine still has rooms available! Seth Glier, Abbie Gardner and I will be providing music in the evenings at an historic Inn on the island. This is a bucket list destination with amazing food, lighthouse, craft beer, wine, incredible hikes and views and a lighthouse and a shipwreck to boot. If your looking for a summer get away for a week, join us! Click here for the adventure to begin: Roots on the Rocks
THE ROAD GOES ON FOREVER!
Who was it that said, "The road goes on forever, and the party never ends"? (Answer: Robert Earl Keen) Well, he was right! Over the next four weekends the party continues and I'll be hitting roads in the North, South, and East of these United States!
This weekend I'm heading to South Orange, New Jersey for a show at the South Orange Performing Arts Center. Tickets for the Saturday show (March 23) can be purchased online here: Ellis Paul at SOPAC
The following weekend, I'll be heading back to Texas! First up will be Austin with a return to the wild and wonderful Cactus Café on the campus of UT-Austin. Tickets for the Friday night show (March 29) show can be purchased online here: Ellis Paul at the Cactus Cafe
From Austin, I'll be heading to Houston for a return to McGonigel's Mucky Duck. If the weather complies, you'll find me sitting out on the patio, so stop by to say hello! Tickets for the Saturday night show (March 30) can be purchased online here: Ellis Paul at the Mucky Duck
From Houston, I'll be heading north to Dallas for a return to Poor David's Pub. Poor David's has been presenting live music for 42 years! Check out some trivia from those many years here: Poor David's Pub Trivia
Tickets for the Sunday night (March 31) show can be purchased online here: Ellis Paul at Poor David's Pub
The following weekend I'll be performing a show for Uptown Concerts in Timonium, Maryland (postponed due to inclement weather from March 8). Come on out to hear opener Lea – who is often compared to Tracy Chapman, Joni Mitchell and Ani DiFranco! Tickets for the Friday show (April 5) can be purchased online here: Ellis Paul at Uptown Concerts
And finally, the second weekend in April I'll be heading to Pittsburgh Cleveland (private show) and Dayton. Since the Pittsburgh show (Friday, April 12) is a recently-scheduled house concert, if you'd like to attend please e-mail Abby at radioabby1@yahoo.com. Due to limited seating, reservations are required. When you reserve with Abby, she will provide the exact street address.
Then it's on to Dayton, Ohio for a first-time performance for Brightside Music! Let's inaugurate this place together! Tickets for the Sunday night show (April 14) can be purchased online here: Ellis Paul at Brightside
TRUE FIRE UPDATE FOR SONGWRITERS!
In addition to touring, I've been working on my True Fire Song Factory course and recently launched Part Two: The Song Grows Up. Part Two continues where Part One: Birth of a Song ended and is where your song crafting skills and perspiration take over from the inspiration and passion that brought your song idea to life. You can purchase a disk or an instant download of Part Two here: Song Factory: The Song Grows Up
Songwriters, I strongly encourage you to check out my Song Factory Channel and become a subscribing member here: Ellis Paul's True Fire Channel
Hoping to see you out on the road!
Best,
Ellis