Jul 27 2011 - Ellis is coming to New York... THIS weekend!
Wednesday, July 27, 2011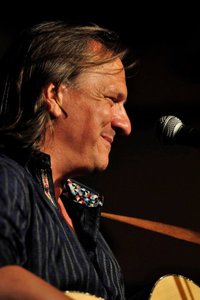 I do hundreds of shows a year, all over the country from Maine to Florida to Alaska. I bring the essential elementary aspects of the show, my guitars and the songs, and the various venues and settings change against the back drop of the performance.
But on occasion, the venue becomes a partner in the actual performance itself. The redwoods in Big Sur, the sailboats in Newport, the farmland in Falcon Ridge... but nowhere is the venue more a participant in the performance than at the incredible
Rubin Museum's Naked Soul Concert
series in New York City. I'm performing here Friday of this week.
The museum asks the artist to conduct the show incorporating the vision, philosophy, and soul of a piece of their artwork as the guiding narrative to the performance. In other words, I have to do my show through the filtered vision of a piece of Tibetan art that was created potentially hundreds of years ago. The piece is shown as a backdrop to the stage. I move from piano to guitar completely improvising the connection between cultures, religion, philosophy and art and my songs. Talk about your Mt. Everest's of tasks!
The show itself is done completely without a sound system, and thus becomes an intimate conversational performance on a beautiful sound-stage in an acoustically designed performance theater at the museum.
I don't often sell my own shows like this. Indeed, I'm playing to the sailboats at Newport the very next day, as it so happens. But, I wanted everyone to know how this show, every year, stands out amongst all others for how inspired it is, both for me and those who join us at the Rubin.
Hope to see you there..
My best to you all!
Ellis
Show details are the following:

Friday, July 29, 2011 7:00 PM
Naked Soul at the Rubin Museum of Art

150 West 17th Street
New York, NY 10011

Phone: 212-620-5000
website

Tickets: $25 advance, $30 door
For more information, visit the website or call 212-620-5000.

All-ages! Doors open at 6:30PM.