Dec 14 2011 - Ellis Paul proudly announces his new album, "The Hero in You"! (NOW AVAILABLE for order!)
Wednesday, December 14, 2011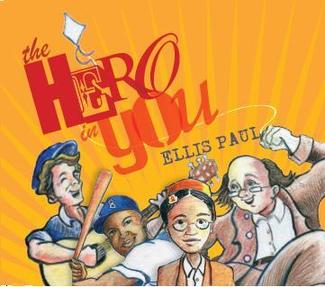 Happy Holidays!

I'm sitting at home in Charlottesville listening to the final master from mixing guru Flynn of our new family project, 'The Hero in You'. I couldn't be more proud of it. Especially now.

The last decade has been so hard on our national self worth. All the in-fighting, financial misdealings, recession, war, terrorism, and the out and out struggling to get by have taken their toll on all of us.

I spent the last year writing about people who made significant contributions to our culture and in doing so, helped to change the course of our country's future. Strangely, I started regaining some pride in the process. These people reminded me of how lucky we are to be living here, and that the opportunities here demand that we live boldly.


Nellie Bly, who became an example of female determination in a time when American women had few choices and opportunities for adventure, career, and social impact. She fought for women's rights, helped stop the mistreatment of mental patients by going under cover as one at a mental hospital, and captivated the world by racing around the circumference of the planet in 72 days. A world record!

Rosa Parks, who simply decided not to give up her seat on a bus and upended centuries of mistreatment and inequality. Such a simple act! So much drama and great change came after that.
Ben Franklin, who remains the man who affected us in more diverse ways than any other person in American history. As a politician, humorist, inventor, and printer, he not only steered the course of our entire country, but warmed us at home with his Franklin stove, and protected us with his lightning rod.

Chief Joseph, who knew when his tribe was displaced that fighting the government was suicidal. He chose peace, and won a moral battle that resonates even now.

There are many more on this recording. Rachel Carson, Tee Tot, Jackie Robinson, Martha Graham, Einstein, Edison, and more. Even my all time favorite hero, Woody Guthrie, makes an appearance.


Listen, if you enjoy my songs, even if you have no children in your life, I assure you this will be regarded as one of my most important and best received projects, and I believe you will enjoy it. And if you are an uncle, aunt, grandparent, teacher, Mom, Dad, you will connect with your favorite kid through this music in a way you never have before.

Happy Holidays to you all. I'm always thankful for being able to do this work. Thank you for supporting it in a way that puts a roof over my kids' heads and food on the table.

Bless you all!
Ellis
THE NEW YEAR BRINGS A NEW ELLIS PAUL ALBUM!
We're SO pleased to announce that Ellis is kicking off 2012 with his new family album, "The Hero In You"! The project serves as a follow up to "The Dragonfly Races", which was named to National Public Radio's 'Top 10 List' as well as winning a "Parents Choice Award".
Ellis crafted not only the songs, which are centered on true American heroes throughout history, but also all of the beautifully colored illustrations included on the album cover and in the album booklet.
"The Hero in You" is NOW AVAILABLE for Pre-order on Ellis' store - you can either visit www.EllisPaul.com or click
here
.
CLUB PASSIM & FIRST NIGHT!
Following tradition (this is the 15th year in a row!), Ellis will be playing four shows at
Club Passim
over the span of December 30th and December 31st, at 7:00 and 10:00PM each night. What better way could there be to ring in 2012?!
Opening for Ellis on the 30th will be
Peyton Tochterman
and on the 31st, the talented
Flynn
will open. Joining Ellis onstage for all 4 Passim shows will be the talented trio of
Radoslav Lorkovic
,
Michael Clem
, and
Don Conoscenti
. [Please note: These shows are selling out quickly, so we strongly advise you get your tickets in advance!]
Also on New Year's Eve, Ellis will be performing TWO family shows as part of the
First Night Boston
celebration. The shows will be at the Hynes Convention Center at 3:30 and 4:45PM, and will kick off the first release of tracks from "The Hero In You"!!
Finally, Ellis will play his first show of 2012 at
One Longellow Square
in Portland, Maine. The show starts at 7:30PM, and Ellis will once again be joined onstage by Radoslav, Michael, and Don, with Peyton Tochterman opening. If your New Year's resolution is to see an Ellis Paul show [HintHint], be sure to check out Ellis' tour page for full details for these and all other upcoming shows!
ELLIS INTERVIEWED BY WHERE MAGAZINE BOSTON
Ellis was recently interviewed by the Boston branch of
Where Magazine
! He discusses everything from the past and current Boston music scene, to his ongoing 20thAnniversary tour, to the release of his new album. Check out the interview
here
.
Happy Holidays!