Feature
DEC. 19 HOLIDAY SHOW!
Sunday, December 19, 2021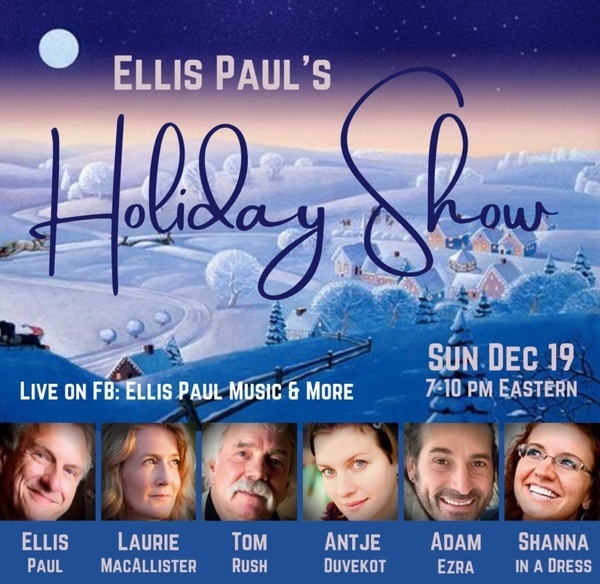 Ellis Paul's HOLIDAY SHOW!
Sunday December 19, 7-10 pm Eastern
Live on Facebook: Ellis Paul Music & More (www.facebook.com/ellispaulmusic)
Featuring this festive lineup!
Ellis Paul
Tom Rush
Antje Duvekot
Adam Ezra
Laurie MacAllister (of Red Molly)
Shanna in a Dress
Join Ellis at a star-studded gathering of musicians, at his annual livestream Holiday Show! Sing along to classic holiday songs in the coziness of your own home
This event is FREE, but tips are gratefully accepted at PAYPAL (www.paypal.me/ellispaulmusic) and VENMO (@ellispaul). Proceeds will be shared among the artists.
We wanna know who's coming to the party! Hit the "Going" button here: https://www.facebook.com/events/270415345124572
And please SHARE this Event—it's even more fun when your friends come too!
[ALSO! If you are a Patron of Ellis, you'll get a very special holiday audio recording. Join Ellis on Patreon for as little as $1/month at: www.patreon.com/ellispaul]