Feature
"Ellis Paul Essentials" is released!
Friday, October 20, 2006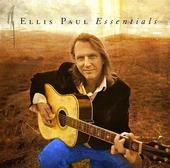 Ellis Paul Essentials was released on October 10th, 2006!
34 Tracks on 2 CD's Includes "Sweet Mistakes", "The World Ain't Slowin' Down", and "Conversations with a Ghost", plus 5 previously unreleased live tracks and 3 new songs.
Several new tracks from the Ellis Paul Essentials CD have been posted on MySpace. Simply click on the link below to add the songs to your own site and help spread the word.
Take a listen and let us know what you think...
Ellis Paul on MySpace
The Complete 2-Disk Track Listing:
THE FOLKIER CD:
1) Take Me Down
2) Paris in aDay
3) Maria's beautiful Mess (a new live in studio version)
4) Take All the Sky you Need
5) Home (a new studio version)
6) The Only Way
7) Midnight Strikes too Soon
8) Conversation with a Ghost
9) Eighteen
10) The World Ain't Slowin' Down
11) Snow in Austin (live from the Somerville Theater)
12) All Things Being the Same
13) Welcome home to Maine (a studio version)
14) If U Break Down ( a new studio version)
15) Angel in Manhatten
16) Did Galileo Pray (from the live album)
The ROCKIER CD:
1) Sweet Mistakes (from the cd sweet mistakes)
2) 3,ooo Miles (from Sweet Mistakes)
3) Black Top Train
4) Seventeen Septembers
5) Jukebox on My Grave (recorded in my kitchen)
6) Autobiography of a Pistol
7) Alice's Champagne Palace
8) Words (a new in studio version)
9) If She's the One (a new song produced by Flynn)
10) Deliver Me
11) The Martyr's Lounge
12) Roll Away Bed
13) She Was (live at the Somerville Theater)
14) She Loves a Girl
15) Speed of Trees (live from the boothbay opera House)
16) God's Promise (live from the boothbay Opera House)