Jun 20 2012 - Ellis Paul's Brand New Video! Plus Passim this Weekend & more!
Wednesday, June 20, 2012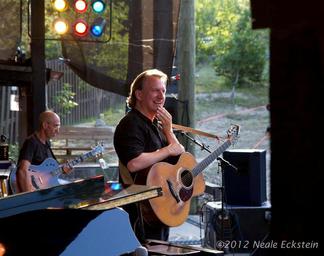 Hey y'all,

Summer is in full swing down here in Charlottesville, Virginia and the song machine is cranking up.

In the first piece of the good news, my guitar, Guinness, is back from a debilitating injury and I have been playing for hours each session getting reacquainted with it. I'm finishing the touches on songs for a holiday CD, and a slew of new song ideas are emerging for my next album project. I want to have the next batch of songs to feature more acoustic guitar and Guinness will play a major role in that. I plan to have the holiday CD available in November and a new album out sometime before next summer. We are also planning a fundraising campaign-- soon! More on that in later newsletters.

We have a new video for the children's CD, "The Hero in You' and the video features the title track. Adam Moyer, the producer, and his creative team did a great job of putting this together. We filmed at the historic Beacon Theater in Beacon, NY. We hope to have additional videos made for the other songs as well, if you are interested in making one, send it on to us!

The children's CD is doing wonderfully, with a recent GOLD award from the Parent's Choice Foundation, a nice feature on Amazon.com, and even a spot feature in the Mini- Page in 400 American newspapers. If you have any kids or even librarians and teachers in your life, please check the CD out and share it with them. I feel this recording should be in every home, classroom, or library that serves kids between the ages of 5 and 12. Help us make that happen!

Happy to be playing at Club Passim in Cambridge this week-- it will always be home to me. Come say hi if you live in the Boston area...

Lots of festivals and road trips as well this summer and a great teaching gig at the Swanannoa Gathering in Asheville, NC. Hope I see you all out there!

I'm in so much sun screen that I may be invisible for the entire summer.

Best to you!
Ellis
PASSIM THIS WEEKEND!
What better way to kick off your summer then with some great music?
Ellis Paul will be preforming TWO nights at Passim in Cambridge, MA this upcoming Friday, June 22nd and Saturday, June 23rd, as well as a special family show on Saturday afternoon. The shows will kick off at 7:00pm, with the family show at 3:30pm on Saturday.
Get your tickets ahead of time as these shows are sure to sell out!! You can
purchase tickets here
.
Special guest, Peyton Tochterman will be opening both evenings!
www.Peytontochterman.com
Ellis will be preforming songs off of his Parents' Choice awarded albums, "The Hero in You" and "Dragonfly Races" during his Saturday matinee. Have you checked out his Gold Parents' Choice award review yet?
Read it here
.
BRAND NEW VIDEO FOR "THE HERO IN YOU" -- GET THE FIRST LOOK HERE!
We are THRILLED to unveil Ellis' official new video for the title track off of "The Hero in You"! This video was shot in NYC and directed by renown director, Adam Moyer.
Adam started in the film business working on films: The Shawshank Redemption, Shindler's List, Batman Forever, Airforce One and other hit films. He has spent the last eight seasons producing and directing the Discovery Channel series, "American Chopper". As Co-Executive Producer, Adam has overseen one of the most successful shows in Cable TV history.
Before working on "American Chopper", Adam produced and directed documentary films, commercials and music videos and live concert DVD's including Ellis' DVD "3000 Miles" and Vance Gilbert's DVD, "And Now You See Him". Among the many videos Adam has directed are two Boston bands, The Push Stars and Bang Camaro.
Needless to say - we are lucky to have him on our team, and we LOVE the video he and Ellis have created... we hope you will too!
Official Video for "The Hero in You"