Feature
Monhegan Island Vacation with Ellis Paul, Vance Gilbert & Molly Venter!
Sunday, June 12, 2022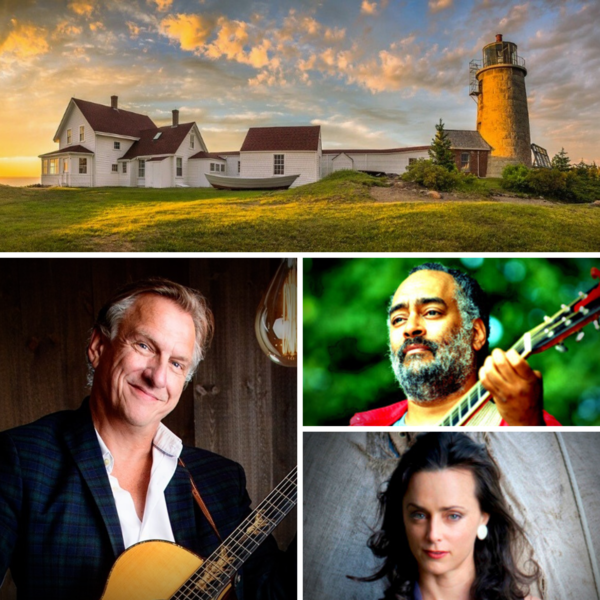 June 12-18, 2022. Click here for pricing and details: Roots on the Rails.
Join Ellis and friends at one of his favorite places on Earth: beautiful MONHEGAN ISLAND in Maine!
Join Ellis Paul, Vance Gilbert and Molly Venter for a vacation that will include nightly music on beautiful Monhegan Island in Maine! Details and pricing are here:
https://www.rootsontherails.com/upcoming-trips-2022-monhegan-island-me-with-ellis-paul-vance-gilbert-and-molly-venter
"We've had such incredible times here over the last few years - stunning scenery, great food, drinks and music every night- all in an environment that invites relaxation, reflection and re-charging of ones' batteries. The trio this year will be Vance Gilbert, Molly Venter, and myself - dear friends and the finest musicians and songwriters you can imagine! Please join us!" -Ellis Paul

Ten miles off the formidable rocky coastline of Maine, Monhegan Island with a year-round population of 65 hardy souls, has long been welcoming painters, hikers, birders, sea kayakers, and others in search of an unplugged, scaled-back escape. Accessible only by boat (we take the mail ferry over!), Monhegan boasts no paved roads, limited cell signal, and a commitment to careful stewardship of its natural resources and way of life. We made our inaugural trip out there in 2018 and the island sunk its hooks into us deep!