Feature
New England Songwriter's Retreat (NESR)
Friday, May 28, 2021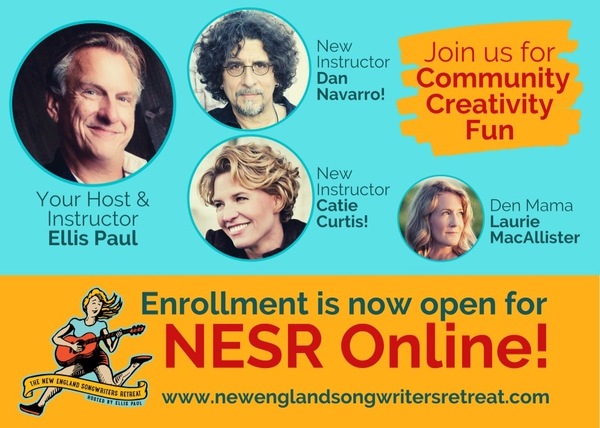 Yessssss! Enrollment is now OPEN for NESR Online!

Enroll here: www.newenglandsongwritersretreat.com

Laurie and I have been huddling together over the past few weeks and we're excited to announce that we're moving forward with a VIRTUAL version of the New England Songwriters Retreat! We're calling it NESR Online.

This will give us a chance to gather and learn with our incredible community, and put some wind in all our sails.

We will gather virtually (on Zoom) for classes, lectures, song circles and concerts over Memorial Day weekend (May 28-31).

I'm thrilled that master songwriter Dan Navarro has signed on as an Instructor! Dan has had a truly fascinating 30-year career in the music industry, most notably writing Pat Benatar's mega-hit "We Belong". He's like a brother to me, and I'm honored to welcome him into our NESR family.

All the still-unfolding details are here: www.newenglandsongwritersretreat.com

Tuition for the weekend will be $300 (or $400 if you add one-on-one mentoring).

To enroll, just PayPal $300 or $400 to this address: newenglandsongwritersretreat@gmail.com
IMPORTANT: Please Choose "Sending to a Friend" to avoid fees.

Space will be limited, so do enroll soon for this very special experience—a weekend full of creativity, inspiration and fun!