Feature
Sept. 4, 2019. Review of "The Storyteller's Suitcase" (Folking.Com)
Wednesday, September 4, 2019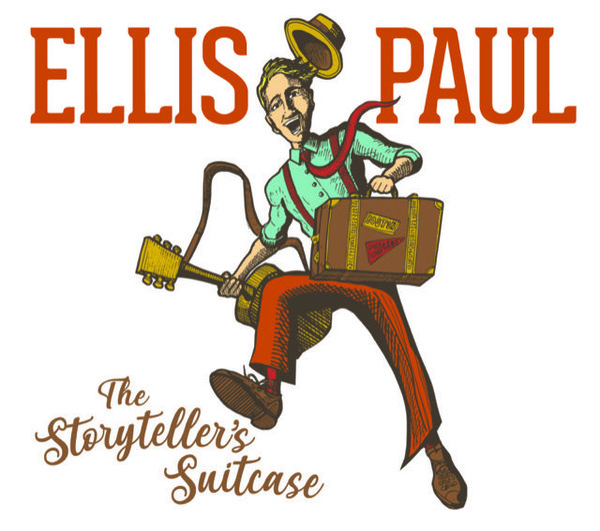 Originally from Maine and resident in Virginia for the past fourteen years, with nineteen albums to his name Ellis Paul (born Paul Plissey) was a mainstay of the Boston folk scene of the 90s, eventually burning all his music business bridges to do the DIY route thing on his own terms and in his own way, making music because he had something to say not because he had a contract to fulfil.
A melding of personal reflections and social commentary, he sits in the long tradition of troubadours and storytellers such as Paxton and Prine, offering intimate insights and biting observations on the life and world around him. There's a definite Prine lyrical sensibility to the first track, 'I Ain't No Jesus', a kind of celebration of your average blue collar stiff who can't work miracles but does the best he can with the life he has.
Inspired by a line from his girlfriend, Laurie MacAllister, while she was recording her own album, 'You'll Never Be This Young Again' (on which she provides backing vocals) is a lazing, swingalong melody set to a reminder to always do today what you might not be able to get round to tomorrow while 'Kiss Me Cause I'm Gone' is a road song ode to following your own highway wherever it might lead.
Looking outward, the piano-backed 'Scarecrow In A Corn Maze' unfolds the story of a combat veteran who returns home with PTSD and robs the local store, shot down by a cop who didn't know who he was, "just a soldier in a war no one could win". More pointedly and based on actual events, the fingerpicked country blues 'The Battle of Charlottesville' recalls August 12, 2017 when three people died and more were injured when right wing extremists demonstrated in his town against the removal of a statue of the Confederate General, Robert E. Lee.
Family plays a central part on the album. 'Five Alarm Fire On The 4th of July' playfully recalls a Plissey family bonfire party in 1979 that managed to set the farmhouse alight while 'The Innocence and the Afterlife' is an autobiographical account of his father's passing and how he explained to his daughter what happens after death, telling her of heaven and the Buddhist belief in karma, to which, reach for the tissues now, she replied "If I came back as a puppy would I belong to you?".
On a similar note, the equally poignant 'Heaven' was written as a friend's request to commemorate his late brother taken too soon and sung in his voice, while the theme of loss and making every moment count is at the heart of 'Mammoth', a number, again sung from the subject's perspective (frozen in the ice and contemplating being cloned and revived), that brings Harry Chapin to mind.
Elsewhere, the result of his work as a mentor, 'How You Say Goodbye' turns the spotlight on an upcoming songwriter called Kyle Hancharik in a song about love and baseball, 'Slingshot' recalls watching the moon come up over the Pacific Ocean while driving the highway with the woman he loves and the title track is, naturally, a celebration of those travelling weavers of tales and the characters they meet along the way.
The Storyteller's Suitcase ends on another political note, with a bluesy cover of Michal K Brown's 'Election Day' and its commentary on the current administration who've "been taking money from the oilmen/Money from the NRA", talking the talk but not walking the walk, a hopeful note that, next time America goes to the polls, that particular party might be over.
On the lyric book inside the fold out case, he's handwritten written "Every story needs someone who will listen". Be one of them.
Mike Davies for Folking.Com (U.K.)