Feature
Ellis Paul featured on Wikipedia Main Page!
Tuesday, May 15, 2007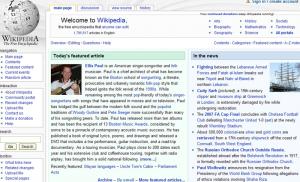 The Ellis Paul Wikipedia article has been selected to appear as Today's Featured Article on the Wikipedia Main Page on Tuesday, May 22, 2007. To put this into some perspective, as of this date there are:

1,785,823 articles in Wikipedia
1398 of those have achieved the rating Feature Article
94 of those Feature Articles are in the category Music
35 of those Music Feature Articles are biographies
(Only) 3 of those music biographies are folk musicians: Bob Dylan, Nick Drake and Ellis Paul.

Until now only one folk musician has ever been featured on the Main Page of Wikipedia: Bob Dylan - on May 17, 2004.

Congratulations Ellis!