New Album! 55!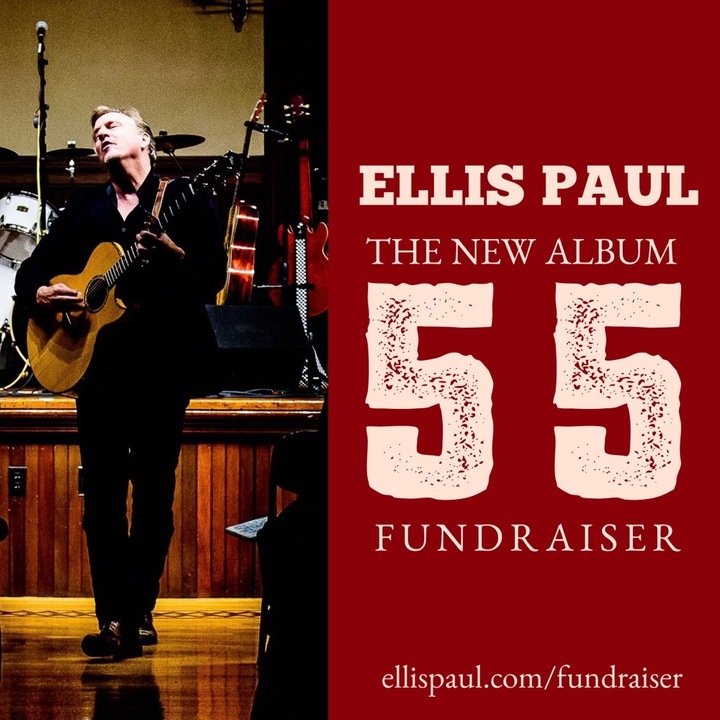 Hi Everyone,
Throughout the pandemic, I've been writing, recording, and refining songs industriously at home. I've written about thirty songs.

Because of the pandemic, there hasn't been an open window to release any of them properly to the world....to do a radio campaign. A Tour. Sell them from the trunk of my car. Take the music to the highway and sell it directly to you... face to face, eye to eye, at the merchandise tables at my shows. Shake your hand fearlessly. Give you a hug.

I also haven't generated enough income because of COVID to cover the costs of a new album project. Like many of us, I've been able to live month to month. The expenses of a new project are beyond me...manufacturing CDs and vinyl, a marketing campaign to radio and press, creating videos, design, and photography...hiring musicians as well as recording and mastering costs. And I've been at a loss as to how to move forward. I really can't even imagine how to begin without funding in place. So the moment is now, and I need your help.

These are hard times. For all of us. I've been lucky to have survived them already through the generosity of people who care about what I do, through my PATREON channel and livestream shows. Because you've all given so much for me, I'm going to try to give more music back to you, by creating a double album of as many of these songs as I can. A recording of 15-20 songs, inspired by The Beatles' White Album (which has 30 songs). I promise I won't put on a song like "Piggies". But I can't promise you "While My Guitar Gently Weeps" either. I'm only human. I want there to be 20 songs in keeping with the intervals of the album name "55". I turned 55 during the writing of this album. If I can afford vinyl, there will be 5 songs on every side. 55 pages in a CD booklet. The album will be officially released in 2023. The Beatles released the White Album 55 years before mine in 1968!

Here's the link to contribute to the new fundraiser:

https://ellispaul.com/fundraiser/

I will be celebrating the launch of the new fundraiser on my Traveling Medicine Show livestream on Facebook Live (and all other social media platforms) this coming Friday, May 6 at 8pm ET. You can tune-in at www.facebook.com/ellispaulmusic or on my YouTube channel, Twitch, etc.
I will sharing recordings, playing songs, getting your feedback and reactions to the songs and whether YOU think that they should make the album of not. I'd love to hear! Please join me!

And please share to friends and family!

Very best—
Ellis Paul

I'm on the road in the Northeast in May! May and June dates below! Hope to see you soon!
Thursday, May 12, Fruitlands Museum, Harvard, MA

Friday, May 13, Spire Center, Plymouth, MA

Saturday, May 14, The Parlor Room, Northampton, MA

Sunday, May 22, Godfrey Daniels, Bethlehem, PA

Friday, May 27, The Turning Point, Piermont, NY

Sunday, May 29, Stone Mountain Arts Center, Brownfield, ME (with Antje Duvekot)

Saturday, June 11, Bass Hall, Peterborough, NH

Sunday, June 12, Boothbay Opera House, Boothbay Harbor, ME

June 12-18, 2022, Monhegan Island Maine, Vacation
June 12-18, 2022. Monhegan Island, Maine!
Details and pricing information can be found
HERE.
May 26-June 2, 2023. Alaska!
There are discounts and perks for early bookings! All the details including pricing and itinerary can be found
HERE!