TONIGHT The Traveling Medicine Show! UPCOMING shows in Texas and the Northeast!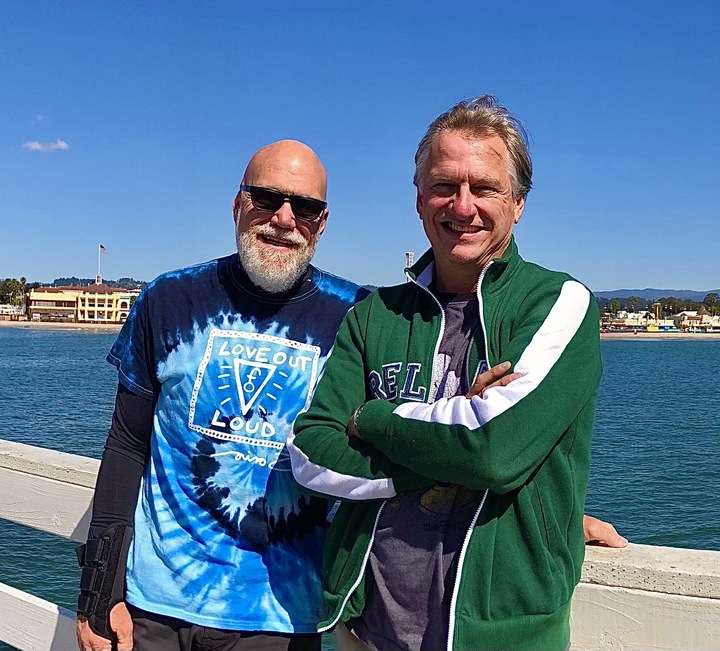 Hello friends—

In this photo, I'm standing next to the greatest black jack player on the planet.

I mean it. He's in the Black Jack Hall of Fame. He's got a plaque.

He also happens to be one of my favorite songwriters.

If ever a human being embodied the classic Kenny Roger's song "The Gambler" it's Darryl Purpose. His history of traveling the world for music and black jack games, by foot, by bike, by train, plain and automobile would give him enough frequent flyers to roll to Pluto and back. And the stories! God, his stories! All of them incredible— all of them true; playing in the newly opened Russia on stage with James Taylor, being arrested in a foreign country for sneaking a card counting machine in his shoes, his brushes with the law, casino thugs, the wearing of disguises, and partnering with a team of Halloween bedecked gamblers, walking and hitchhiking across the country, and then seeking a break from the utter chaos by following his heart instead of dollar signs into the gentle rooms of folk music fans across the country.

Those tales are just touching the surface of music and gambling. Then there's the stories of the temple of his body and his DNA, of sitting in a restaurant and being tapped on the shoulder by a doctor who says— "Forgive me for the interruption, but I specialize in the treatment of a specific kind of cancer and I can see by your appearance that you display clear symptoms of having it". Then seeing that doctor on Monday and confirming that an illness unknown to Darryl but that had brought years of difficult symptoms into his life had finally been discovered. And afterwards, how he found health and happiness and dropped 100 pounds through body care and intermittent fasting and by meditation. How he found out he had a father who had a separate family he never knew, and discovered these long lost sisters and brothers as adults. How he reconnected with his own daughter after having been separated and estranged from her in Russia and finally being lovingly reunited with her in her adulthood.

I think trying to explain himself— to gambling thugs, casino owners, customs agents, cancer doctors, newly discovered sisters and brothers, James Taylor, the police, his daughter, folk fans, and me and you had given Darryl the super powers of a great storyteller.

He is the master of essential information. Too much truth can be an overstatement. Can get you in trouble. Just tell the essential truth. Because telling the whole of it will put you in a prison in Jamaica for six weeks. Or lose your access to your daughter. Or leave you off stage humming "Fire and Rain" by yourself.

I'm going to be sitting with Darryl Purpose tonight! Tonight on my Traveling Medicine Show at 8pm ET on all my socials, but mainly on Facebook Live Ellis Paul Music and More and Patreon. We will sing songs, tell tales. Maybe we even play a game of Black Jack and show you how it's done.

Our theme will be "The Gamble of Nature"— we will be singing songs both popular and our originals that fall under that category. I hope you join us!

Friday Sept 3rd 8pm ET - Ellis Paul's Traveling Medicine Show
https://www.facebook.com/ellispaulmusic
https://www.patreon.com/ellispaul

MORE NEWS:

TEXAS SHOWS

I'm at a difficult position today. I've got to promote shows for next week's performances in Texas, a state that is has recently moved completely backwards on reproductive rights and Covid issues. I have two shows planned at two beautiful venues in Houston and Austin. There's also an increase in Covid there. I've had calls to boycott the shows based on Texas politicians doing what in my mind is criminal maneuvering. These venues are hanging by a thread already, and most of you know because I travel in folk circles, the vast majority of the patrons coming to my shows are like-minded left-leaning folks, as I am. I do have contracts and relationships in Texas and its great venues. I'd hate to burn bridges at a time when venues are struggling.

These Texas shows have limited access. Check the venue for Covid requirements. They both are limiting seating so there will be very small crowds. I'm fully vaccinated.

And rather than cancelling these shows, I will be donating the profits to Planned Parenthood in Texas. I'm hoping the state will come round again.

Special opportunities below— check out upcoming dates!!
Many thanks—
Ellis


SPECIAL OPPORTUNITIES

Hire Ellis Paul for Private Shows! Online or In-Person for your business, family, or friends! Write us at ellispaul7@gmail.com

One-on-One Mentoring for Songwriting and Creativity. On zoooom: Write us at ellispaul7@gmail.com

A Song for Hire— Ellis will write, arrange, and record a custom song for your event, loved ones, or business— Write us at ellispaul7@gmail.com

TOUR SCHEDULE
Each venue has its own set of rules for Covid— please check their websites for their rules of conduct. I am personally vaccinated and will be boostered soon as well.

Saturday, September 11th, 2021 7:00 PM
McGonigel's Mucky Duck
2425 Norfolk St.
Houston, TX. 77098
website: https://www.mcgonigels.com/
Tickets at this LINK.

Sunday, September 12th, 2021 8:00 PM
The 04 Center
2701 Lamar Blvd.
Austin, TX 78704
website: https://www.04center.com
Tickets available HERE.

Friday, October 8th, 2021 8:00 PM
Caffe Lena
47 Phila St.
Saratoga Springs, NY 12866
website: https://www.caffelena.org
Tickets available online HERE.

Saturday, October 9th, 2021 11:00 AM to 2:00 PM
SONGWRITING WORKSHOP
Caffe Lena
47 Phila St.
Saratoga Springs, NY 12866
website: https://www.caffelena.org
Details and registration linked HERE.

Sunday, October 10th, 2021
BLACK BEAR AMERICANA MUSIC FEST
116 Old Middle St.
Goshen, CT 06756
website: https://www.blackbearmusicfest.com
Located at the Goshen Fairgrounds. Additional details TBA.
Tickets at this LINK.

Saturday, October 16th, 2021 11:00 AM
FAMILY SHOW!
TCAN - The Center for the Arts in Natick
14 Summer Street
Natick, MA 01760
phone: 508.647.0097
website: http://www.natickarts.org
Tickets available at this link: Ellis Paul Family Show

Saturday, October 16th, 2021 8:00 PM
TCAN - The Center for the Arts in Natick
14 Summer Street
Natick, MA 01760
phone: 508.647.0097
website: https://www.natickarts.org/performance/ellis-paul-2021-06-11
Tickets available at this link: Ellis Paul at TCAN.

Thursday, October 21st, 2021 7:30 PM
UPTOWN CONCERTS
Kelsey's Restaurant & Irish Pub
8480 Baltimore National Pike (Normandy Shopping Center)
Ellicott City, MD 21043
website: https://www.uptownconcerts.com
Tickets available at Brown Paper Tickets linked HERE.

Saturday, October 23rd, 2021 6:30 PM
Jammin' Java
227 Maple Ave East
Vienna, VA 22180
website: http://www.jamminjava.com
Doors at 5pm. Tickets available HERE.