The BIG Day is HERE! Today!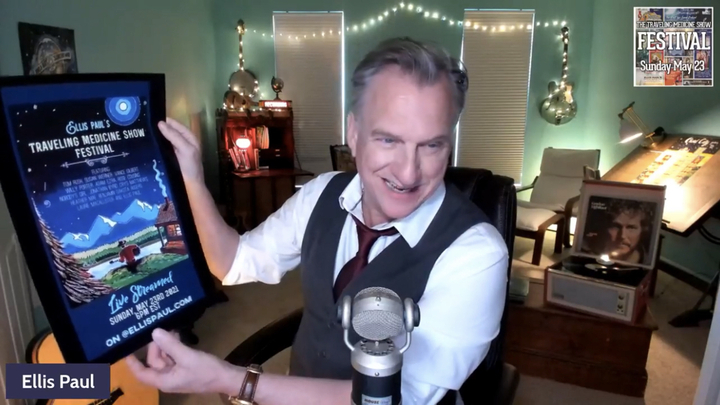 Tonight...Sunday May 23 starting at 6pm ET Ellis Paul's Traveling Medicine Show celebrates its One-Year Anniversary with an online multi-stage festival! This will be the very last Traveling Medicine Gathering for the foreseeable future...the show is going on a hiatus after today! Thank you for tuning in during the pandemic.
The weekly Traveling Medicine Show has had a remarkable run that has helped to keep over fifty folk musicians going by sharing their music throughout the year. To celebrate we have brought together some of the finest artists in North America.
Tonight's festival is sure to be one of the brightest collection of folk artists for the year! Tonight's line-up includes legendary performer Tom Rush and Juno Award winner Rose Cousins and many more!
Purchase Tickets here: https://www.tribalmischief.com/traveling-medicine-show-festival
You will choose your ticket and/or purchases on the first screen. After you make your selections, you will see a red icon on the bottom right-hand corner showing your cart and total cost. Click there and it will take you to the second screen. On the second screen you will see the words Enter a Promo Code. If you are a Patreon member, click there to enter your Patreon discount (promo) code. (Patreon members received discount code(s) in an e-mail sent earlier this week.)
If you can't make it tonight no worries! The content of the entire Festival will be archived for several weeks so if you miss the show tonight you'll have plenty of time to catch up with what you missed! Multiple stages for performances and interviews, live chat areas with the crowd, and additional artists including:
Crys Matthews
Vance Gilbert
Laurie MacAllister
Benjamin Dakota Rogers
Heather Mae
Nobody's Girl
Willy Porter

Susan Werner
Adam Ezra
Jonathan Byrd
and YOURS TRULY!
Come be part of the Festivities! Hope you will join me tonight!
Ellis