Big Day Today!
I am so happy to officially announce The Traveling Medicine Show Festival being live-streamed on Sunday, May 23 at 6pm.

Over the course of the pandemic, both to stay connected and maintain my sanity, I have hosted a themed show on Facebook with a special guest called Ellis Paul's Traveling Medicine Show. I featured some of the best songwriters in the country on the show every week and I have used themes during the shows to generate song selections for both me and the guest. These have always taken the edge off the pandemic for me— the songs often are travel-related and being joined by a friend makes the show like a chance to catch up in public...like we are riding on a ship to some destination and a group of people are listening into our conversation.

It's been a great way to visit with friends, learn new music, and create a weekly touchstone for fellow musicians and fans alike.

To celebrate the one-year anniversary, I am hosting a multi-stage live stream festival featuring an eclectic group of legendary performers including Tom Rush, Willy Porter, Susan Werner, Vance Gilbert and more (check out the poster!) for a night of incredible music and stories! Tickets are quick and easy to get!

More on the Festival as we get closer to the date! The press release with all the details and ticket information is below! Certain ticket packages will receive a digital copy of this festival poster created and designed by yours truly: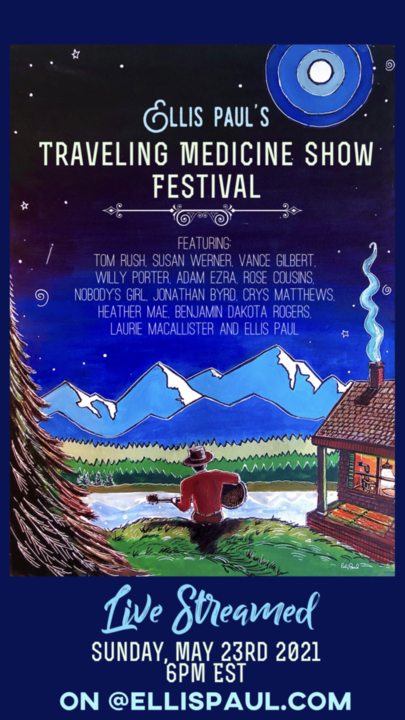 TRAVELING MEDICINE SHOW FESTIVAL POSTER
I hope you'll join me on May 23!
Ellis
Ellis Paul Traveling Medicine Show Festival is an online festival celebrating songwriters, taking place on Sunday, May 23, from 6-10pm ET. The Festival will be fully interactive with live chat, and will feature two stages with a dozen performers including Ellis, interviews and performances. Tickets are on sale now, starting at just $25 USD at this link:
TICKETS - TRAVELING MEDICINE SHOW FESTIVAL
Featuring performers:
Tom Rush

Susan Werner

Vance Gilbert

Adam Ezra

Willy Porter

Rose Cousins

Jonathan Byrd

Nobody's Girl

Heather Mae

Crys Matthews

Benjamin Dakota Rogers

Laurie MacAllister

Ellis Paul
Over the past year, Ellis Paul has been hosting a successful weekly live-stream show celebrating songs and songwriters and featuring some of North America's greatest traveling tunesmiths. To celebrate the 1st Anniversary of The Traveling Medicine Show, Ellis is hosting a live-stream festival featuring a collection of some of his favorite artists.
Ticket Packages:
$25 Digital Ticket:
Access to the entire Festival, including both performance and interview stages

Access to chat
$40 Digital Celebration Ticket:
Everything from the Digital Ticket

Custom Artwork Poster

Custom Schedule Poster ll Artists' Festival Posters

Digital Album (collection of songs from Festival Performers)
$125 Home Festival Kit:  (LIMITED to 50 - Expires May 14th)
Everything from the Digital Celebration Ticket

Festival Suitcase

Storyteller's Suitcase Journal

USB Album Key (Collection of Festival performer albums)

Storyteller's Suitcase Flask

Shipping Included (only to USA & CANADA)

Festival Postcard
$225 VIP: (LIMITED to 10 - Expires May 14th)
Everything from the Home Festival Kit

Guest Pass for two to a future Ellis Paul show

Live appearance to ask TWO questions of artists during the festival during the interview
The festival will take place on ellispaul.com. All ticket purchasers will receive a purchase confirmation email. Within 24 hours of the show's start, a second email will be sent with an access code which is what purchasers will enter to watch the Festival on May 23rd. If you are purchasing multiple tickets, please specify one individual email address per ticket. Please check your spam or junk email folders if you do not receive a confirmation email immediately after purchase.
Ellis Paul Patreon supporters were sent discount codes for tickets. Check your Patreon messages.