Take a Listen to a Few New Songs
Monday, January 5, 2009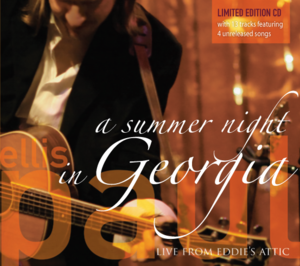 A Summer Night in Georgia- Live at Eddie's Attic Now on Sale!
Eddies Attic in Decatur, GA has long been one of the corner stone venues in my touring life and I have more fond memories here than anywhere I have played over the years. I am excited to release a new live CD recorded at Eddies Attic this past August! The CD is now on sale. This is a limited pressing and once they're gone ... that's it!

The recording was made before a wildly enthusiastic crowd and features live versions of a few new songs I am recording for the next studio album; "Hurricane Angel", "Once Upon A Summertime" and "Waking Up to Me".
Click Here to Purchase the CD
Visit Eddie's Website
Click Here to Sample the New Songs