Ellis Paul Newsletter: Oct. 22, 2021
Hello Everyone!

Tonight's Traveling Medicine Show on Facebook Live will be very special, as my dear friend, the extraordinary songwriter Antje Duvekot joins me.

The first time I heard Antje Duvekot perform was at the legendary Tin Angel in Philadelphia around 2003. A little shoebox of room with a long climb up the stairs. She was opening for me that night and had wandered back stage asking for a tuner. There was something quirky about her. How she was dressed. She had crazy hair. Sparkled makeup. A bit of shyness. She could barely make eye contact. There was something elfish about her. Otherworldly. Like she had just stepped out of the woods.

Because of this, I was curious. I made sure I caught her opening set, and sat beside the stage as she stepped into the lights. Her voice was beautiful. The guitar sounded like a harp. She had miraculously become a swan from the green room to the stage. She was taller, her cheek bones had risen, her eyes had bloomed.

She played "Jerusalem" and "Judas" and my imagination lit up as the imagery of the song flowed through me. Her songs were like a movies narrated with an honest believability in her voice. A combination of innocence and authority. Like a child who's lived a thousand lives.

Her use of language and sensory metaphor was astounding. Unbelievably, English is her second language. As the set unfolded, I realized she had a greater gift as a writer than anyone I had ever seen open for me.

I love songwriting. I love the art form, and I love those who aspire to be great at it. The art form is more important to me then fame, hits, money, or any kind of shallow success defined by dollars or spins or video hits. Songs are like paintings to me, or short stories. I want to be taken somewhere and emotionally altered by hearing them. That is solely how I define what a great song is. Antje is one of the best.

After the show in Philly, I called my management team and told them I wanted to take her under my wing. She came on board with them, and we toured for two years around the American highways, sharing great adventures and audiences. And friendship.

She is still one of my favorite songwriters, and I hold her in the same spotlight as heroes of mine such as Joni Mitchell and James Taylor.

Join Antje and I for a discussion on creativity TONIGHT, Friday, Oct 22 on the Traveling Medicine Show! We will talk about life, creativity, and surviving as a musician in a crazy world!

Ellis Paul's Traveling Medicine Show
"When Lightning Strikes" with Special Guest Antje Duvekot
Friday Oct 22, 8pm ET
On FB Live Ellis Paul Music and More and other social media sites!

Don't forget the amazing Halloween Bash on Sunday, October 31! There will be many special guests including:
Dan Navarro
Vance Gilbert
Rebecca Loebe
Michael Clem
Laure MacAllister
Alice Howe
Don Conoscenti
Seth Glier
Darryl Purpose
And possibly others!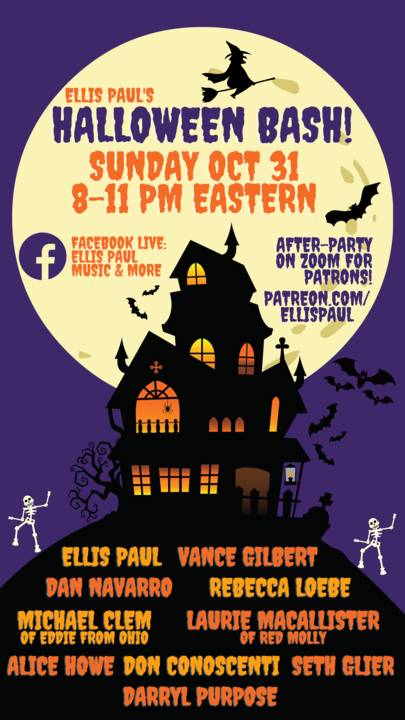 Lots of live dates coming up too so check out these upcoming shows! I may be in your neck of the woods! Please try to come out and support live music! Details and ticket information can be found at www.ellispaul.com/calendar
Saturday, October 23, Jammin' Java, Vienna, VA
Sunday, November7, The Depot, Norman, OK
Friday, November 12, Woody Guthrie Center, Tulsa, OK
Friday, November 26, The Evening Muse, Charlotte, NC
Saturday, November 27, Eddie's Attic, Decatur, GA (2 shows!)
Sunday, November 28, Sundilla Acoustic Concert Series, Auburn, AL
Wednesday, December 29, Club Passim
Thursday, December 30, Club Passim
Friday, December 31, Club Passim (2 shows!)
Saturday, January 1, One Longfellow Square, Portland, ME
I hope to see you tonight!
My best,
Ellis