Shows with Laurie MacAllister (of Red Molly) this weekend!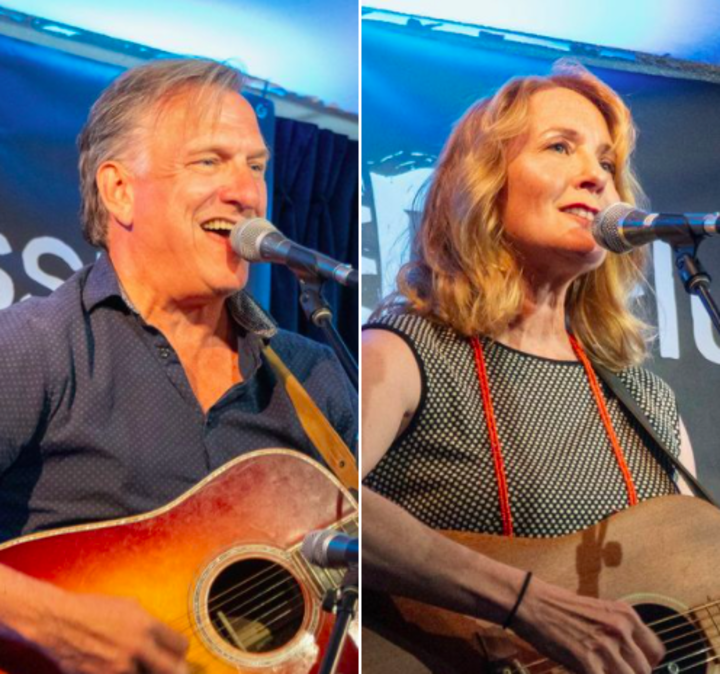 Hello everyone:
I've had a challenging day. I spent the morning packing for this weekend's shows and I spent the afternoon running back to my daughters, because there was a threat against their school today, via social media. The police came, reporters, and a steady stream of parents to take their kids home in the middle of the day. It was hard enough living through the last year and a half with remote learning, and now we have these threats the moment kids are back in class again. The turmoil continues and I feel for them. It was so much easier for me in high school. I texted both of my daughters to change from heels to sneakers and that I would be there in twenty minutes. I was driving there asking myself, "Why do we have to go through this?" I don't want them to be under this kind of stress and I also don't want them to be versed in what happens in school shootings, but it turns out they are.

We have a long trip to normal in front of us. I keep thinking we can make the world a better place, but all around me I see obstacles. Music that addresses reality does make a difference. It can educate, inspire, and help unite people. I know this because it's affected me, changed me, and helped me understand problems better than I could otherwise.
I'm comforted to be back out on the road this weekend, making music. My wheels are pointed north, and I'll be rolling up the highways today for concerts in Beacon, NY on Friday and Natick, MA on Saturday. October is the first month in a over a year and a half with a steady stream of live shows. Thank God. I could use some laughter and applause. This weekend's shows are at two of the cornerstone clubs on the American folk circuit: The Towne Crier and The Center for Arts in Natick. Just think about the rooms for a second—the sensory experience of a live audience. The sounds of laughter, the crack of applause, and the kinetic energy in the air. I've missed it so much. I'm reminded of different times.
I'm happy that it's one of those rare weekends when I'll be joined by Laurie MacAllister. She'll open the shows, and will also dress up a few songs in my set, with her beautiful voice.
These shows are a way for me to shake off the rust, get my social skills in working order again, and to get used to being back under the bright lights.
Fall is blooming, colors emerging. It's my favorite time of year to travel. The world is opening up door by door, venue by venue, home by home! I'd like to thank you for the love and support along the way. I hope you'll venture out again to these places below. I'm just getting started with the in-person shows—NY and MA this weekend, MD and VA next weekend, and I'll be playing a show near you soon! For safety and sanity, the in-person venues have Covid precautions in place—proof of vaccination or a negative test.
And the streaming shows will continue including a HALLOWEEN BASH with lots of Special Guests, including Vance Gilbert, Laurie and many more.
Thanks for listening today—
Ellis

FRI OCT 15 @ 8 pm
The Towne Crier
379 Main St.
BEACON, NY
Laurie MacAllister opens!
TICKETS: 845.855.1300

SAT OCT 16 @ 8 pm
TCAN - The Center for the Arts in Natick
14 Summer Street
NATICK, MA
LaurIe MacAllister opens!
TICKETS: https://www.natickarts.org/performance/ellis-paul-2021-10-16

THU OCT 21 @ 7:30 pm
UPTOWN CONCERTS
Kelsey's Restaurant & Irish Pub
8480 Baltimore National Pike (Normandy Shopping Center)
ELLICOTT CITY, MD
TICKETS: https://www.brownpapertickets.com/event/5134697

FRI OCT 22 @ 8 pm
Ellis Paul's TRAVELING MEDICINE SHOW!
w/ Special Guest ANTJE DUVEKOT
Facebook Live, YouTube, Twitch, etc.
https://www.facebook.com/ellispaulmusic

SAT OCT 23 @ 8 pm
Jammin' Java
227 Maple Ave East
VIENNA, VA
TICKETS: https://www.jamminjava.com/shows/ellis-paul/

FRI OCT 29 @ 8 pm
Ellis Paul's TRAVELING MEDICINE SHOW!
w/ Special Guest TBD
Facebook Live, YouTube, Twitch, etc.
https://www.facebook.com/ellispaulmusic

SUN OCT 31 @ 8 pm
Ellis Paul's TRAVELING MEDICINE SHOW - HALLOWEEN PARTY!
Facebook Live, YouTube, Twitch, etc.
w/ Special Guests Laurie MacAllister, Vance Gilbert, Rebecca Loebe, Seth Glier, Alice Howe, Michael Clem, Darryl Purpose and more!
https://www.facebook.com/ellispaulmusic