Ellis Paul Newsletter: Sept. 7, 2021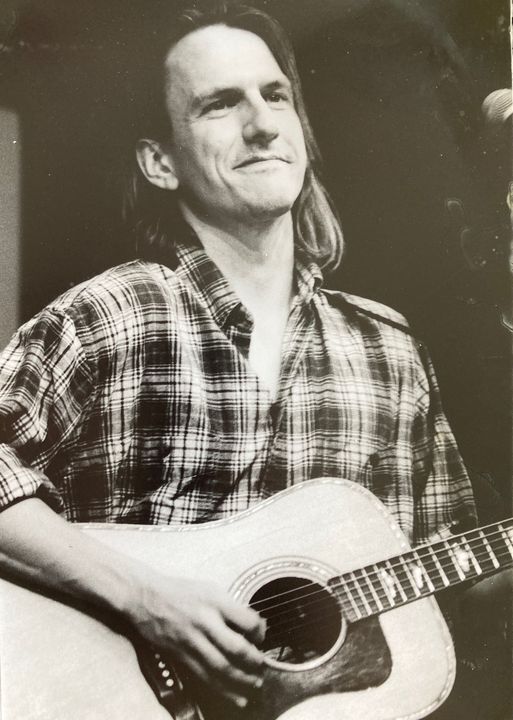 I'm playing in Houston on September 11 and in Austin on September 12. There has been some heavy talk online, demanding that I boycott playing Texas because of the political situation, and recent backward-moving legislation on women's reproductive rights.
I am very angry about the bullshit happening in Texas and elsewhere. The guy pictured here (at the Kerrville Folk Festival in Texas), the younger me, would never have believed this is what 2021 would look like.
But, I won't be canceling these shows.
These are venues that I care about. In the case of The Mucky Duck, I've had an important long-standing relationship with the owners, who are my friends. I love these people. I cut my teeth on that stage over twenty years ago and have played there dozens of times since. Venues have been struggling for a year and a half to open their doors. These clubs have had no involvement in the idiotic votes of the members of the legislature.
This is folk music! The vast majority of people in attendance at my shows lean in the same political direction as I do. They are fans and supporters of mine, and I don't want to boycott them either. I think we could use each other's company.
I occasionally write and sing songs that could be called "political". I will continue to do so, despite the risk of upsetting those who don't have the same belief system. I will be donating my proceeds from these two shows to Planned Parenthood in Texas. I've gotten disgruntled mail about this decision as well. So be it.
The shows will be lightly attended, which is good for Covid safety, but not so good for earning a living. Only 17 tickets have been sold in Austin. Proof of vaccination or a recent negative test is required. Both venues have taken appropriate Covid safety measures.
If you'd like to watch the shows online, you can buy a ticket for that, too!
By the way—I really want to take a long drive. So that's what I'm gonna do. Given Covid, it feels safer than flying anyway. I want to see a highway, I want to listen to a podcast, and listen to the best driving music a human can find. I want to roll down the window, and sail through Virginia and Tennessee and Louisiana and see the plains in Texas. And think about life, my songs, and breathe the air at 70 mph. A year and a half ago, the Covid emergency brake was thrown, and all of our lives came to a standstill. My anchor was abruptly dropped. I'd been anchorless for thirty years. My life has been guided by the mast, not the anchor. So, deep breath. I need to pull onto the open road. I want to hear some laughter and applause. Even from 17 people.
I'm double-shot vaccinated. I'm gonna roll!
And I'd love to see you there!
IN-HOUSE AND VIRTUAL TICKETS:
Ellis Paul
Saturday Sept 11 @ 7 pm Central
(Houston, TX)
Ellis Paul
Sunday Sept 12 @ 8 pm Central
(Austin, TX)
And good news for my PATREON supporters at the $10/month and up tiers! Check your Patreon internal messages for an invitation from me to watch the Sunday night show at The 04 Center online for FREE.
Sending love to you all!
Ellis