Website Sale!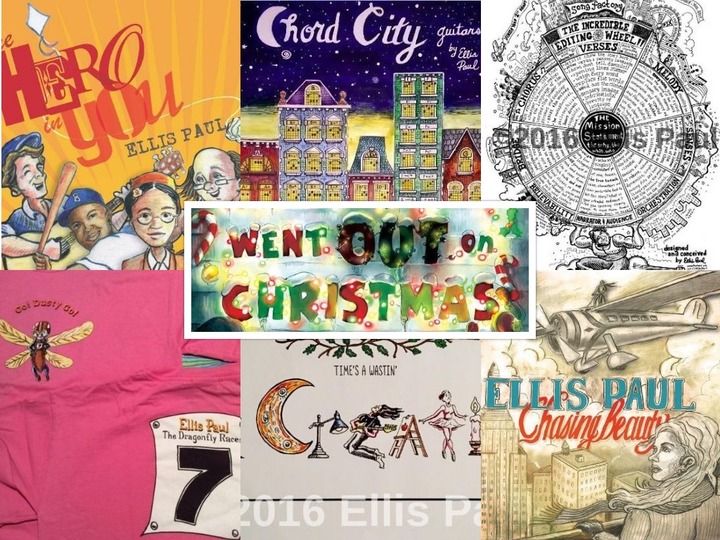 Happy Thanksgiving!
I'm in a little cafe in Woodstock, NY sipping a cup of coffee and prepping myself for another day in the studio. There is snow on the trees, a grey sky suggesting coming rain, and the clatter of dishes being washed. No one else is in here. The record is almost done! I drove twenty hours from Oklahoma to be here, and the final touches should be completed in December. As always, please consider helping with its creation at the fundraiser here: Ellis Paul Fundraiser.
I live a strange life— lots of long moments of isolation in a car, hotels, and then a rush of people pouring into my day. I thankful for all of it. This past week I recorded two live shows at one of my cornerstone venues, The Blue Door in Oklahoma. The crowds were loud and quiet in all the right places. Bottles clinked, people shouted out responses and requests, and sang along at the top of their lungs.
I then spent a week in Tulsa working with over 400 boisterous kids in elementary schools— writing songs with them and teaching them my material in my children's book The Hero in You. Most of the kids were from homes that have never experienced live music in the way I was presenting it. I watched a couple of them get teary when I sang "This Land is Your Land." Because it is beautiful. Not because it was me, but because they'd never heard a voice sing over a guitar in front of them. I've had many moments when music has brought to tears to my eyes, more than I can remember— but I was witnessing it happening to someone for the first time, and I was the cause. I get paid to do these outreach services, but sometimes I feel like I should be the one paying.
Tulsa is going through a dramatic renaissance because one man, a billionaire oil man by the name of George Kaiser, is investing billions of dollars into the city. He has started educational programs for battered women, starving artists, and upstart business people. He built two incredible city parks— and I mean they are two of the best public places I've ever seen. He bought the archive and built the Woody Guthrie Museum. He did the same with Bob Dylan's catalogue and a museum will soon be built to honor Dylan as well. He created incentive programs for people to move to Tulsa for their work with a $20,000 stipend to fund the year. He is single-handedly restructuring the city around concepts of education opportunities, cultural renaissance, and a better living space. He's taking care of his own.
I was invited into the Bob Dylan archive to review some of its highlight pieces. I walked around the place with John Doe of the punk band C and we were both on a cloud. Here were Dylan's leather jacket from the moment he plugged in at the Newport Folk Festival. The tiny little notebook filled with his minute script with all the lyrics to the entire album Blood on the Tracks. A recording of him singing with a weathered scratchy blues song when he was a teenager named Bob Zimmerman. The fact that Tulsa should house and care for both Woody and Dylan's life's work will make it a must-see destination for fans, researchers, and music lovers from all around the world. If you want to relocate your life, this wouldn't be a bad choice for a destination.
The holidays are closing in! I've got my annual end of the year shows starting this weekend in North Carolina and Atlanta, and culminating with New Year's Eve shows at Club Passim in Cambridge and at One Longfellow Square in Portland. It will be amazing to close out the year with you!
AND…I hope you'll take advantage of the Black Friday holiday sale now on my website - children's books, CDs, posters, EVERYTHING - all on sale at 20% off your total order! Good time to fill the stockings! Simply enter the discount code BLACKFRIDAY when you check-out. The Black Friday sale begins TODAY at 3pm EST and will end at 3pm on Christmas Eve. Many of you have asked when my Christmas book "The Night the Light Went Out on Christmas" would be back in stock….and I am happy to report that it is!! Each copy of the book includes a copy of my holiday CD City of Silver Dreams!
We've sold some of the last remaining Chasing Beauty t-shirts over the last month or so. The men's sizes are all gone but one, but there are still a few left in ladies sizes and are available for only $8. Here's what remains: Men: Sm-1 Ladies: Sm-4; Med-3; L-15; 2XL-2
I'm also still offering the few remaining Dragonfly Races t-shirts in YOUTH sizes for only $5! Any kids in your life who might want one of these? Not many left! Here's what remains: Boys (blue): L-1 Girls (pink): Sm-5; Med-7 When they're gone, they're gone!
You can purchase everything here: Ellis Paul Website Store. And don't forget to enter the discount code BLACKFRIDAY when you check-out.
Thanks for having breakfast and coffee with me here. I've gotta run to the studio— you're gonna love this album!
Happy Turkey Day and a big THANK YOU for well, you know - everything!
Ellis