Shows! Group Tours! Storyteller's Suitcase update! TrueFire news! T-shirt sale! More!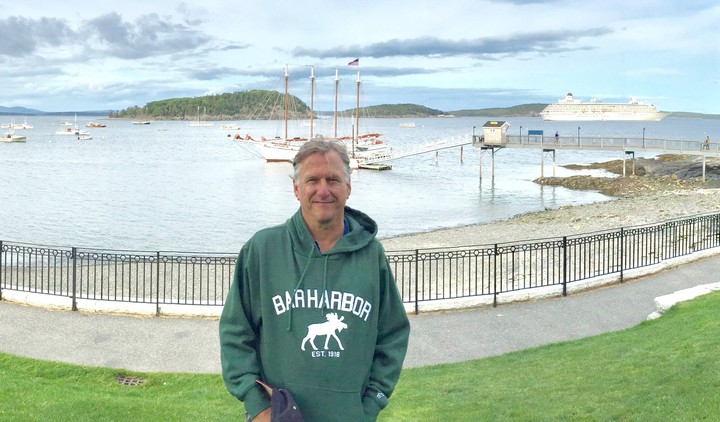 Happy Fall!
While the world is in a constant uproar of tweets and congressional hearings, I am quietly driving north on the road for shows (Jersey City, Maine and Boston). It's so nice to unplug. Really. Not that I don't care, but the constant media noise is numbing. Today is silence. Tomorrow the good fight begins again.
I'm in the isolation of a six hour drive, CD player blasting the new album, in a new car I bought online through Carvana. This suddenly sounds like a commercial, but the service was helpful and my time was limited. It was like buying a car on Amazon, delivered to my door! It only has 40,000 miles and makes me feel better about my weekends on the road. It's not rare that I spend 25-30 hours a week driving to shows and home for work, so any car I use has an important role in my life. On top of being comfortable, the sound system is giving me access to rough mixes of the new album, so I'm listening and taking mental notes on arrangement changes, instrumentation, lyrics. Jamming. Dancing like a fool in the car. Singing potential harmony parts. Listening to the skeleton of it allows me a glimpse into the future of next year when I can bring it to audiences and play the songs from the stage. I can't wait! The car is where my greatest listening focus happens.
Still lots of work to do! I hope to finish recording in November. Then the long haul of artwork, manufacturing, press, radio, distribution. You know the story! If you'd like to contribute, you can do so at this link:
https://www.ellispaul.com/fundraiser/
I will have some preview songs for you in a few weeks :)
In November, I will be doing a week of teaching in the Tulsa school system— teaching kids how to write songs and talking about Woody Guthrie's glorious legacy. With adult shows on the bookends of the weekends. In fact, I'm recording two shows on Nov 10th and 11th at the Blue Door in Oklahoma City for a live album. Come on out! There's nothing like a Blue Door show! With these school shows, and writing historical songs for kids, I feel like I am walking the path of my mission at it's Pete Seegeriest. I feel like a folk singer more than a singer songwriter or a professional songwriter. Informing, inspiring, teaching....
If you have a school in your life, let me know if it's a fit!
There are a few vacation journeys in the making for next year. You can join me in Ireland, on a cruise to the Maritimes from Boston, or an island in Maine for a week long getaway. This is a chance for you to put up your feet and hear music at night in beautiful places. It's a vacation for you!
The Cruise leaves from Boston at the height of golden autumn and eases up the coast of Maine to Acadia, Bar Harbor and the Maritimes. The reds and yellows of trees will be reflected in the water, as well as white boats and steeples and colorful buildings.. It will be gorgeous! Tiny harbor towns with beautiful hikes. Evening concerts on board at night and day excursions in ports along the way! Great food, great wine, great views. Rad Lorković will be coming along on piano as well! It takes place Oct. 20-27, 2019.
https://fanclubcruises.com/event/ellis-paul-concert-viii
I was just in Bar Harbor, one of the stops along the way. I went into Acadia National park and had the hardest and most satisfying climb I've ever done up the Precipice Route. It was a bucket list highly difficult climb up sheer walls of stone. With ladder mounts. Certainly not Everest hard, but the views were spectacular. Then I celebrated with a Guinness at a local pub in Bar Harbor...
And separately, I have songwriter retreat news which will be announced soon. As well as teaching and mentoring news! I will be announcing classes online through TrueFire.com soon! To learn more about my collaboration with TrueFire, check out this YouTube video: https://youtu.be/3Y2kgBZRbRc
The new forthcoming CD means that I need to make room for new merch! That said, I found a box of Chasing Beauty t-shirts that I didn't know I had! Because there is a limited number, I am letting them go for only $8....BUT, the limited inventory does include XL and 2XL sizes for both men and women. When they are gone, they are gone! Order from my website store here:
https://ellispaul.com/product/intro
Private shows for birthdays and anniversaries are coming up as well as some of my favorite venues in MA, ME, PA, MO, GA, NC, OK, NY, UT and my annual New Year's Eve shows at Club Passim in Cambridge. I hope to see you somewhere along the long and winding highways!
Best,
Ellis