Dec 14 2017: Happy Holiday sale, Concert Window show on Sunday! New Year's shows news!
Thursday, December 14, 2017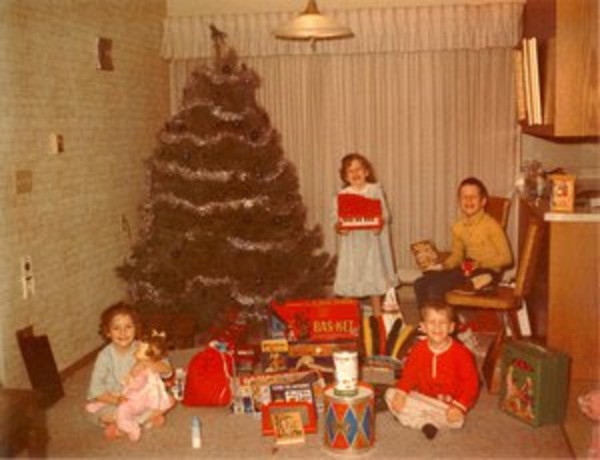 Happy Holidays!
Below is a shot of my siblings and I in East Grand Forks, MN in 1970. I'm the blondie in the right corner. 5 years old there. The memories and experiences of those past years still stay with me. I think my favorite gift that year was a little gas station. I'm still using those! But now its to fuel a career that is ending its 25th year of full time road-warrioring. Hard to believe!
I've written a few new songs in these past few weeks. Including a Christmas number called "Shake, Shake, Shake It Up!" with Kristian Bush about life inside a snow globe. Any songwriter has a dream of popping off a mega song like "White Christmas" wich has brought in a healthy $36 million since it was written in 1940 in publishing income. It was more of a green Christmas for Irving Berlin. It also sold 50,000,000 copies on record. Whew! A famous story on this song says Mr. Berlin called his secretary into his office and said, "Take this song down quickly. It might be the best one I've ever written-- It might be the best song anybody's ever written!" Can't blame him for the enthusiasm.
Some quick notes on sows, and sales and performances!
SUNDAY DECEMBER 17th, at 7PM Eastern is my fifth annual Holiday Show on Concert Window. Live from my livingroom to yours! With Special guests, old songs, new songs, requests, and a few Holiday songs to boot! Bring in the Cheer of the Holidays as we attempt to recapture those 1960's-70's Style Holiday specials of the past! Mike Clem, Mariana Bell, Rusty Speidel and the lovely Laurie MacAllister are joining me! Click here fo more info!
https://www.concertwindow.com/368-ellis-paul
Lots of shows coming up as well below!
DON'T FORGET TWO BUCKET LIST VACATION TRIP OPPORTUNITIES IN 2018!
To Alaska! And Alice's Champagne Palace via Celebrity Cruise Lines! With Rad and Laurie on board!
https://www.fanclubcruises.com/ellispaul.htm
and a BUCKET LIST TRIP TO MONHEGAN ISLAND FOR A VACTION WEEK! With Sam Baker and Antje Duvekot as well... htpps://
www.rootsontherails.com
Thanks for making this an incredible year.
You still have time for the Holiday SALE! It is still raging. Just put in "holiday17" for the 20% discount on all available items. Some of the items have sold out, if you can't input the dollar amount of the sale, tha"ts the reason why.
We still have CDs, posters, both Children's books including "The Night The Lights Went Out On Christmas" and hit the store to see!
Go on Over to
https://www.ellispaul.com/index.php?=product&intro=intro
Have a tremendous Holiday Season!
See you Sunday!
Ellis