Jun 1 2017: Club Passim 25th Anniversary run of shows!
Thursday, June 1, 2017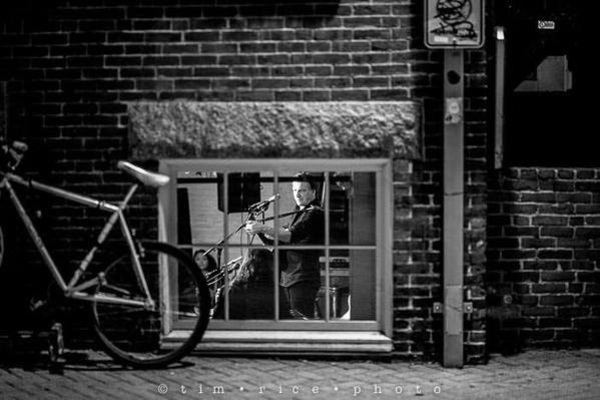 Ellis Paul's 25th Anniversary Shows at Club Passim, Songs from All Albums


July 20-23, 2017

(Eight Shows)


Hi All!
I've got scores of summer trips and adventures lined up for me including today, where I am packing bags and merch boxes for this weekend's trip to
Long Island (

Saturday

)
and
Saratoga Springs' legendary Caffe Lena (

Sunday

)
. But first I want to tell you about The Club Passim Anniversary run of shows in July and the importance of the venue in my personal history. To be an artist like what I've become-- you need the support of friends, family, business people and places to play. The venues eventually take on a personality of their own.
The first time I tried to perform at the legendary folk venue Passim in Cambridge, MA (it didn't have the word 'Club' attached back then) was in the Way Back Time Machine year of 1989. I had harassed the owner, Bob Donlin, sending him packages and calling him every week.
Everyone I loved had been on stage there, Dylan, Bill Morrissey, Joan Baez, Chris Smither, Shawn Colvin. He finally gave me a chance, giving me the opener for the opener slot on their weekly
Sunday
afternoon WERS radio show. I'd have fifteen minutes, three songs. Honestly, for me at this time it was like getting invited to play Carnegie Hall. It felt like a first stepping stone to a cobbled path of a paved highway of a whole career. And looking back, it was.
When I arrived at the venue, he discovered he had double booked me with someone else and asked that I go back home. I still can picture that drive out of Harvard Square in my mind.
He called a few weeks later with a gig opening for John Gorka and Sarah Hickman. I couldn't have chosen a better pair. I eventually won Bob and his wife Rae Anne Donlin over, and they adopted me as a new regular at the club. I played there frequently, getting the best openers they could find-- six shows over a weekend opening for the best the place could offer. By the time
Monday
came, I would be a different person, a better performer, more confident. I can't tell you in words how important the place has been to me and countless others who have learned the art of songwriting and live performance there.
Sometime in the late nineties, I found my unopened press kits from the eighties in the cluttered dusty green room at Passim, and realized Bob had booked me without even opening the package to hear my songs. The squeaky wheel of a phone call wins again...
I'd venture to guess I've stepped on stage there a thousand times since 1989 including the annual New Years Eve shows I've done for the last 25 years. Album release shows, kids shows, other performer's incredible shows. There's been a lot of magic in this room.
This summer I am celebrating my 25 years of being on the road, by returning to the Club over several summer nights and performing songs from every single album I've ever released. It's a marathon of sorts! I get to do this run with Matt "Club" Passim's General Manager Matt Smith at the sound board, who has watched the whole cobblestone highway unfurl, and likely has seen me perform there hundreds of times as well. Come help me celebrate the landmark and hear the backstories of songs and recording them! And thank you all for coming along for the ride.
If you have any old photos of past performances at the Club, please share! And share this post with friends!
All tix $25 at the door (for 25 years) $23 presale
Thursday, July 20th 8pm
Songs from American Jukebox Fables
The Day After Everything Changed
(Home, Jukebox on My Grave, Annalee, Hurricane Angel, Rose Tattoo)
Friday, July 21st 8pm
Songs from Stories and Say Something
(Conversation with a Ghost, 3,000 miles, Look at the Wind Blow, Just the Jester Fool, Last Call, etc)
Saturday, July 22

(THREE SHOWS)
4pm
Family Show ($15 and $10)
(Songs from The Hero in You and Dragonfly Races)
7pm
Songs from Carnival of Voices and Translucent Soul
(Paris in a Day, Angel in Manhattan, Workd Ain't Slowing Down, Trolley Car, Take Me Down, Seven,
Midnight
Strikes too Soon)
9:30pm
Songs from Speed of Trees and Sweet Mistakes
(Maria's Beautiful Mess, Sweet Mistakes, The Speed of Trees, Ballad of Chris McCandless, Kristians Song)
Sunday, July 23rd
4pm
Family Show-- Songs from Dragonfly Races and The Hero in You
7pm
Songs from Chasing Beauty and Stray Songs, new and old never recorded on albums
(I Ain't No Jesus, You Ain't from These Parts, Did Galileo Pray, Drive In Movie, Never Want to Lose You, Wasted, Black Shiny Shoes etc)
Lots of other shows are happening this summer with upcoming trips to Chicago, Ohio, Canada, Texas, Oklahoma. Check out the dates for shows in your area.

Thanks for coming along!
Ellis


Some extra post note considerations for all of you:
Ellis Paul's New England Songwriters Retreat

Aug 31-Sept 4


Over Labor Day Weekend
This retreat is for anyone who needs their batteries charged who writes songs. Myself, Vance Gilbert, Dan Bern, Abbie Gardner and Laurie MacAllister from Red Molly and George Wurzbach from Modern Man will be conducting workshops on performance and songwriting and Ralph Jaccodine and Brittany Bethune will be offering talks on the ever changing music business. It's in Chester, CT two hours from Boston and NYC. A beautiful setting with great food and great accommodations.
Click
here
for more info.
Alaska Cruise

May 25th- June 1st, 2018


With a Performance at Alice's Champagne Palace June 1st in Homer, Alaska
I'm bringing what is becoming an ever growing group (65 cabins booked so far!) up the inner passage from Vancouver to Seward, AK with an excursion for anyone that wants to Homer, AK for a show at Alice's Champagne Palace. I will be bringing along Radoslav Lorković as my special guest, we will be doing shows and workshops and excursions all week, and based on the stops it will be a bucket list trip for all of us!
Click
here
for details:
School Visits / The Hero in You
The Hero in You Musical
Are you an educator? Librarian? Parent who'd like to coordinate a school visit? A music teacher who'd like to perform the Hero in You Musical? I visit many schools every year, via Skype or in person-- the trips include assembly performances and classroom visits where I highlight the award winning Hero in You songs. We can even write songs in class! The Musical can also be sent to your school, with a script and music.
Please write for inquiries! We are booking the Fall now!
Mentoring / Teaching

In the past year I have mentored several artists who are preparing to put out albums or using me for song doctoring and preproduction prep. Having someone to hear songs, objectively critique, and improve your art before you head into a studio project is essential for it to be the best album possible. We do this via Skype and in person. We walk through each song, critique arrangements, lyrics and performance. We walk through studio choices, budgets, players, instrumentation. Write me for more information!

Private Shows

If you are holding a private event-- Anniversary, fundraiser, landmark birthday, or just a gathering! Check in :)