Mar 24 2016: Cape Cod Songwriting Retreat!
Thursday, March 24, 2016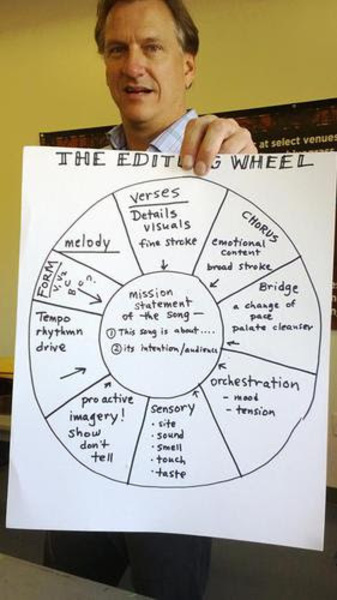 August 11-14th 2016
Ellis Paul Songwriter's Retreat
The Craigville Retreat Center
Centerville, MA
I've spent my life writing songs. My first was written at the age of twenty, and though I haven't counted them all, I suspect i'm somewhere in the 500 range with the number of songs that have fallen from my lips to a page. I've written for myself, for my audience, for children, for holidays, for other artists, for TV, for colleges, for movies, custom songs by request, songs for non profits, songs for commercials. What a way to live a life! Songwriting is a problem-solving, psyche exploring, heart wrenching, story telling ride. A way to break down the universe
in three minutes
and somehow come to peace with it.
A good songwriter has their own signature voice, in chord changes, language and phrasing. This is something that can't be taught. It's DNA, personality, personal taste and choices.
But craft and editing are skills that can be taught. Inspiration can be conjured. Community can be created to cradle you, and make you feel safe and supported in your role as a songwriter..
This Summer in Centerville Massachusetts at the Craigville Retreat Center, I'm thrilled to be leading
my first annual songwriting retreat
. It's got my name on it. The only thing I like better than songwriting is teaching it. This is a songwriting camp for aspiring songwriters. The simple goal is to dive in and make you a better artist than when you arrived.
Vance Gilbert will be conducting a performance class. Ralph Jaccodine and Brittany Bethune will be discussing business matters around songwriting and touring. I will be leading songwriting classes in inspiration, craft and editing. We will likely have special guests, yet to be named, also teaching. Lodging and food are provided. It's on Cape Cod and the ocean is a short walk away. We will have a public performance by Vance and I, as well as an open mic.
Bring a guitar, a writing journal, an open heart and mind. And a little sunblock.
Click here for more info and to check out this video!
If you have someone in your life who would be interested in this, please pass it along!
See you somewhere along the highway!
Ellis