Nov 25 2015: Thank you on Thanksgiving!
Wednesday, November 25, 2015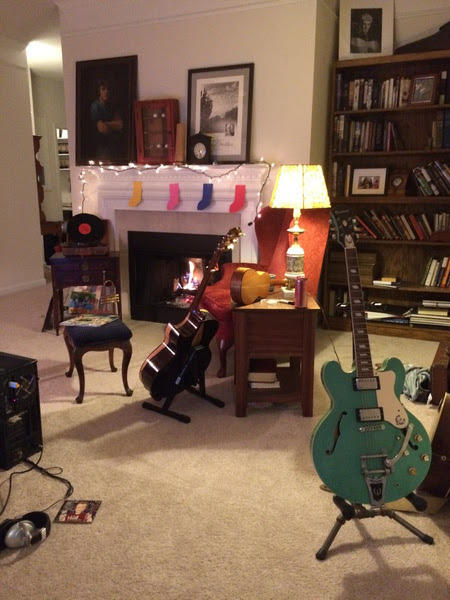 [My place on Thanksgiving: stockings, lights, a fire, and or course my records and guitars.]
Happy Thanksgiving!
I am packing my guitars for an annual trip to Georgia where I play shows at Eddies Attic this weekend to hang and write and play with my friend Kristian Bush. We do this every year and always walk out with a few songs and our bellies full of wine and edibles. I've been playing there since the early '90's and I'm feeling lucky to still be making these trips to full houses. I like these annual trips to sing and visit with friends. They create a reliable sense of my calendars and give me a chance to recharge with people I've known for years. Starting this weekend, I will spend the next few weeks writing Christmas songs for the new book project to help it graduate to a musical/play version with songs. Once those songs are done, I start the writing cycle for a new album of my adult work. I've been writing songs for outside projects and artists for a long time, and I'm looking forward to writing for myself! It's the difference between being a song writer and a singer-songwriter.
I am sending out love and gratitude to all of you this Thanksgiving season for keeping my wheels spinning down the highway and feeding my kids with your support! I'm entering my 25th year of touring work. It feels like a halfway point! Many more albums and shows ahead of me. I hope you have a safe and soulful holiday to reconnect with people you love.
I will be doing shows into the New Year including the annual Passim shows in Cambridge on the 30th and 31st, the annual Portland Maine show at One Longfellow on
January 1st
and numerous others this month-- come say hi!
Best to you all--
Ellis
P.S. I was interview by Forbes for an article about my children's work and would love to share it with you.
Check it out!