ELLIS PAUL'S KEYNOTE SPEECH AT NERFA!
Monday, November 23, 2015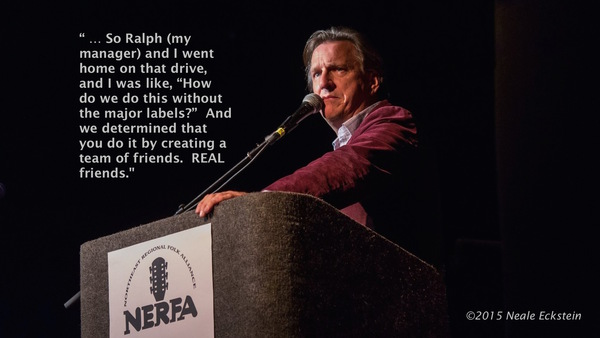 Ellis Paul tells the inspiring story of his 25-year career as a touring songwriter, in his keynote address at the NERFA conference, on November 13, 2015.November 13, 2015
Kerhonkson, NY
Northeast Regional Folk Alliance (NERFA)
Keynote address by Ellis Paul
Watch the speech here.
Cheryl Prashker, President of NERFA:
Alright, everybody, I want to get started so that Ellis has his allotted time.
So I am just beyond excited that we have Ellis here this weekend. It couldn't be more perfect a fit, and we're very
grateful that he took the time to be here for panels today as well. We're very excited to have him. S
ince I'm kind of in awe, I'm just going to read what I have here, so that you kind of know, for those who
don't know who Ellis Paul is, I'll just read this out, so that you get an idea of the scope of the gentleman we have in
our presence today.
So Ellis Paul's songwriting credentials are unassailable. They are as genuine as the 15 Boston Music Awards he
has earned, and indelible as the tattoo of Woody Guthrie that adorns his arm, and as authentic as the musical roots
he draws upon with every note he plays. At the invitation of Woody's daughter, Ellis wrote a song with Woody's
unpublished lyrics and was given an honorary citizenship to Okemah, OK, which is Woody's hometown.
Ellis grew up in a potato farming family in Maine, earned a track scholarship to Boston College. I did not know that.
And he got his musical start at Boston's open mic scene, while studying to be a social worker. He emerged out of
the Boston music scene during a time when contemporary folk was beginning to come into the mainstream. It was a
time and a place that nurtured some of the country's top singer/songwriters, like Martin Sexton, Patty Griffin, Dar
Williams, to name a few. Ellis was one of its more memorable exponents, and he earned his place on the national
map with 20+ years of playing 150-200 shows annually. He has 19 releases, a documentary film, a book of
poems/short stories, and children's book projects to his credit.
Ellis' songs have been featured on Hollywood soundtracks in films such as: Me, Myself & Irene, Shallow Hal and
Hall Pass, as well as TV shows and documentary films. He has performed on stages at the Newport Folk Festival,
Carnegie Hall, and clubs and coffeehouses all over the world, and now … Kerhonkson!
This year, Ellis fan-funded his 19th release, "Chasing Beauty", produced by Sugarland's Kristian Bush. He was
awarded an honorary degree from the University of Maine, and was inducted into the Maine Music Hall of Fame.
Ladies and gentlemen, give a warm welcome to Ellis Paul, please.
Ellis Paul:
Hi. I'm so happy to be here. I want to thank Dianne [Tankle] and Cheryl [Prashker] and everybody from
NERFA for letting me speak.
I am a working class musician. And you know, it would be great to have Graham Nash or
Springsteen up here talking to y'all, but I don't know that their stories would resonate in the ways that mine might,
because I am who you are, and I am in this community, and they are above it, in a way. So I feel very fortunate to
share my story with you, and I do hope it resonates.
I want to talk about basically where I've come from and why it worked for me.
I've done 5000 shows in my lifetime. That's a lot of shows. I did 165 shows [this year]. This is the
reason I'm so hoarse.
30 years ago, I was given a guitar by a woman named Allison Higgins. I was seeing her sister, we broke up, she
knew I was heartbroken and she gave me her guitar, because she knew it would work. I took it down to college and
I learned 3 chords: C, an F with the barre, G. And I learned every song that would fall into those comfortably. And I
played and played and I annoyed everybody that lived with me at the time. But there was something
about it, and I knew that I wanted to make this my life story. There was something about the connectedness, with
the shifting of my fingers on the neck, the voice resonating against what the guitar was doing. It just felt primal. I
was hearing myself for the first time. I was seeing myself for the first time. And I found out: this was me. This was
who I wanted to be.
After I graduated from Boston College, I found a day job, but I don't want to talk about that, let's just forget it, I want
to tell you about what I was doing at night. I found every seedy open mic in the city of Boston, and I
went there 3 and 4 nights a week, eventually weeding out the worst of them, only doing the best of them: The
Nameless Coffeehouse in Cambridge, the Old Vienna in Westborough, the Iron Horse in Northampton. That
was my loop, 3 and 4 nights a week, and I did it for 3 years straight. And I'd go in, I'd put my name on, and I'd sit
down, nervous. To my right would be Patty Griffin, dropping an E string down to D on her guitar. Dar Williams
writing a line on a napkin over here. Vance Gilbert on stage making the crowd cry with laughter. Darrell Scott just
nodding along. And then my name would be called. It was amazing. Because I had to rise to what they were
doing. And that's how we created community - we shared songs, we shared contacts. Yes, we were competitive,
yes, it drove me crazy when Dar would get a gig that I didn't get. But I knew she was in the same game. And as
long as she was elevating her game, I was gonna be along for the ride.
My 20s were spent writing, every night, writing between 10 and 2. Literally, woodshedding in a woodshed.
I lived on a rural property in Wayland, Massachusetts. I'd take a candle, a bottle of wine and a
guitar out, and I just wrote and wrote and wrote, run-on sentence after run-on sentence, and then I'd take whatever
song I got out of that, and I'd bring it to an open mic and I'd see how it stood against Patty Griffin's, Martin Sexton's,
and Vance Gilbert's. But we were creating this community. And the first step in doing this as an art
form is creating community around you. Learning from other people who are in the same game. And elevating
each other. Helping each other, telling them if a line isn't right, telling them if a show is great for them and they
need to get this gig. That's what happened in Boston, and that's why we all... I mean, how many of us are still
doing it? It's amazing. That was a really really beautiful time.
Boston was in some kind of rare and heady music moment - there was an embarrassment of riches. There were 4
music stations, radio stations playing folk music: WADM, WUMB, WERS. Commercial stations were playing me.
There was a time in Boston where I, Ellis Paul, was getting more airplay than Aerosmith.
It was this really heady, bizarre world, and I wasn't the only one that was benefitting from it -
everybody was. And even more important than that, amongst all of the upstarts, there were these established
artists, living in Boston: Cheryl Wheeler, Patty Larkin, Chris Smither, Bill Morrissey. They were our heroes, they
had it figured out. They did not have day jobs! They had the secret of that, and we wanted to figure
it out.
Bill Morrissey was so important to me. He was a mentor. All of those people were mentors. Bill, for all of us, was t
he equivalent of having Van Gogh living in your neighborhood. He wasn't pretending to be an artist, or trying to be
an artist. He had morphed himself into one. And he was brilliant. We all looked at him with wonder, like he was a
panda in a cage. I'd have these long drives, and I did this with many artists, I'd select an artist, I'd buy Dylan's box
set, I'd be on the road for 6 weeks. And my great cornerstone, four cornerstone tour, would be from Boston down t
o Eddie's Attic in Atlanta, across to the Mucky Duck in Houston, up to Schuba's in Chicago, and back again. Every
club in between falling in there. 30 gigs in 6 weeks. And I'd take Dylan's box set, and that would be all I'd listen to.
For 6 weeks on the drive, just me and Bob Dylan. By the time I got out of the car, I was wheezing and coughing
like Dylan, my hair would be fucked up, I'd have funny socks on I did it with Joni Mitchell - imagine
what that would look like. I did it with John Prine. And I did it with Bill Morrissey. I remember one
set of drives in particular, down to the Birchmere in Boston, it's an 8-hour drive. I listened to Bill's catalog in
chronological order, twice, and it was completely a landmark moment for me. And Bill came out to the shows. He
came out to my shows, and he asked if he could produce my record. I couldn't believe it came out of his mouth.
And I said I'd love to. And he didn't get paid for it. And I said I wanted to do more for him and he said he was r
epaying a favor that Dave Van Ronk did for him. Give him a round.
Since that time, I created a place in my car. I call it the Morrissey Chair. And if you know me, you know I'm hauling
opening acts all over the country. I adopt them for a year or two, I try and get them up off the ground, introduce
them to my audiences, and the string of clubs that I play. Antje Duvekot, Seth Glier, Rebecca Loebe, Peyton
Tochterman, numerous other people. And I do it in Bill's honor, because he did it for me.
And that mentoring was really important. And it wasn't just Bill. There was a string of great artists who were also
coming through town: John Gorka, Shawn Colvin, Cliff Eberhardt, Christine Lavin. And others from farther away
places: Tony Bird, Greg Brown, Jack Hardy - from other planets even and I'd go to their shows, and
what do you know? There would be Dar Williams sitting in the audience, with a notebook, taking notes. Exactly like
I was. There's no school for being a folk artist. It doesn't work like that. But there are teachers everywhere, and
classes in every venue. You'll find them even here, this weekend.

S
o, community, mentorship, and then having the opportunity to play on so many stages, and be heard by so many
people, that's why that community created so many great artists who are still doing this today. And you might not
get Boston in your career, but if you're young, you can build it around you. You can live in Poughkeepsie, and
gather people in your home once a week and share songs, and tell the stories that you made from the road and the
gigs that you played. And that's the way that you create community. And you can find mentors. They are here,
right now, right in front of us.
I wanna talk a little bit about songs because it's the most important thing we do, but it's the thing that we get to do
the least, because we're always Facebooking and InstaTweeting and doing press, and gigging, and driving and
driving and driving, and then whining about it more than even writing songs while the guitar sits in a
corner, untouched. I have an affliction, I know this because I've been living with it for 20 years. It's a kind of weird
creative depression. And the only way I can fill the void and the darkness is by writing songs. I love it. I've written
over 500, and that is nothing. Woody Guthrie wrote 3000 songs, Dylan's written over 1000, Dolly Parton has written
over 3000. Imagine how depressed those people really are.
The act of writing a great song is like creating a three-dimensional world. Good songs are like snow globes. The
listeners are peering in, and in this strange way, they are co-writing the song with you, they're co-mingling all of
their life experiences with your imagery. You're writing about a father in the song, it's their father that they see in
their head, you're writing about a home in the song, it's their home, it's their wife, it's their daughters. And it's a
unique art form because of this. Books don't do it, movies provide almost too much information for letting your
imagination go wild. This is a co-mingled art form, and that's why it's precious to people. This is why people
become so enamored of you as an artist, and why your songs are so important to them. They escape reality just for
a moment, by the mystery and the seduction of your art. And that, my friend, is how you build a fan. And you do it
one by one. You've got to write, you've got to write hundreds of songs. Your voice, your craft, and your best self
will emerge within them.
So: songs, community, mentorship, opportunity to play, focusing on songs, raising your game constantly.
I want to talk about friendships. I have a Manager - his name is Ralph Jaccodine. I don't know where you are,
Ralph, but I love you. He's somewhere here. Ralph had no idea how to manage anybody. He just
caught me at the Nameless Coffeehouse when I was playing. He was in commercial real estate, but he wanted to
be a Manager. He wanted to manage the next Bruce Springsteen. And he got me. But there was
something about Ralph. You know, he didn't know what he was doing, he said, "Listen, I'll start with you." I didn't
know what I was doing, but there was a kinship. He worked for the first year without getting any money. There
wasn't much to give, but I could have given him something, and he never accepted it. And over time, this friendship
built that was more than just a business relationship. He's too precious to put a percentage on. The value of the
friendship is greater. And I know he has my back. We've gone through getting great checks with commas in them
to really begging for the rent check. We've gone through marriages, divorces. I lived with him for four months when
my life fell apart. Those are the people you want in your life. You want friends who are working with you for
common goals and who have your back.
There was a moment when I was 26 years old. We put out our first record. It was called "Say Something" and Bill
Morrissey produced it. And we decided to send it out. We hired a lawyer and we thought, "Let's find a label, if
there's a label interest." We had put it out ourselves. And every label we sent it to responded positively. It was 8
major labels: Columbia, Mercury, Sony. And we didn't know what to do next. What do we do next? Well we
thought, let's set up a show in New York. I'd never played in New York. We set up a show at CBGB's Gallery, the
day after Thanksgiving, in November. And there were 8 labels present at the venue, and there were 8 people in the
audience. And I wasn't ready for that moment and that kind of pressure. But it was a defining
moment, because I got out of there and I felt like, "Well, that didn't go well." I mean it went well, they showed up,
they were there. But there was a fork in the road And that fork to the left was the major label thing, and this was
the road that Bruce Springsteen and Joni Mitchell and Bob Dylan were on. And I thought to myself, "You know, I
don't want to beg for attention, I don't want to be dictated, I want to have my hands in this and do it myself." And
that was this road. And that's the road I'm on. And that's the road you're on now, because the major labels don't
matter anymore. The power is gone from their hands, and it doesn't matter.
So Ralph and I went home on that drive, and I was like, "How do we do this without them?" And we determined that
you do it by creating a team of friends. And real friends. You don't want to get signed to any company, you don't
want to hire anybody. You don't want to hire a publicist for $10,000 who really is a friend of the check you're
writing. You want to hire somebody who loves you who would do it for free. And that's the crowd of people that
we've hired over the years. David Tamulevich from Fleming Tamulevich at the time. It took a while to
get their attention; they kept on saying "No", but we were persistent. After 3 or 4 years of doing this myself, with
Ralph, we were doing 100 gigs a year, I was making about $100,000 as a gross, and that was enough for them to
be able to slide over to us and say, "Yes, we have room. We like your art. And we can find room for you, because
we can afford you. But there was somebody in the office who I knew was a huge fan of mine, and I knew David
was a fan of mine, and I have been with Fleming Artists now for the entire course of my career, which is amazing.
Most of those 5000 gigs were booked by them. And will be hopefully for the rest of my life.
And there were the friends that I met along the way. Vance Gilbert, who's an incredible friend of mine. And still [I
have] weekly conversations with this man, just to see what complaint I have that he would listen to, and sound out,
and vice versa. We set up these peer groups …
VANCE GILBERT: I never complain!
You do. Oh, you do. Trust me.
SESAC was the Performing Rights Organization I aligned with. Linda Lawrence, who is here tonight. They gave
me an advance of $500 a month. And because of that advance, I could be on the road and pay my rent. It was just
this safety net, and they can't do it for everybody, but she knew a little bit would help me out, and I've been with
her, because of that, for 25 years. So she's also an amazing friend.
And then people like Kristian Bush. Whoever you're sitting by, right next to you, right now, could be a Kristian Bush.
I travel and live amongst very creative people. Kristian was 21, and he was sort of an intern at Eddie's Attic. He
was rummaging through a box of cassettes, he found my cassette album, and he booked me at Eddie's Attic,
because Eddie was just too overwhelmed, he couldn't do it, so he had Kristian do it. I came through town, I met
Kristian, we became fast friends, wrote together, I slept at his place when he was there, he slept at mine when he
was running through Boston with his own band. And eventually, he became a country star. He sold 10 million
records, he has a couple Grammys on his shelf. And he produced my last album, and he's recorded with
Sugarland a few of my songs.
And these people, these heartfelt friendships, where they have your back, you know, the only thing I can think that I
did for Kristian, outside of just a proper friendship, was I gave his demo to friends of mine at Universal. And it
helped start a bidding war for Sugarland. And it helped get them a really remarkable record deal with another
label. But these people in our lives, you know, you meet them when you're 20, they're creative people. They're
book writers, they're poets, they're painters, they're movie makers. And they become very, very influential in what
happens in your career over time.
One of Ralph's friends is Peter Farrelly. They had a history of barroom antics on the Vineyard in the 90s, hung out
a lot, then went their separate ways. Peter became, over time, one of the biggest movie directors in Hollywood,
producing movies with Jim Carrey, Jack Black, Gwyneth Paltrow, and because of the friendship and kinship they
had on Martha's Vineyard, 20 years later the payoff was that my song, through Ralph, got into a major
motion picture, and I had access to suddenly millions and millions of people, instead of thousands. And those are
the people, those are the reliable points in your career that will feed you. Trust me, I've had a lot of accidental
things, lottery-winning kinds of things, where people called us out of the blue and said, "Listen, I just looked up
'champagne' on Google, and your song came up, and I work for Korbel, we need a song." I've had those moments.
I've had moments where we cold-called to get in a television show, and we actually got through and won. But
those are so unreliable. But your friendships and the networks and the meaningful relationships you have are
essential to getting the breaks that you need to continually rise. So make friends, be kind, give back. All of these
people that are opening for me, John Mayer opened for me. I need to open for John Mayer now.
See, there's this thing called "building blocks". That's how I see your careers, what you're working on right now.
These little building blocks. And they're various sizes. Like you get a song in a movie, that's a pretty big building
block. You play 5000 shows, that's a mass of little ones. You get some airplay, that's also a building block. A
Newport Folk Festival gig, you win the New Folk thing at Kerrville, you get a viral video, you have a decent
website that attracts people, a Facebook post with 2000 shares. But none of them, not a single one of them on
their own has any meaning whatsoever. It's the collection and how they build upon each other over time. You
create this pyramid out of building blocks, and it rises above the obscurity of the desert that you're in, and the
trees gather around to watch it grow, those trees are fans. And then the trees become a forest.
I have 1000 hard core fans. People that have seen me 40 and 50 times. They watch me closely, and I'm in the
fabric of their lives. They play my music when they give birth to their kids. They invite me into their 40th birthday
party or their wedding anniversary party. They contributed $125,000 to my last album project, as a crowd-funding
thing. They did the same thing with the album before. These are reliable people that really … they're friends, they
care. And they made a complete difference.
Now, over the course of a year, with my 150-200 shows, I get in front of about 30,000 people, and they know my
name, and some of them have a few albums. But they are casual fans. I can count on them to come see me every
year or two, but they're not the hardcore group. Outside of that group of 30,000 people, I have about 300,000 who
know me by name, who've seen me once, or bought an album, or just know, because I've been around for so long.
I've been around since I was 26. So I've sold that many records, and those people know kinda who I am. And
then there are YouTube videos with millions of hits, and those people don't even know my name, but they know my
songs.
But it's not about the numbers of people that you play to. It's about how deeply you hit the people that really matter.
Those 1000 people that are core fans that really get you. Not every one of my people get Dar Williams. Not every
one of Dar Williams' fans get me, but I have fans that I hit right here. And those people are my bread and butter,
and I need to serve them. And I do. I serve them with shows, I serve them with everything I've got. Because
I know they're coming out to see me, and they're spending $150 to get there. Not on the ticket to the show, the
ticket might only be $20. But they're parking in Cambridge..They're having dinner. They're hiring
babysitters to come see me play. And the expense is a lot more than what you think. And their investment in me is
precious. So I serve them.
And then I serve the people who are here, all the people that are putting on the shows. The people who are baking
cookies at the Unitarian Coffeehouse, the guy that's doing sound and lights, everybody that paid. I'm so grateful to
you people for doing it, and I want to thank you. Give everybody a round of applause - you know who you are.
And then there's the songs. I'm going to keep writing. It's likely the world doesn't need another Ellis Paul song.
I've got 500. I've put out 20 albums, they don't even need another Ellis Paul album. But I do. I need to keep on
writing. I need to keep on putting them out, until I die. And it's not about discovering that I'm Bruce Springsteen.
It's re-investing in my art, in my community, in my friends, and writing and writing and writing, and discovering who
I am with every song. Thank you, folks! Thanks so much!