Jan 31 2013 - Ellis Paul: New Album Fundraiser Update & New Song!
Thursday, January 31, 2013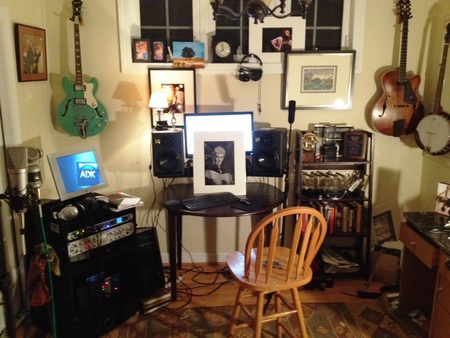 Hello y'all--

Wanted to pop in and give everyone an update on the new album and the fundraiser. I'm heading down to Atlanta to record next week with Kristian and Brandon Bush from Sugarland, and all the boys at Songs of the Architect. We have fourteen songs we are working with for the new album, tentatively titled 'Chasing Beauty'. The project is going great-- drums are finished for most of the tracks- we brought in Travis McNabb from Sugarland and he did a magnificent job-- next week we record Guinness (my guitar) on the tracks, and the following week, my vocals go down. Below is a link to a song that is under consideration, "Empire State". Give it a listen!

Our fundraising target is 1,000 contributors and we are well on our way with about 400 people graciously extending a hand to get this project out in the streets. The funding will be continuing through April/May, but we are spending incoming funding now in the studio.. Every little bit helps immensely!


It's been said before, but it bears repeating -- this is the new paradigm for independent musicians like me who want to get a recording out to the world (and to all of you!).

The funding you provide in exchange for the items you'll receive in the Spring pays for it all -- musicians, recording equipment, production engineers and producers, artists designing the cover, photographers, manufacturing costs, marketing costs to media, the Internet, a radio team, and further project management costs. We've also upgraded my home studio with equipment to do some recording here as well, as this will save countless hours and dollars in the future. We want to do this right, and we want to do it well!

An incredibly huge Thank You to everyone who has been involved so far. If you are interested in donating, all the perks for the levels are below.

In other news, earlier this month I journeyed back home to Presque Isle, Maine for an induction into my high school's athletic Hall of Fame. (I was a state champ distance runner 30 years ago..) I did several concerts and school visits while there, and was reminded how that town rallies around its young people. I'm so lucky to have been raised in that community. It's a physically beautiful place, surrounded by rolling hills and farm land-- it was a perfect place to be a runner! And an artist, writer, musician-- the skills of my music, art, and English teachers made me who I am today. Everyone rallies in a town like this. I remember after a national meet, being met at the airport by the marching band and a parade of fire trucks. They gave me the key to city at sixteen! During this recent visit, my family came from across the country and the entire community turned out for the concert, it was a truly great time reliving an important part of my life. If you get a chance, and you like the outdoors, head on up to Presque Isle, Maine... Skiing, hiking, fishing, hunting, canoedelling. You'll thank me.


Playing tonight in Pittsburgh, PA, Friday in Columbus, OH and Saturday in Cincinnati-- love that swing-- it includes some of my favorite venues.. come on out and hear the new songs! I need to break them in!

See you soon!
Ellis

WHAT IS THIS FUNDRAISER THEY KEEP MENTIONING?
Ellis is, and always will be about the songwriting first - this is what his reputation as one of the top American songwriters is built on. We, here at Ellis Paul HQ, believe wholeheartedly that as long as there is a strong team around the new project putting their heart, soul and passion around it, we can make this a huge success.
As an Independent musician, with no Big Label providing financial backing, we are completely responsible for finding the substantial resources it takes to fund an album and all of its many, important parts, as Ellis describes above. In turning to all of you in this fan-funded project, we are looking for the rest of the team who feels the same way about Ellis and his ability to be a force in the music world.
However, this is a trade, not aid (though it IS immensely helpful!)... In exchange for your generous contributions, you receive goods and services, hand-picked by Ellis, in what is hopefully a fair trade for your financial support and partnership. You can see the
complete list of different donation levels and all of their subsequent goods offered in exchange here
.
As Ellis mentioned above, we have been extremely fortunate so far - we are up to almost 400 donors! It's an amazing, overwhelming show of support and we are truly grateful. The image you see at the top of this newsletter is some of what the funding has created -- a true insider's look at where Ellis will do much of the recording for the new album, his home studio. The album will be recorded on equipment
created by you
-- you are
directly
a part of the production of this CD!
The songs are some of the best Ellis has ever written, and we're well under way, thanks to the positive support we've received so far, but we're not there yet! To really be able to put the muscle behind this project, we still need your help. Our goal is 1,000 contributors, and if you haven't yet contributed -- now is the time!
You can partner with us on the project here
.
If you have contributed, help us spiral this project outward and invite your family and friends to listen to Ellis' music, share the concept of the fundraiser, and the importance you all hold in its success.
Here's a look at what you are funding, supporting, and helping to create - a new song by Ellis entitled, "Empire State", in consideration for the new album, "Chasing Beauty":
soundcloud.com/kdhx/ellis-paul-empire-statee-live
.
ENOUGH ABOUT THE FUNDRAISER, WHAT ELSE IS NEW?
Ellis is headed to the Midwest and the Northeast this weekend -- Pittsburgh, PA, Columbus, OH & Cincinnati, I'm looking at you!
Come here some of the new songs tested live, and ask Ellis about that time he was a nationally-ranked runner...
Full show details can be found on
Ellis' tour page
.
More news on the horizon, so stay tuned...
Thanks for your support!
Team Ellis