"55" Single Released Today!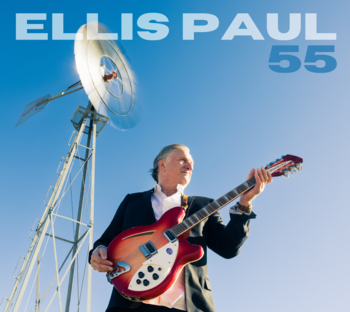 Hello my friends!

I'm excited to announce my first single "55" from the new album is being released everywhere today! The album will officially be released on June 9.
Please see the press release below and listen on Spotify HERE.
If you'd like a pre-release copy of the CD and digital version months early, just join my Patreon community at www.patreon/ellispaul.

Lots of shows around the US listed below! Come say hi!
Ellis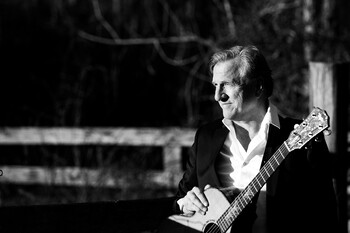 Photo Credit: Jack Looney
RICHMOND, VA - This year marks the 30th anniversary of folk artist Ellis Paul's career, a milestone he is celebrating on tour and with the release of his new album 55. Today, he releases the title track and first single, "55" that reflects on his journey through life.
"Ellis Paul has a vocal tone on the soft side but embed with the richness of Burl Ives. With that as the backdrop, this song takes you through a very real reflection on being of a certain age, and the memories of items and practices that have been retired to the annals of history. Nimble and provocative." - Americana Highways
While the world shut down from the COVID pandemic in 2020, Ellis was uncertain that he would perform again. He was turning 55, and not struggling with the idea of the age, but the consequences of it. Dupuytren's contracture, a disease that tightly closes the fingers into a fist, had settled into both of his hands. He was wondering how long he had left as a guitarist and a piano player before it rendered his playing and writing impossible. Without hesitation, Ellis put pen to paper and wrote 40 songs, one of which is the title track "55."
Ellis recalls, "I was thinking about all the trends I'd out-lived. Highway maps. Milk Men. 8 track tapes. I was also thinking of how lucky I have been. And all the mistakes I've made in my life that could've got me killed. Drinking. Late nights. Strange situations with strange people. Why am I still here? And all these things and trends and inventions are gone? And then the pandemic came. It swept away millions of people including friends and heroes like John Prine. Why am I still standing? And then love, how many times has that nearly broken me. But it swings to the positive— the last verse and how my daughter could 'kill me with just a smile, she could break me just by crying', and how am I gonna survive all that?"
The album 55 is reflective, adult and joyous: uplifting gratitude and awe for the life he's been given in the simple prayer of "Cosmos," the love of old friends in "The Gift," a father's song to his daughters in "Be the Fire," and even moments of wanderlust along the Pacific Ocean ("Gold In California) and Ireland ("Holy").
In December 2022, when he could play guitar and piano no longer, Ellis underwent successful surgery to free the fingers of his left hand. He could form chords again. His right hand remains affected, but less so. He's soldiering on, performing shows with the newfound thrill of being able to play again. He plans on surgery for the right hand in 2024.
Now that both the world and Ellis' hands are opening up, and he's packing for a year full of shows to celebrate.
55 will be available June 9, 2023 on Rosella Records.

TOUR DATES:
APR 6 / Pittsburgh, PA @ Club Café
APR 7 / Cincinnati, OH @ The Redmoor
APR 8 / Columbus, OH @ Natalie's Grandview – Charlie's Stage
APR 13 / Alamosa, CO @ Clemmer House
APR 14 / Boulder, CO @ The Avalon Ballroom – Dairy Arts Center
APR 15 / Salida, CO @ A Church
APR 16 / Fort Collins, CO @ Quantum Arts
APR 19 / Arlington Heights, IL @ Hey Nonny
APR 20 / Cedar Rapids, IA @ CSPS
APR 21 / Madison, WI @ The Bur Oak
APR 22 / La Crosse, WI @ The Pump House Regional Arts Center
APR 23 / Minneapolis, MN @ Icehouse
MAY 5/ Norwood, MA @ The Grass Roots Cultural and Performing Arts Center
MAY 6 / Brunswick, ME @ U.U. Church of Brunswick
MAY 7 / Northampton, MA @ The Parlor Room
MAY 12 / Shirley, MA @ The Bull Run
MAY 13 / Manchester, NH @ The Rex Theatre
MAY 14 / Pomfret, CT @ Vanilla Bean
JUN 2 / Homer, AK @ Alice's Champagne Palace
JUN 3 / Homer, AK @ Alice's Champagne Palace
JUN 22 / Sandwich, NH @ Club Sandwich
JUN 23 / Portland, ME @ One Longfellow Square
JUN 24 / Phoenicia, NY @ Phoenicia United Methodist Church
JUL 6-9 / Cambridge, MA @ Club Passim
JUL 12 / Okemah, OK @ Woody Guthrie Folk Festival
JUL 15 / Guthrie, OK @ Magnolia Moon
JUL 29 / Goshen, CT @ Falcon Ridge Folk Festival
Details and ticket information: https://www.ellispaul.com/calendar/

KEEP UP WITH ELLIS PAUL
Website: www.ellispaul.com
Facebook: www.facebook.com/ellispaulmusic
Spotify: https://open.spotify.com/artist/6zbmVVtvsmXRGWGgfjlE35
YouTube: https://www.youtube.com/user/ellispaul

***For Media Purposes Only***
PRESS ASSETS | https://ffm.link/ellispaulpressassets
PRIVATE ALBUM STREAM | https://ffm.link/ellispaulalbumstream
PRIVATE ALBUM DOWNLOAD | https://ffm.link/ellispaulmp3albumdl
FOR MORE INFORMATION CONTACT
Monica Hopman | monica@sideways-media.com | (323) 661-7802