SONGS AND SHOWS AND TAKING IT TO THE ROAD!

Hello Friends—
I am writing from Crozet, VA in my new home studio/workspace prepping new songs for the next album project and getting ready for a tour and road trip in October. This space and our loft on the top floor (see below) have finally brought me the kind of working environment I haven't had in decades. I had literally been recording in a closet space at home. Each floor of our new place is defined by how it's used and is spacious and beautiful.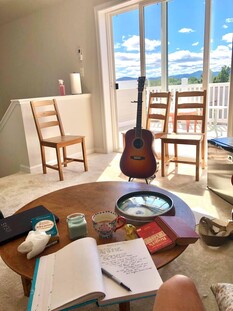 I'm juggling the editing work on twenty new songs and hoping to write a few more. I will be recording throughout the fall. I'll be releasing the home demos AND the final studio versions to subscribers on www.PATREON/ellispaul. Please join me there to be part of my creative life. It's the epicenter of all I create.

I'm finally more consistently on the road coming up as well, visiting parts of the country I haven't seen in almost two years. I'm elated. The highway is an important part of my well-being. I'm at my most centered at around 75mph on a highway in Oklahoma. There is a zen beauty to knowing you are crossing the planet surrounded by extraordinary things.

Just a note on pandemic shows— I will be following the rules set forth by the venues in each state regarding vaccines and masks and how they are allocating seating and tickets sales. I'm double vaxed and safe to travel. I'm gonna be in MA, OK, GA, AL, CT, NY, MD, VA and more! Scroll down for tour dates.

Here's what's happening in my life:

The Traveling Medicine Show Tonight!
Friday, Sep 24, 8pm ET
The Traveling Medicine Show returns to the airwaves
every Friday night
! My very special guest is folksinger and multi-instrumentalist
Joe Crookston
. The theme for the night is
"Freight Train to Truth"
and Joe is a perfect engineer to take us on a scenic ride.
He grew up in Ohio and attended Kent State University, not only the location of the Vietnam protest where infamously four students were killed, but a place where a prestigious and healing folk music festival was created and held annually that helped lay seeds of redemption and peace on those wounded grounds. These performances imprinted the young Mr. Crookston with the power of music and its ability to bring change, comfort and unity.
Joe has a novelist's eye for detail. His dramatic fingerstyle guitar playing lays colorful scenery around an unfolding story. His songs are like watching movies with a beautiful soundtrack. There is an authority in his voice that brings a weighty authenticity to everything he sings—you never doubt his intention, his sincerity, his honesty. His writing has brought numerous awards and accolades, including Album of the Year (for "Able Baker Charlie & Dog") at the International Folk Alliance Awards. He's got what artists aspire to—integrity and commitment.
Joe and I are often two ships passing, getting a momentary conversation at a festival or quick hello and catch up in the hallways at a music convention. I have is an unspoken brotherhood with him. We have so many commonalities—separate but shared life experiences—we're both fathers, both songwriters. We've both experienced the ending of marriages. We've both toured relentlessly. We've lived on the highways, while trying to keep an ever-increasing number of balls in the air. It's so good to have friends to share your stories—the victories and the defeats, and everything in between.
I'm really looking forward to it. Join us! Watch Joe and I deepen our friendship in front of your eyes! We'll have quips and clips, snippets of life and love, and of course, songs.
We'll be right here on Facebook
TONIGHT, Friday at 8 pm ET
. See below for the link!
"Freight Train to Truth" with Special Guest Joe Crookston!
Friday Sep 24 at 8 pm ET
:
Facebook Live Ellis Paul Music and More
https://www.facebook.com/ellispaulmusic
www.patreon.com/ellispaul
SPECIAL EVENTS

Help me fill my open calendar dates with one on one creative mentoring, private shows in person and online— for people, schools, and businesses. Drop me a line at ellispaul7@gmail.com

TOUR DATES

I am gradually getting back on the road so check out these October and November shows! Details and ticket information can be found at www.ellispaul.com/calendar
Friday, October 8, Caffe Lena, Saratoga Springs, NY
Saturday, October 9, Songwriting Workshop, Caffe Lena
Saturday, October 9, Kiva House Concerts, Billerica, MA
Sunday, October 10, Black Bear Music Festival, Goshen, CT
Friday, October 15, Towne Crier, Beacon, NY (Laurie MacAllister opens!)
Saturday, October 16, FAMILY SHOW, TCAN, Natick, MA
Saturday, October 16, TCAN, Natick, MA
Thursday, October 21, Kelsey's Pub, Ellicott City, MD
Saturday, October 23, Jammin' Java, Vienna, VA
Sunday, November7, The Depot, Norman, OK
Friday, November 12, Woody Guthrie Center, Tulsa, OK
Friday, November 26, The Evening Muse, Charlotte, NC
Saturday, November 27, Eddie's Attic, Decatur, GA (2 shows!)
Sunday, November 28, Sundilla Acoustic Concert Series, Auburn, AL

Thanks for listening and thank you for your continuing support!

Ellis