We're off to see the wizard.....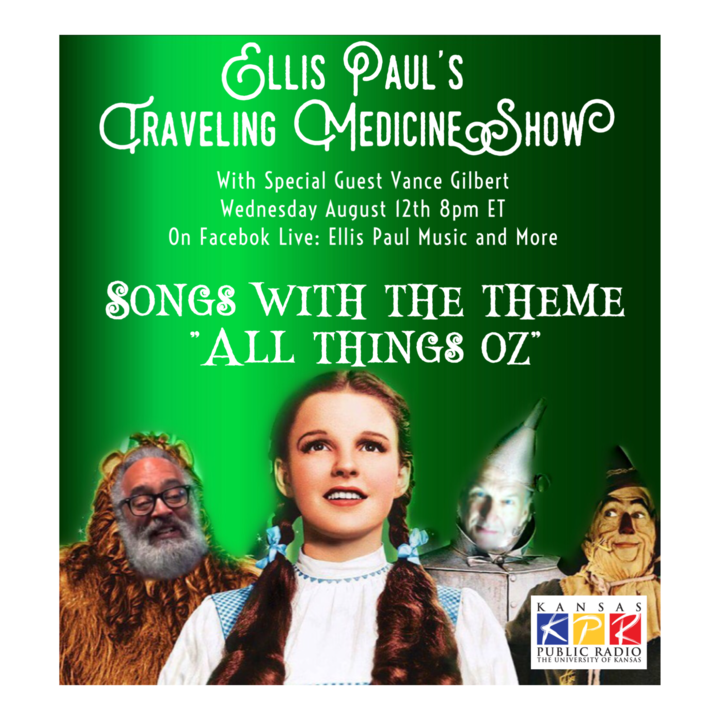 Ohhh...what a world...what a world...
Are you melting from the summer heat? Are you about to succumb from Cabin Fever? Are you looking for a rainbow you can't seem to find? Is your mind spinning like a Kansas cyclone?
What happens when a cabin falls on you?
This is an invitation to travel beyond the clouds, beyond the rain...to get beyond the weight of the world.
Tonight, as part of my Facebook Live-Stream series - The Traveling Medicine Show - I am exploring "All Things Oz" with Special Guest Vance Gilbert. We will be performing songs that reference The Wizard of Oz: scarecrow songs, Kansas songs, tornado songs, songs from the movie itself!...as well as popular songs inspired by the film.
These shows are a healthy distraction for me. I learn a few new tunes and increase my admiration for their writers. I visit with old friends face-to-face online and feel energized simply by seeing them and drinking in their companionship. I dive into my own back catalogue finding ways to weave songs in and out of the theme. I tell stories...about the show's theme and life in general.
It reminds me of what a modern miracle the internet is...despite all its issues. Had this pandemic happened in the previous century, I fear we'd all be lost. It's hard enough in this new century!
Tonight's show is sponsored by our friends at Kansas Public Radio and their legendary folk show
Trail Mix
hosted by Bob McWilliams. You can listen to
Trail Mix
on
KPR
every Saturday and Sunday from 1-4pm CT. More details can be found at this link:
https://kansaspublicradio.org/programs/trail-mix
If you miss the show it will be archived at my PATREON site - where I will be releasing a new album this month of some of the songs I have worked up for the Traveling Medicine Show. If you're not already a Patreon supporter, please consider doing so by visiting this link:
www.patreon.com/ellispaul
Thank you all again for your ongoing support. See you tonight....just follow the yellow brick road.....
Ellis