Ellis Paul Traveling Medicine Show Tonight! All-Request Show Tomorrow!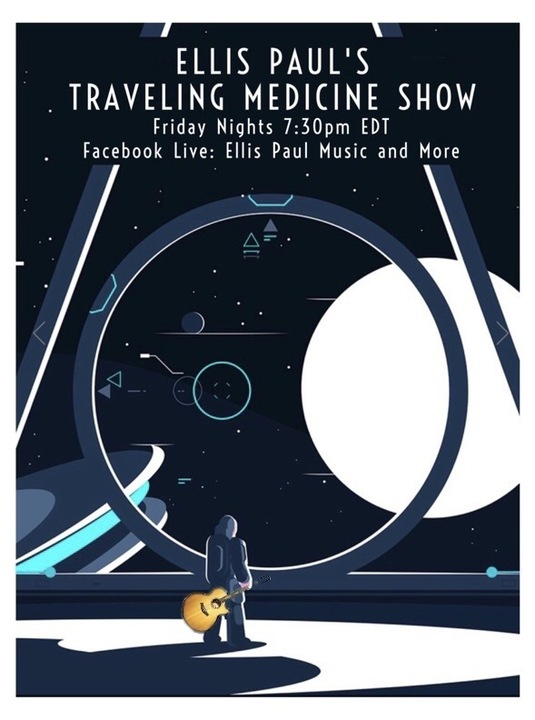 Hi Everyone—
Where have the days gone?? We are at the two-month mark of the Covid-19 lockdown and I'm amazed by how much and how little I've done. I can't wait for the world to return to normalcy, whatever that new thing is.
I wanted to let you know that to help combat the blues, I am doing TWO official (scheduled) live-stream shows EVERY weekend to bring songs out to the people....and to structure my life around.
TONIGHT and EVERY FRIDAY NIGHT at 7:30pm EDT is Ellis Paul's Traveling Medicine Show:
songs about destinations and transportation— on Facebook Live. Tonight's theme is on space! Simply click the link below to join the virtual audience:
TOMORROW NIGHT and EVERY SATURDAY NIGHT at 7:30pm EDT is ALL-REQUEST NIGHT on PATREON
. Please consider subscribing to PATREON (if you haven't already!)....then send us the songs you want to hear! You can e-mail your requests to Karen Zundel at
kmzundel@comcast.net
. I just released a new song called "California" there that I hope you will like!
Patreon subscriptions start as little as $1 per month. Simply click the link below to subscribe:
I hope that you're healthy and happy....and that you will attend these weekend shows as well. I guarantee that they will be the perfect escape from the confines of your home!
Stay safe!
Ellis