Ellis Paul Named Grand Prize Winner of International Acoustic Music Awards (IAMA)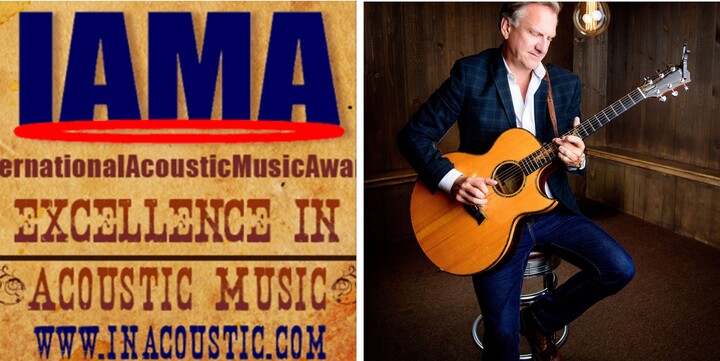 Hi Everyone—

I wanted to let you know that last week I was named Overall Grand Prize Winner of the International Acoustic Music Awards (IAMA) for "I Ain't No Jesus" . The song was also selected as Song of the Year in the Outstanding Roots/Americana category. You can read more about it in an article published this week in Music Connection Magazine:
Ellis Paul Wins Top Honors at the 16th Annual IAMAs
This is the second major award for The Storyteller's Suitcase after having also captured the Inaugural 2019 Album of the Year at the Northeast Regional Folk Alliance Conference. The album was also the 8th most played recording by folk DJs across the country for 2019, despite the fact that it was released in June! All good things are happening around this project. We done good!

I wanted to catch you up with the success stories for the project and again share my gratitude with you all for your contributions in making it happen. It's literally changed my business and my life in extraordinary ways. Yesterday I had a meeting in New York City and am close to choosing a management team that will take on the stewardship of my career from here on. More on that soon!

In recent news, I have also launched the Ellis Paul's Ellis Island Patreon site as an official launching pad for my podcasts, music, live streamed shows, art, travelogue, essays, poems, interviews, videos and all works in progress. I'd love for you to subscribe. Subscriptions start at only $1/month, but I suggest $5/month because the podcasts and perks start to get really cool there! Please check it out....I'm very proud of it already. I can assure you it's going to continue to grow into a gold mine of content!
Ellis Paul's Ellis Island Patron site is not specifically a fundraising site since it will extend well beyond music projects. I view it as the "home" for all-Ellis content, like a one man Netflix of sorts! This is why I'm so excited! The site can contain every form of storytelling and art that I excel at: writing, songwriting, videography, essays, interviews and art. It will be a folk art tsunami. Grab your waders and come join us!

Please do check it out at this link: https://www.patreon.com/ellispaul

This past Sunday I uploaded a ten-minute documentary podcast that I created for the 80th Anniversary of Woody Guthrie's timeless "This Land is Your Land". I think you'll love it....and I've made it FREE to anyone who visits Ellis Paul's Island Island. There will be more video podcasts coming - in a series that I am calling A Little Stroke of Genius.

I'm off! I've got a long drive home to Virginia and then tomorrow a plane awaits for dates this weekend in California! Please check-out my tour calendar for dates near you: www.ellispaul.com/calendar
Thank you for making this all possible— and I hope to see you on the road soon!
Very best—
Ellis