ALBUM OF THE YEAR, HOLIDAY SALE, NEW VIDEO, MORE!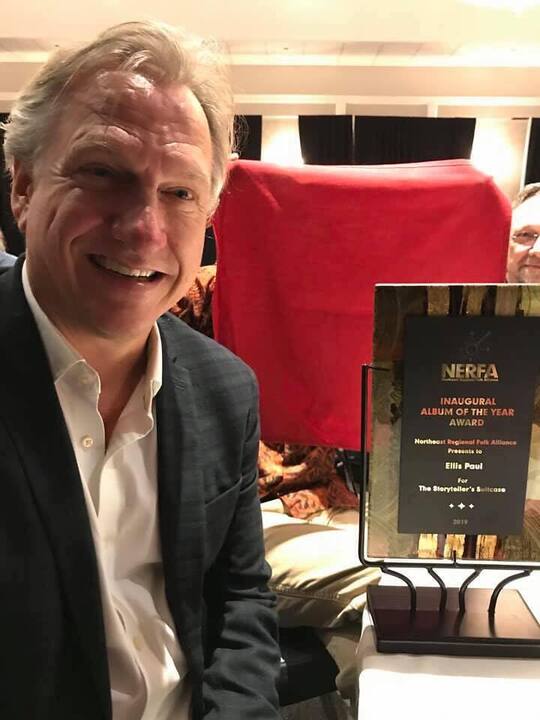 Hi Everyone—
First some good news! On November 8 my new album, The Storyteller's Suitcase, was awarded ALBUM OF THE YEAR at the 2019 NERFA (Northeast Regional Folk Alliance) Conference! The night before receiving the award, I had finished a show in Philadelphia at around 11:30pm…..after which I drove into the wee hours to Stamford, CT. arriving at 3am. I was deliriously tired but was scheduled to participate in a panel discussion the next morning at this very thriving music conference….in addition to having scheduled a booking meeting! Afterwards I would have to drive to Kentucky for a show there the next night! I was excited to see friends, but was clearly kicking myself for over-committing given the long drives I was facing over the entire weekend.
The next afternoon, somewhere in the busy hallways of the hotel, John Platt, a legendary New York City DJ, said "congratulations" to me in a brief exchange in the hallway…letting me know I was in for a surprise that night. I'd planned on leaving at 3pm so the surprise was nearly on them, but I had also floated the idea of staying through dinner. Because I did stay, I was able to catch some showcases by promising up and coming songwriters and was able to have dinner in the hall with friends. At 6pm I got a phone call from Ethan Baird, conference secretary, who advised me NOT to leave the building and…within a few minutes of that phone call I was in front of 800 people exclaiming my surprise at winning ALBUM OF THE YEAR! I didn't leave that night until 10pm, but it was soooo worth it!
I'm grateful to have my work recognized by a group of industry people who looked beyond my history, age and gender and saw the art of the album for what it is. These awards often go to well deserving younger people…but as someone who is still working the rounds, it blew ample wind in my sails.
So thank you! Thank you for voting, thank for supporting my art and thank you all for listening. I'm on a mission to become the best songwriter I can be, the best humorist, the best guitarist, the best performer and producer. I'm just starting to see those things come to fruition and it's gratifying to be recognized for it.
This week I'm in Tulsa working for the Woody Guthrie and Bob Dylan Centers and writing with kids in the Tulsa Public Schools. I'm on another jag now! I am so inspired to watch kids have a creative moment and to speak to them, despite the funding decline for the arts in schools.
My annual shows on New Year's Eve in Boston, in addition to post-Thanksgiving shows in Atlanta and Charlotte are coming up as well as shows in Portland, Maine and upstate NY. Come on out! Here these stories in person! Check out my tour calendar at this link:
HOLIDAY SALE
Now taking place in my website store is a 25% off holiday sale on everything in the store! From lessons to albums to books and posters! You can also save on the purchase of the deluxe Storyteller's Suitcase suitcase containing lots of items…. or you can purchase the pens, the flasks, and the journals separately or in a 3-pc. gift pack. This would be the perfect time to order a favorite child in your life a copy of my book The Night the Lights Went Out on Christmas or for children and adults alike, my Christmas album City of Silver Dreams. Just remember to enter the code EP25 when you check-out to receive 25% off your entire order! This holiday sale will end at 11:59pm on December 17. Click on the link below to shop! And don't forget to use the code EP25
NEW VIDEO
You all are among the first I am letting know about the brand-new video that I launched yesterday on YouTube for my song "Scarecrow in a Corn Maze". Please check it out at the link below and let me know if you like it! And please share it!
Scarecrow in a Corn Maze on YouTube
NEXT SUMMER'S VACATION TRIPS
A vacation trip would also make a great holiday gift! Surprise your loved one with a vacation! I am leading two trips next summer for anyone interested in a bucket list destination…with evening music provided by myself and friends.
The first (June 13-20) is on beautiful Monhegan Island off the coast of Maine. Seth Glier and Vance Gilbert will join me! See details regarding pricing and itinerary at this link:
http://www.rootsontherails.com/m/upcoming-trips-2020-monhegan-island-me
The second (Sept. 15-20) is an easy rafting journey down the Salmon River in Idaho, one of the most pristine nature areas in the United States. See details regarding pricing and itinerary at this link:
https://www.idahorivers.com/music-adventures-salmon-river/
PRIVATE SHOWS
I'm filling and augmenting calendar dates with private shows! Would you like me to perform in your living room? Write me with your potential dates at ellispaul7@gmail.com
SCHOOL SHOWS
If you are affiliated with a school, I'd love to come visit with The Hero in You book, songwriting classes or assemblies. For this, please write to Nick at nick@therootsagency.com.
Happy Thanksgiving!
Hope your families are thriving!
Ellis