My TrueFire.com CLASS and CHANNEL launches TODAY!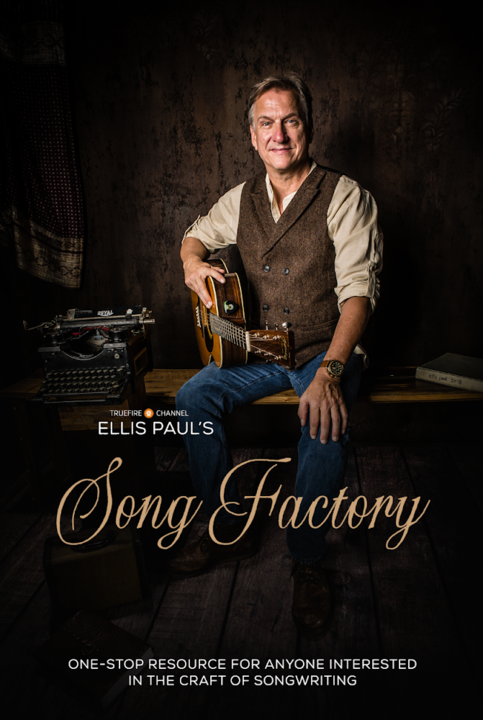 Hi Everyone!
Today is Launch Day! Woooo-hoooo! My new CLASS and CHANNEL for songwriters is available through a partnership with the musical web wizards at TrueFire.com. Please share!
The Class is called "Birth of a Song" and is a journey through the process of songwriting— from the acorn to the oak tree— with exercises to bring your craft into a daily practice, with animated sections on how to generate ideas and useful tools to bring your lyrics and music to life! Visit this link for more details about my Song Factory! Ellis Paul's Birth of a Song.
Or visit this link to purchase an instant download and/or disk of "Birth of a Song": Birth of A Song disk/download.
I'm even more excited about The Channel itself! It's called "The Song Factory" and has multiple sections with weekly exercises, monthly classes, private lessons, podcasts interviews with songwriters and business pros, a section just on music biz stuff, backstage looks at life on the road, and a song circle for you to upload your own material for community feedback. The classes will be presented by me and a group of special guest instructors and will be a great place to stay focused on the craft of songwriting no matter what level you feel you are at. There's plenty of cool stuff that's free here, but the subscription rate is on sale at $5 a month for the first three months and gives you full access to everything! Private Lessons and Consultations by me are available and one on ones with other artists will be available soon as well! There are giveaways and prizes for enrolling here! https://truefire.com/giveaways/ellis-paul
If you are a songwriter, take a look around and also consider attending the New England Songwriters Retreat Aug 30- Sep 3rd in Chester, CT. It's a beautiful historic landmark with cozy rooms, great food, and experienced instructors! More information can be found HERE.
Briefly! In other news, The Storyteller's Suitcase is being manufactured as we speak! Finally! I should have boxes and boxes within a month, and the Fundraiser is finishing in March! We still need promotional funding and are nearing our goals for 1,000 participants! PLEASE consider purchasing the signed, pre-ordered 36-page CD booklet, or invest in receiving your own Storytellers Suitcase, a poster, or a house concert and help bring this project to life! Click here for more info: Storyteller's Suitcase Fundraiser.
Are you starting to make summer VACATION plans? I've got an idea for you in JUNE. Join me, Abbie Gardner from Red Molly, and Seth Glier for a week long trip to Monhegan Island in Maine! June 2-June 7th. Monhegan Island will provide you with day hikes, a lighthouse, restaurants, vistas and beauty and in the evening we will provide you with lots of music and laughter! It's a bucket list destination. Last year's trip was so fantastic we decided to do it again! More details can be found HERE.
Addional updates on the album coming soon!
Please check your dates for shows near you!
Best to you all—
Ellis