A Day Most Swell: A Musical Benefit for the Susan Frazier Medical Fund
Thursday, June 23, 2011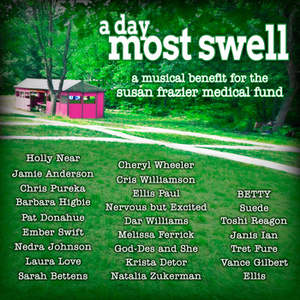 Susan Frazier, national sales manager for Goldenrod Music and a well-known and well-loved veteran of the women's music business/movement, was diagnosed with acute myeloid leukemia in September 2009. Over the past five months, she has undergone five rounds of chemotherapy. This month she is scheduled for a bone-marrow transplant, a procedure made possible because of a donor match through the national bone-marrow registry.
Because of the intensive treatment and recovery period after the surgery—treatment that will involve twice-weekly travel between her home base in Lansing, Mich., and the University hospital in Ann Arbor for a year—Frazier will not be able to maintain the 30-hour-per-week work schedule required by the insurance carrier to qualify for the employee group coverage. An individual private-pay option offered by Blue Cross/Blue Shield will provide major medical coverage for doctor visits, but the policy has an annual prescription cap of $2600 per year.
Frazier's network of friends and beloved music artists are working to raise money to help with medical and living expenses. "It was Elizabeth Ziff of BETTY who suggested we donate a song that could be sold digitally through Goldenrod and donate all the proceeds to the Susan F fund," explained Alyson Palmer. "That gave me the idea for a digital album, available online. It would be Goldenrod artists coming together in the beautiful way women in our music community can do. When I thought of a name for it, I laughed to myself about the way Susan signs all her e-mails, 'have a day most swell'. That will be the name of the album: A Day Most Swell."
Going into her surgery, Frazier's greatest concern was that this article help spread the word about the bone-marrow registry ( www.marrow.org ) : "They especially need minority and mixed-race folks to join, because with bone-marrow stuff, race and ethnicity matter more than blood type, and without this organization, I would not have a match, so I'm liking them a lot these days!" And, of course, she wants everyone to "have a day most swell!"
Click
here
to buy the album, which includes Ellis Paul's "Rose Tattoo" and many other great artists!
read the full article: A Day Most Swell: A Musical Benefit for the Susan Frazier Medical Fund