LEAVES ARE TUMBLING!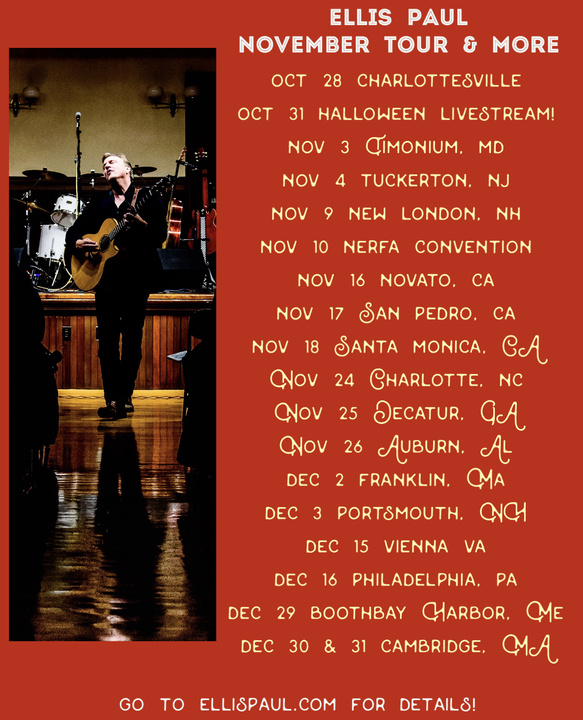 Leaves are Tumbling

This is my favorite time of year. Transitional. Colorful. Glorious.

This morning I drove through the backroads to pick up my daughter for school and two hot air balloons were painting the sky with bright colors above the Blue Ridge. There were patches of fog in the valleys below them. Morning drives are the best, the day hasn't quite made up its mind whether it will bring sun or clouds or mist. So all are at play. I turned on some music and watched the real world roll by for a bit. Sometimes thats enough! Sometimes a simple drive will clear the mind :) Good music and a scenic backroad.

I did a 12-hour drive home from Florida yesterday.

I left the land of the palm trees and alligators and four great Florida shows. I'm taking a bit of time at home this week with a rare show show in Charlottesville this weekend and some deep breathing before some major US touring in the upcoming weeks. I will see New England, MD, NJ, CA, NC, GA— it's like the before times again! Radoslav Lorković will be with me for most of these dates on piano. Some of these places we haven't been to since before Covid. Come out old friends its time hear some music again!

Touring is again becoming the center of the work cycle of my life. I'm doing public venues, private shows, corporate events, schools, parties. And the livestreams when I'm home and settled, which oddly I've come to love the most. Wendesdays and Sundays when I am home! 8pm ET.

Halloween Night! Tune in on Patreon, Youtube and Facebook— a gathering of friends and ghouls and goblins! 8pm ET — Dan Navarro, Dan Bern, Vance Gilbert and more will be joining me!

The new album "55" is continuing to make inroads around the world. I hope you'll listen! https://spotify.link/dbpjpaqY9Db
Please come out to the venues in the cities below if you see I'm near you!
My website has all the venue and ticket details for the shows below at www.ellispaul.com/calendar
See you somewhere around the microphone!
Saturday, October 28, Charlottesville, VA
Friday, November 3, Timonium, MD
Saturday, November 4, Tuckerton, NJ
Thursday, November 9, New London, NH
Friday-Sunday, November 10-12, Asbury Park, NJ (NERFA)
Thursday, November 16, Novato, CA
Friday, November 17, San Pedro, CA
Saturday, November 18, Santa Monica, CA
Friday, November 24, Charlotte, NC
Saturday, November 25, Decatur, GA (2 SHOWS!)
Sunday, November 26, Auburn, AL
Saturday, December 2, Franklin, MA
Sunday, December 3, Portsmouth, NH
Tuesday, December12, Folk Project Livestream
Friday, December 15, Vienna, VA
Saturday, December 16, Philadelphia, PA
Friday, December 29, Boothbay Harbor, ME
Saturday, December 30, Cambridge, MA (2 shows)
Sunday, December 31, Cambridge, MA (2 shows)
Saturday, February 3, Woodbridge, NJ
Friday, February 9, Ann Arbor, MI
Sunday, February 11, Evanston, IL
Hope to see you soon!

Ellis