The UK Mini Tour, 55 Keeps Shining, US Tour Dates and More!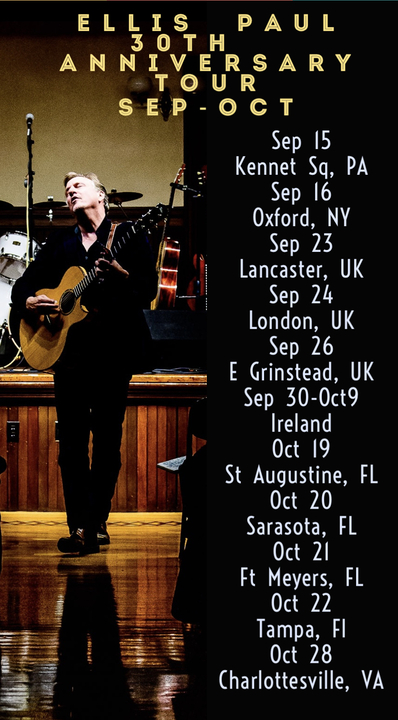 September 2023 Newsletter
The UK Mini Tour, 55 keeps shining, US Tour Dates, and More!
Hello Friends—
I'm just coming off two incredible weeks hosting The New England Songwriters Retreat. When I'm not writing songs myself, I'm out convincing people to do it for themselves. I love to witness minds expanding and spirits coming alive in the setting we have created there. I was palpable. It was Paulpable. Whatever it was— it is worth repeating. So, if you write songs, keep next year open! It will likely be held on Aug 23-27 and Aug 30- Sep 3. We won't officially announce dates until next year. Sign up for the mailing list!
https://www.newenglandsongwritersretreat.com/
Speaking of dates!
I have plenty in the books! Including this weekend in Kennet Square , PA and Oxford, NY, and then I'm off on a mini tour of the UK. Then I host a vacation tour trip to Ireland. I hope you will send word out to friends there! I'm all over the US this Fall, with trips to Florida in Oct and California in Nov, Southeast and Northeast dates are coming up as well. See dates below or click to the website!
https://ellispaul.com/calendar/
Interested in an Ireland trip?
My next guided trip is April 18-27, 2024. Come join me for a guided run around the Emerald Isle with evening concerts by yours truly and a rotating cast of some of Ireland's finest musicians. Click here for more details
https://www.inishfreetours.com/schedule/
The New Album 55
The new album continues to remain at the top of US Folk DJ charts and has been getting great reviews around the globe, some in languages I can't even understand. I'm release a steady stream of videos as well to Youtube— Here's one for "Who You Are" : https://youtu.be/OpKIrqfnbBI?si=PEmK8fPvdmQjdUN2
You can listen to the album on all the streaming places or buy the CDs that are stacked in my garage :) Follow the link to purchase the CD!
https://www.ellispaul.com/product/
Don't forget to visit during the online shows— Love to see you there! Generally I stream on Wednesdays and Sundays when I am home on FB Live, Youtube, Patreon. It's a great way to hear back catalogue songs I don't play live and hear some new people and old friends as well.
If you're wondering how best to support my music? Join Patreon. Simply put, it allows me the freedom to afford touring musicians to ride along on my tours, it allows me to be home for longer creative writing stretches and still pay rent, it allows for slightly better hotels and food along the highway. And you get the music first. Months before the general public. The demos. The special events on line. The albums. The livestream shows and discounts on everything at the store. Join Patreon now! https://www.ellispaul.com/product/
See you down the road!
Ellis
DATES
• 2023
• SEPTEMBER
• Sep 15 Friday
• Kennett Flash102 Sycamore Alley Kennett Square, PA
• Sep 16 Saturday
• 7:30 PM 6 on the Square 6 Lafayette Park Oxford, NY
• Sep 17 Sunday Vermont
• PRIVATE EVENT! Want a Private Ellis Paul show? Contact Craig@blackoakartists.com
• Sep 23 Saturday
• 11:00 AM ELLIS PAUL IN ENGLAND! Pipefest Barker House Farm Lancaster University
• Sep 24. Sunday
• 8:30 PM ELLIS PAUL IN ENGLAND! The Green Note 106 ParkwayLondon
• Sep 26 Tuesday
• ELLIS PAUL IN ENGLAND! The Dorset Arms 58 High StreetEast Grinstead
• Sept. 30 - Oct. 9, 2023
Ellis Paul Vacation Tour of Ireland!
• OCTOBER
• Oct 19 Thursday
• 8:00 PM ELLIS PAUL With Darryl Purpose Cafe Eleven 501 A1A Beach Ave, St. Augustine, FL
• Oct 20 Friday
• 8:00 PMWSLR PRESENTS ELLIS PAUL with Darryl Purpose Fogartyville Community Media & Arts Center 525 Kumquat Avenue Sarasota, FL
• Oct 21 Saturday
• 7:00 PM Americana Community Music Association (ACMA) All Faiths Unitarian Church 2756 McGregor Blvd. Ft. Myers, FL
• Oct 22 Sunday
• Luna Zoot House Concerts Tampa, FL
• Oct 28 Saturday
• 8:00 PM The Front Porch 221 Water Street E Charlottesville, VA
Attachments area
Preview YouTube video Ellis Paul: Who You Are (Official Video)
Ellis Paul: Who You Are (Official Video)