Join us for Ellis Paul's MONHEGAN ISLAND VACATION with VANCE GILBERT and MOLLY VENTER (of Red Molly)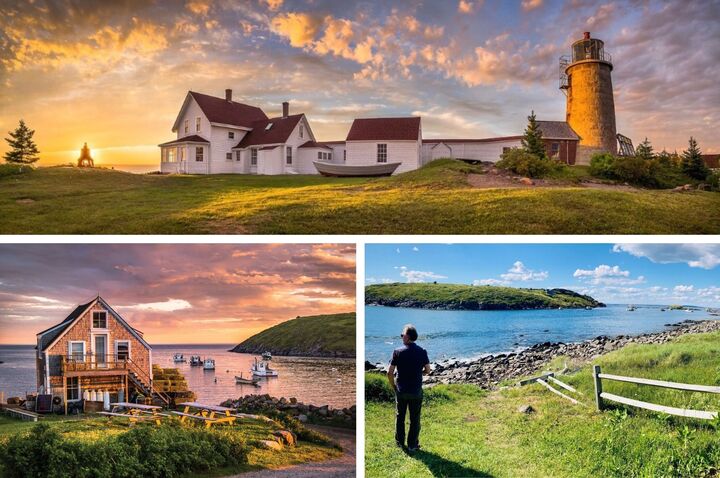 Hello, Everyone!
I'm so excited to announce that I'm returning to beautiful MONHEGAN ISLAND, MAINE this summer, JUNE 12-18.
This is a vacation of a lifetime for about 40 people like you! This year, I'm bringing along two very special guests, VANCE GILBERT and MOLLY VENTER (of Red Molly).
We'll be playing music for you every evening!

We've had such incredible times here over the last few years - stunning scenery, great food & drink, and of course live music every night - all in an environment that invites relaxation, reflection and re-charging of one's batteries.
This trip sells out every year, so buy your tickets now: https://www.rootsontherails.com/upcoming-trips-2022-monhegan-island-me-with-ellis-paul-vance-gilbert-and-molly-venter
Early Bird Specials are still in effect!
There's more information below if you're interested.
I hope you'll join us!
-Ellis
UPCOMING SHOWS:


Friday, March 25th, 2022 8:00 PM
TRAVELING MEDICINE SHOW WITH SPECIAL GUEST MARK ERELLI!
Ellis' weekly livestream show on Facebook
http://www.facebook.com/ellispaulmusic
Friday, April 1st, 2022 7:30 PM
Uptown Concerts
The Cellar Stage at Timonium U.M. Church
2300 Pot Spring Road Timonium, MD 21093
https://www.uptownconcerts.com
Saturday, April 2nd, 2022 8:00 PM
Hopewell Theater
5 South Greenwood Ave.Hopewell, NJ 08525
http://www.hopewelltheater.com
Friday, April 8th, 2022 8:00 PM
Red Dragon Listening Room
2401 Florida St.Baton Rouge, LA 70802
http://www.facebook.com/reddragonlisteningroom
Sunday, April 10th, 2022 2:00 PM
Bartlett Performing Arts & Conference Center
3663 Appling RoadBartlett, TN 38133
https://www.bpacc.org
Friday, April 15th, 2022 8:00 PM
TRAVELING MEDICINE SHOW WITH SPECIAL GUEST LYNN MILES!
Ellis' weekly livestream show on Facebook


***********************************************************************************
ELLIS IS BACK ON THE ROAD! ALL DETAILS AND MORE SHOWS AT:
https://www.ellispaul.com/calendar/
***********************************************************************************

MORE ABOUT MONHEGAN ISLAND:
Ten miles off the formidable rocky coastline of Maine, Monhegan Island, with a year-round population of 65 hardy souls, has long been welcoming painters, hikers, birders, sea kayakers, and others in search of an unplugged, scaled-back escape. Accessible only by boat (we take the mail ferry over!), Monhegan boasts no paved roads, limited cell signal, and a commitment to careful stewardship of its natural resources and way of life. We made our inaugural trip out there in 2018 and the island sunk its hooks into us deep!

By day, we'll explore the rocky and uninhabited islands of Musgongus Bay, visit with local lobstering crews, connect with the artists who have claimed Monhegan as their muse and hike the miles of spectacular trails along the pristine coastline. In the evenings we'll gather for intimate, entirely acoustic, concerts - a unique opportunity to hear the music of world-class artists in its most elemental form.

This event is not a songwriting instructional class (all are welcome whether you can sing/play a note or not), though all three artists certainly touch upon the art of songwriting in their informal workshops, so you'll have plenty of opportunities to gain insight into their creative process. No, this is a trip of relaxation and reprieve, a chance to journey to a very special place with extraordinary friends; a trip to give one strength during trying times.