Spotlight with Lauren Daley: Ellis Paul painting pictures with words
Thursday, February 23, 2017
by Lauren Daley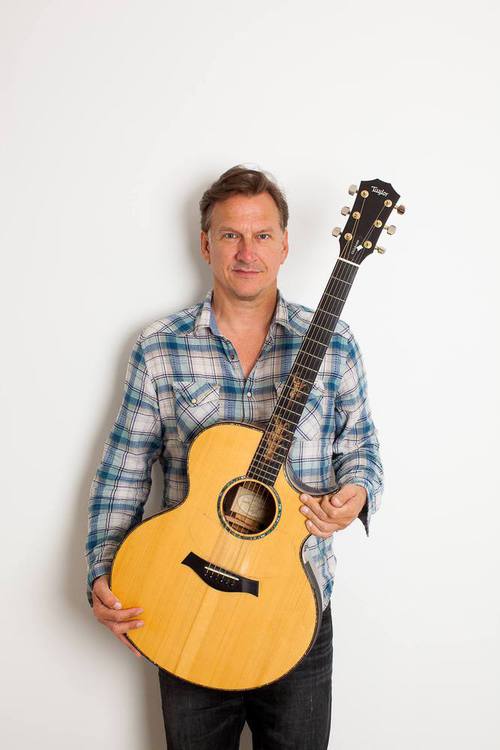 So, two awesome things are happening March 3.

One, it's my birthday...;! (Gifts can be sent to my P.O. box. Cash is fine, too.)

And two, folk singer/songwriter Ellis Paul rocks SouthCoast with a show at the Narrows Center for the Arts in Fall River.

It's a happy birthday show for me, as Paul has always struck me an interesting cat — plus he's a fellow Woody Guthrie fan.

Like fellow Boston-educated, English major, folk singers Chris Smither and Tom Rush, Paul's songs often wander into thoughtful story-poems, or philosophical musings.

For instance, Paul's "Did Galileo Pray?" sounds like a Smither tune:

"Tell Ptolemy, tell Copernicus/ That the Sun is at the core of us/ The Church, the Pope/ Can't deny the Milky Way."

"Hurricane Angel," meanwhile, sounds like a song Guthrie himself would've written about Hurricane Katrina:

"So I sat on my roof In Lake Pontchartrain/ Singing woe to my chimney/ Singing woe to the rain/ A stranger came by I never caught his name/ He said he's rowing to the Rio Grande."

In 1996, Paul was part of a 10-day celebration of Guthrie's work held at the Rock and Roll Hall of Fame, along with Bruce Springsteen, Billy Bragg, the Indigo Girls, Ani DiFranco and Woody's daughter Nora Guthrie.

He's played nearly every Woody Guthrie Folk Festival in Guthrie's hometown of Okemah, Oklahoma, since 1998.

And Nora Guthrie — as she's wont to do with folk singers who strike her — invited Paul to put music to a set of her father's lyrics.

"I've done a lot with Woody because he writes about things that are important, not just love songs. He's trying to educate people and write about what's broken and how to fix it," Paul told me in a phone interview from his Virginia home.

Born in 1965 in Fort Kent, Maine, Paul was one of five kids growing up on the family potato farm.

"My grandparents were potato farmers, but my dad was a potato specialist — he graduated out of farming into science; he did research on potatoes. My mom was a dietician," he said.

"Growing up, I was into music in more of a school sense — jazz band trumpet, chorus," he said.

A cross country and track stand-out, Paul attended Boston College on a track scholarship. When he was sidelined by injury at age 21, he turned to the guitar with the same passion he once used on the BC track — that is, with full devotion.

For instance, when he became enamored with Woody Guthrie, he got a Guthrie tattoo on his shoulder.

His first song was "Farm Boy," which "wasn't very good," he said with a laugh.

"I've since written 500 songs, so I know how to write an Ellis Paul song," he said. "I don't know that I'm any better now than I was at 35 [except I have] more life experiences to draw from."

After graduating in 1987, Paul started the working the Boston coffeehouse circuit.

I asked Paul what drew him to wanting to make a career out of singing and songwriting.

"It was a combination of things. Your love of writing brought you into this job you're doing right now," he told me. "For me, part of it is singing, but part is the tactical thing — the thing that attract potters to pottery; their fingers going through this feeling, and motion on the potters wheel. And the fact that you're creating words that make pictures."

Love that.

I asked him if he's ever inspired to write protest songs, in the vein of Guthrie.

"Not necessarily protest songs, but life songs, things that are happening — I love those kind of songs...; Right now, I have song about a vet in Oklahoma who can't get work. I don't explain why he can't, but people come back from war, and can't get work for [various reasons]...; I don't want to force a protest song.

"I think now people are writing out of fear, and they should be fearful. You see these walls being built, not along the border, but mental walls...;You hear about a pipeline breaking, or someone held at the border, those are going to be the songs that come out. They won't get radio play, because radios are controlled by corporations, but they'll get played on non-commercial radio, and on YouTube and Spotify."

At his concerts, however, "I want to hear the sound of laughter. I'll tell stories, I jump from piano to guitar. I want to entertain."
read the full article: Spotlight with Lauren Daley: Ellis Paul painting pictures with words