Mayor Menino declares today "Ellis Paul Day" in the City of Boston!
Friday, July 9, 2010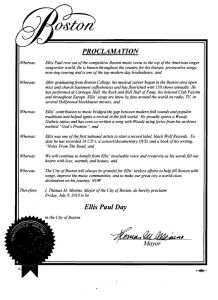 PROCLAMATION


Whereas: Ellis Paul rose out of the competitive Boston music scene to the top of the American singer songwriter world. He is known throughout the country for his literate, provocative songs, non-stop touring and is one of the top modern day troubadours.;

Whereas: After graduating from Boston College, his musical career began in the Boston area open mics and church basement coffeehouses and has flourished with 150 shows annually. He has performed at Carnegie Hall, the Rock And Roll Hall of Fame, his beloved Club Passim and throughout Europe. Ellis' songs are know by fans around the world on radio, TV, in several Hollywood blockbuster movies;

Whereas: Ellis' contribution to music bridged the gap between modern folk sounds and populist traditions and helped ignite a revival in the folk world. He proudly sports a Woody Guthrie tattoo and has even co-written a song with Woody using lyrics from his archives entitled "God's Promise";

Whereas: Ellis was one of the first national artists to start a record label, Black Wolf Records. To date he has recorded 16 CD's, a concert/documentary DVD, and a book of his writing, "Notes From The Road";

Whereas: We will continue to benefit from Ellis' invaluable voice and creativity as his words fill our hearts with love, warmth, and beauty;

Whereas: The City of Boston will always be grateful for Ellis' tireless efforts to help fill Boston with song, improve the music community, and to make our great city a world-class destination on his journey; NOW

Therefore, I, Thomas M Menino, Mayor ofthe City ofBoston, do hereby proclaim Friday, July 9, 2010 to be


ELLIS PAUL DAY


in the city of Boston.


Mayor Thomas M. Menino