Maine's Ellis Paul enthralls
Performance Review
Monday, May 16, 2005
by Aimsel L. Ponti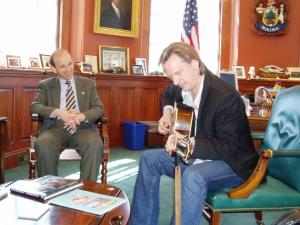 This was one Friday the 13th that was extremely lucky for everyone in attendance at the Ellis Paul show. The show was a sellout and standing room only for Paul who was charming, sincere and downright breathtaking.

His voice was simultaneously potent and soothing and the effect was captivating. Paul is one of the most distinguished songwriters in folk circles nationwide and his show enthralled us and ensconced us in the poetry of his words melded with his guitar and distinguished voice.

Paul released his latest record "American Jukebox Fables" (Rounder) last month and it continues to rack up favorable reviews. He performed many of the tracks from it during his two-hour, 18-song concert.

Dressed in jeans, a button-down shirt and black suit jacket, Paul took the stage moments after another very talented singer-songwriter, Jason Spooner from Portland, finished his set. Paul began with "Take All the Sky You Need," and I was not the only one in the room with watery eyes. There's just something about hearing him live and seeing how expressive he is that really pulls you in. With an easy smile and a commanding stage presence Paul, from Fort Kent, owned the room and the audience loved every moment of it.

This was no ordinary crowd, though. In attendance were many of his friends and family, including his parents, Ed and Marilyn Plissey of Machiasport.

Of his son's career Dad said: "It's wonderful and there's a tremendous audience of all ages all around the country."

They both spoke of their son's beginning, playing the open mic scene in Boston while attending Boston College. The day finally came when Ellis said, "Mom, I'm not gonna be a doctor."

Also in the audience were Jim and Kathryn Loughrey. He is a member of the reserves and spent 14 months Iraq. He said that while over there he started corresponding with Paul's manager and then Paul himself. The two became pen pals and friends and Paul was so moved he wrote a song about it, which he sang at this show.

"Kiss the Sun" ( A Song for Pat Tillman) is dedicated to Loughrey, as well as Tillman, the pro football player who was killed in a firefight while serving in Afghanistan just over a year ago. The song was one of the best of the night and Loughrey and Paul received ample applause.

"When I was nineteen I joined up with the reserves and I fought on weekends, paid my college tuition. But out in the killing fields, you come to question all you learn," sang Paul.

There were so many other songs, too, that struck a chord. On a few occasions, he came down off the stage and performed from the front of the audience, bridging the gap further between performer and fan. From the new song "Black Top Train" to the encore Woody Guthrie tune "Way Over Yonder in the Minor Key," all of Paul's songs were emotive tapestries.

Paul's performance was really so good that I can't wait until he comes back to this area. I'm not alone, judging by the explosive standing ovation.

Aimsel L. Ponti is a free-lance writer who lives in Portland.
read the full article: Maine's Ellis Paul enthralls