Ellis' Show with Kristian Bush Featured on Sugarland's Website
Thursday, December 1, 2011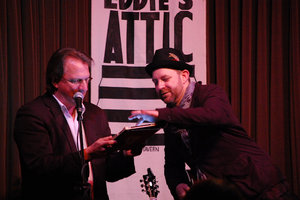 Last night, Kristian played his annual Thanksgiving solo show at Eddie's Attic in Decatur, a longstanding tradition performed this year alongside singer-songwriter Ellis Paul. The pair traded songs -- many of which they'd written together -- and told stories of their twenty-year friendship over two shows and close to four hours of music, as the other half of the Bush Brothers, Brandon, contributed accompaniment on piano and accordion.
It was a wonderful night to be a part of, no matter which side of the stage you were on, full of unreleased material and the secret unedited versions of songs like "Genevieve." There were remixes of old favorites (the great "Insomniac"/"Incredible Machine" mashup from last year returned) and appearances from rarities like "Wilbur the Rat," a ridiculous song that KB claims to have been requesting at Ellis Paul shows, unheeded, for as long as two decades now.
Things kicked off with a broken string on Kristian's guitar during "City of Silver Dreams," and some friendly teasing from Ellis about how long it would take him to change it ("This is my first show without a guitar tech in a while," admitted KB). The tables would soon turn: Ellis decided to read a Christmas poem from his website and revealed a hilarious inability to use an iPad; he also had to borrow reading glasses from the audience. Amidst the comedy and banter were quieter moments, thanks to the phenomenal listening-room culture of Eddie's: Everyone sang along to "What I'd Give," "Little Miss," and Billy Pilgrim classics like "Halfway Home," but it was with beautifully whispered reverence that never overshadowed the performers on stage. "This holiday [Thanksgiving] can be sad or happy," said Kristian at the night's conclusion, "but it is a time to give thanks" -- especially for the opportunity to make music for people like you.
Sugarland's website
may have audio from the show available at some point next week, so we'll keep you posted...
And for a little insight into the writing and re-writing relationship between these talented old friends, check out
this Week in Review video
from back in July. The song from that clip was performed last night, now called "I'll Never Run Out of Ways."
You can catch the article, pics, and the set list from that night
here.