Ellis Paul's Song Factory: Birth of a Song
Creative Tools and Insight for Inspired Songwriting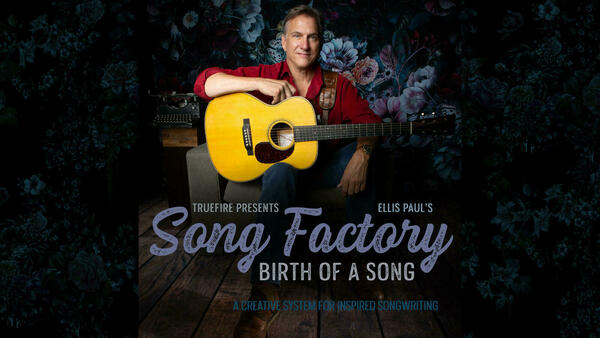 It might be their very first, or their thousandth, but anyone can write a great song. The craft of songwriting, like any other craft, can be learned, developed and mastered by anyone with a desire to do so. Everyone has that 'great song' within them. But how do you start? Where does the song come from? How do you assemble the verse, chorus, and bridge to create a roadmap for the song? How do you bring your 'great song' to life?
Birth of a Song, the first volume of Ellis Paul's Song Factory series, steps you through the creative process for generating ideas for a song, assembling the parts of a song, and getting the song to that all-important first draft.
"Songs can be life-changing experiences for those who hear them. Songs have stopped wars, started wars, moved cultural mountains, helped to make life, they've started marriages, ended marriages! They are incredible movers of earth and sky. But songwriting is NOT rocket science. It starts with honesty. Three chords and the truth. That's all Bob Dylan needed for Blowing in the Wind."
Ellis Paul has written over a thousand songs, recorded 20 albums, had songs in blockbuster Hollywood movies and TV shows, and has co-written with major artists including Sugarland, Kristian Bush, Lindsey Ell, and Jack Ingram. He's written kid's music, holiday music, and music used in commercials, but the majority of his work as a songwriter is his impressive catalog of original songs that he's been writing, performing and recording since 1987. He's won 15 Boston Music Awards, was given an Honorary Ph.D. by the University of Maine, and an Alumni Arts Award by Boston College.
Ellis is also a passionate educator and has mentored hundreds of songwriters over the years through his workshops, master classes, and retreats. His teaching materials and toolkits on Performance, Song Creation, and Song Editing are referenced daily in the writing rooms of thousands of accomplished songwriters all over the globe. We're thrilled to welcome Ellis to the family with his first TrueFire course, Birth of a Song — the first volume in this extraordinary Song Factory learning adventure.
Ellis organized the course into four sections. In the first section, he shares best practices for setting up your workspace, toolbox, and mindset: Getting Started: Setting Yourself Up For Magic, Powder Kegs & Whispers: The Power of Song, The Snow Globe: Creating a Dimensional World, Your Writing Space: Home is Where the Heart is, and The Toolbox: Every Carpenter Needs a Saw, Get Out of Your Way: Songs Coming Through!
The second section is focused on The Nuts and Bolts of a Song: The Verse: The Who, What, & Where, The Pre-chorus: Creating Tension, The Chorus: An Emotional Lift, The Bridge: A Fresh Perspective, The Intro: Drumroll Please, The Outro: Ladies and Gents, Goodnight!, Song Form: Putting Them All Together, Titles, Hooks & Concepts: Let's Go Fishing, and The Song Puzzle Pieces
Ellis' inspirational Song Generator toolkit is presented in the third section with a series of application lessons: Write What You Know: Love the Subject, Use Books, Art, & Movies: Art Makes Art, Instrument: The Guitar Wrote the Son, People: Everybody's Got a Story, Random Prompts: Songs are Everywhere, You: You are the Wellspring, and Writing Your First Draft
In the fourth and final section, Ellis illustrates all of the key concepts and creative processes from the previous sections by taking you through, and then performing 3 of his own songs, from conception to the stage: Straight to the Moon, Innocence & The Afterlife, and The Battle of Charlottesville. This section includes full performances of each song.
Novice songwriters and seasoned pros alike will be empowered and inspired by the innovative tools and creative processes revealed by Ellis in Birth of a Song.
"A great song can take a listener into a three-dimensional world. Imagine as a writer you are creating with lyrics and music, a world inside of glass, like a snow globe. The listener peers inside and sees your world, and the more their imagination is engaged, the more they are moved. They can even be moved to the point where it seems suddenly like it's their life inside the glass instead of the writer's, and it's their story, their world — their song."