A New Song! And Quick Note from Ellis Paul!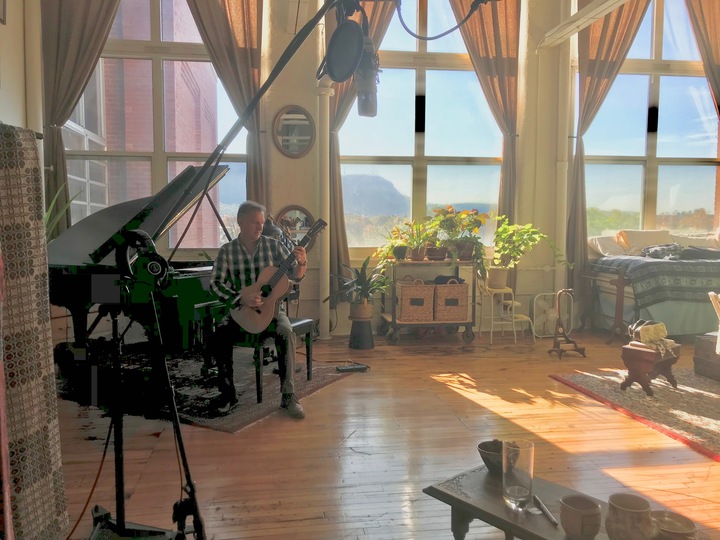 I'm in beautiful Easthampton, MA today, I have been recording vocal and instrumental tracks at my dear friend Seth Glier's — you've gotta see this place! Gorgeous!
To celebrate the closing days of this new album project, I've decided to share a downloadable track of one of the songs. I've been doing this song occasionally in concert— it's called "Scarecrow in a Cornmaze". It's about a soldier with PTSD and the story takes place in Oklahoma. The photo I'm including shows the beautiful setting where the piano and vocals were recorded. Please listen to the song at the link below and let me know what you think!
The album has only some vocals left to be recorded and then it will be mixed! After that begins the long haul of manufacturing, press, promotion, radio, and videos. It takes a team, and I will have to hire one….but knowing the songs are worthy of everyone's commitment is the most important step. I hope you like the finished product. More to come!
This photo shows how I have been tracking progress of the songs!
Please consider pre-ordering the album or contributing to the project at https://www.ellispaul.com/fundraiser/
I'm doing some fantastic shows in VT, Northampton MA, Natick MA and Piermont, NY coming up— come hear these new songs in person.
Also…..I'm still trying to make room for new merch! Many of you purchased Chasing Beauty t-shirts last month….so thank you! The men's sizes are all gone but one. Still have a few in ladies sizes. These are still available for only $8 in my website store. Here's what remains:
Men: Sm-1
Ladies: Sm-4; Med-3; L-15; XL-3; 2XL-3
This month I'm offering the few remaining Dragonfly Races t-shirts in YOUTH sizes for only $5! Any kids in your life who might want one of these? Not many left! Here's what remains:
Boys (blue): L-2
Girls (pink): Sm-5; Med-8
When they're gone, they're gone! Get 'em here: Ellis Paul Website Store
Thanks for all the support over the years, it's been rejuvenating as I begin this new journey.
Best to you! Ellis