Patreon Anniversary Special Offer!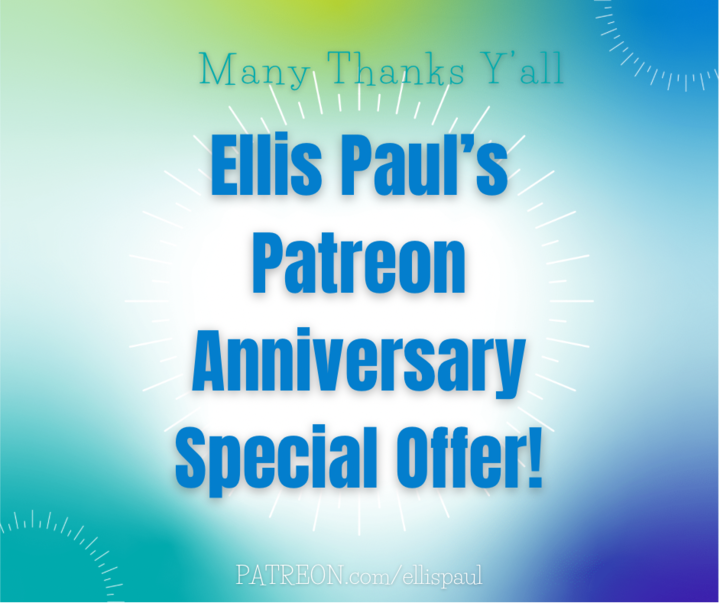 Hi Gang--
Happy Anniversary!
I can't believe I'm beginning the 3rd year of my wild adventure on Patreon! Thank you to all you who have joined in. In our first two years we have posted over 55 song releases, 157 live stream events, and 55 videos. Plus, we've had special gatherings, one on one sessions, and special discounts on merchandise and more.
For those of you who don't know, Patreon is a subscription channel for my creative work. It's like a one man Netflix. It's also my record label, my publishing house, my art gallery, my television station. My sounding board. This gathering of people virtually meets online for special events and folk festival style listening parties. And they gather in person at shows while I am on the road in person!
These shows are archived Patreon; come and listen to last year's Halloween Show with all the special guests, Beatles Night, and evenings where I am playing my albums like Stories live in their entirety. Giving backstories to the songs, and sharing demos of songs as they were written.
As time goes on, more and more of my creative life will be only focused here, so I hope you will join in! If you're a fan of my songs and music, my livestream content, my teaching and all— this is place to be.
Special Offer: March 1 to March 14
To celebrate this anniversary, beginning on March 1st, I'm offering a rough mix preview of a song (Holy, The Ballad of Declan McLaren) from the new the new album 55, AND a never released RARITY recording of a LIVE SHOW at the Somerville Theater in Medford, MA from back in 2000 for Patreon supporters at the $5 level and up!! I remember that night, it was a sold out show with a thousand people. I performing with my friends Don Conoscenti and Christopher Williams as a back up band! That's a lot of memories and a lot music! Check out the set list of this show below!
Current supporters who UPGRADE to $5/month or higher between March 1 and March 14 will also receive the Special Offer Show as well!
Here is the setlist of the 18 tracks performed that night!
Conversation with a Ghost
Look at the Wind Blow
3000 Miles
Maria's Beautiful Mess
Hard Travelin'
Never Lived at All
Martyr's Lounge
Words
The World Ain't Slowing Down
Angel in Manhattan
Did Galileo Pray
All Things Being the Same
Paris in a Day
Comes A Time
Drink Another Round
Last Call
When We Begin
Ain't No Sunshine
Please consider joining my Patreon community between March 1 and March 14 to receive this Special Offer-- just follow the link and choose a tier: www.patreon.com/ellispaul
Thanks for supporting my creative work--
See you at the next show!
Ellis