The Traveling Medicine Show Festival is Happening on Sunday!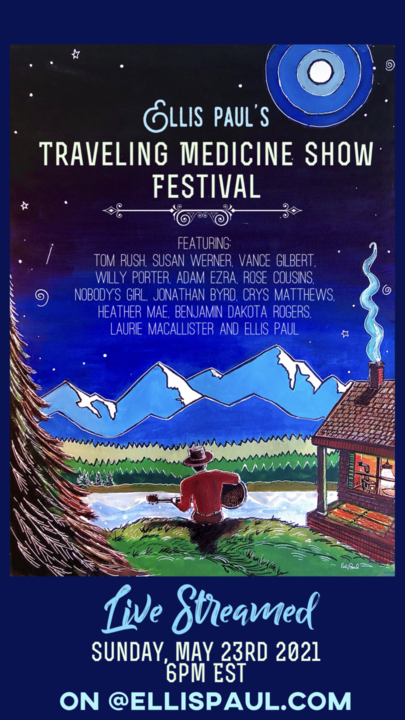 Please watch this 2-minute VIDEO from Ellis Paul!
The 1st Annual Traveling Medicine Show Festival will be featuring these performers:
Tom Rush
Susan Werner
Vance Gilbert
Adam Ezra Group
Willy Porter
Rose Cousins
Jonathan Byrd
Nobody's Girl
Heather Mae
Crys Matthews
Benjamin Dakota Rogers
Laurie MacAllister
Ellis Paul
TICKETS ARE ON SALE NOW starting at $25 at the link below. Patreon supporters, please check your e-mail for an e-mail sent to you yesterday with discount codes for the festival! (Or check your Patreon message inbox.) If you can't be there on May 23, no worries! Depending on the ticket that you purchase, you will have access to an archive of the livestreamed show for either 30 days or 90 days.
Also check out several festival items that can be purchased in addition to tickets: poster, sticker, medicine bottle USB. All the details at this link:
https://www.tribalmischief.com/traveling-medicine-show-festival