On the horizon....
Post-Election Thoughts...
Aaaah. The election is over, or almost over, or likely over. Hopefully.

We all are waiting for the dust to settle. But, we were in a dust storm. Like an Oklahoma depression era tsunami hurricane dust storm.

It's gonna be a long wait, and then a long, long clean up. Everybody grab a broom! We are in it together.

My wish for all of you is a stabilizing, re-energized 2021. The hopefulness of vaccines will be the first steps in music rising from venues, restaurants, churches, and theaters. Imagine! A night out. To be moved, entertained, revitalized.

I long for that long drive through the Midwest. Through the zen beauty of windmill farms, and silos breaking an endless horizon. Of a Chicago skyline rising with its stunning towers above the wheat fields. Open road. Open mind. Open doors.

Next year, I'll be hosting special events, trips and retreats. There will be a week long vacation to Monhegan Island in Maine. A trip to Ireland in the fall. And the New England Songwriters Retreat over Labor Day weekend. Hopefulness.

And miles of highway rolling beneath my wheels. I can't wait to see people's faces in person.

In the meantime! It's live-stream shows— private shows, corporate shows, school shows and mentoring sessions from home. Six months more of this kind of steady flow and then a combination of both road work and home work for the future. I'm loving these live-stream experiences. It's been incredible to meet people from around the globe. Thanks for the support and the exchange.

Write me if you'd like to hire me for a session, a private show event for your loved ones, your company, your school. Ellispaul7@gmail.com

On the Horizon

Tonight! The Traveling Medicine Show on Facebook Live celebrates the release of the new album: Traveling Medicine Show, Vol. 1. The album has covers of popular songs— "Over the Rainbow". "Angel from Montgomery" "Cats in the Cradle" and more....plus one new original song! Tonight's live-stream starts at 8pm ET.. This is an album for PATREON members only so if you're not already a member of Patreon, you can sign up for as little as $1/month at this link: https://www.patreon.com/ellispaul
Tonight's special guest is Wisconsin artist Josh Harty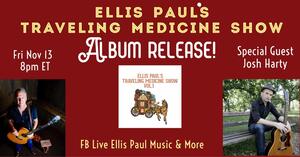 Next week brings special guest Amy Speace.
November Website Sale
Visit my website all this month for 25% off all purchases in the store including all CDs, books, posters, and more!
You will find some perfect holiday gifts for the Ellis Paul music fans in your life....
...including my Chord City wall art poster seen here: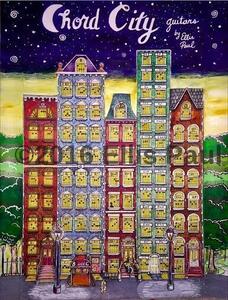 ...or hand-written lyrics with my original artwork like this:
This is the perfect time of year to purchase my Christmas book The Night the Lights Went Out on Christmas. Included with each book is a copy of my Christmas CD City of Silver Dreams.
To receive the 25% discount, simply visit my website store at https://ellispaul.com/product/intro/ and add the discount code NOVEMBER when you check out.

I'm planning a special gift box for the New Years Eve shows. You will be able to celebrate with me by having a little travel suitcase with all things New Years Eve in it! I'll be providing more details very soon, so stay tuned.

I hope you all are as hopeful about the vaccine news as I am.

Stay safe and diligent out there!
Ellis