Ellis Paul's Traveling Medicine Show: Vol. 1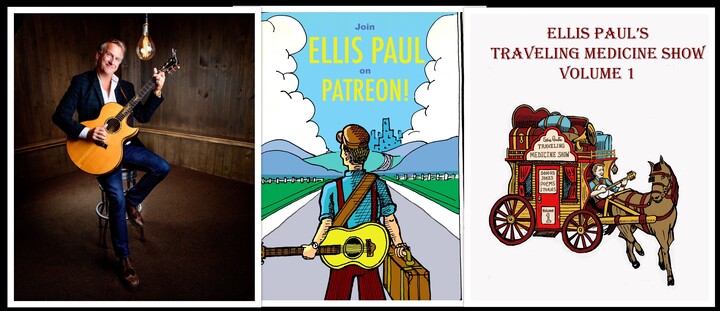 Hey Everyone—
I've finally finished my new album Ellis Paul's Traveling Medicine Show: Vol. 1! It's an album of classic songs made famous by other artists - including John Prine, Harry Chapin, and Judy Garland - reimagined by me! The album is now available as a download for subscribers to Patreon at the $1/month level and up. Subscribers at the $10/month level and up will be receiving the physical CD in a few weeks. THIS ALBUM IS ONLY AVAILABLE TO PATREON SUBSCRIBERS.
This album was a labor of love, recorded in my home studio, with the majority of the instruments played by me as well. Some of my favorite songs that have been performed on my Friday night Traveling Medicine Show live stream are included like "Angel from Montgomery", "Vincent", "Cat's in the Cradle" and more. (See the track list below on the artwork).
The album dedicated to John Prine, who died from complications of COVID-19.
Here is a FREE download of one of the songs! I'm not revealing which song it is...just click on the link below to find out and listen! I think you will be surprised!
To get a download of the entire album, please consider subscribing to Patreon if you haven't already. At $1/month, it's less than the cost of a CD. ALL of my creative projects are archived there including live stream shows, classes on songwriting and guitar, artwork, demos of new songs, new song videos, audio gems from the wayback machine, and more! It easy and the most affordable to access my music and art. You can get more information and subscribe at this link:
https://www.patreon.com/ellispaul
Lots of online shows coming up....especially this coming Sunday!
Friday, Sept 25, 8pm ET is my weekly Traveling Medicine Show with Special Guest Mark Erelli. This week's theme "A Journey to Liverpool" It's Beatles Night! To listen live just click here:
https://www.facebook.com/ellispaulmusic/
Sunday, Sept 27, 1pm ET is my weekly Patreon All-Request Show. The 1pm ET show is especially for UK and European fans. Join Patreon to enjoy the show! https://www.patreon.com/ellispaul
Sunday, Sept 27, 5-9pm ET is TrueFire's Singers and Songwriter Festival. The festival line-up includes Andy McKee, Blair Dunlap,, myself, and more! (See complete line-up in attached photo.)
Just click on this link: https://bit.ly/2RbxfS7
And plug in this code to attend for free: SSVIPFREE
Sunday, Sept 27, 8pm ET Live from a venue! I will be performing at Front Porch Music in Charlottesville, VA for a show to benefit WVTF in Virginia. https://www.facebook.com/ellispaulmusic/
In a world gone mad, these shows are giving me purpose and meaning. I hope you'll join in for one or all of them.
Stay safe out there— Come say hi this weekend!
Ellis