Apr 20 2017: Concert Window, Alaska, Retreat!
Thursday, April 20, 2017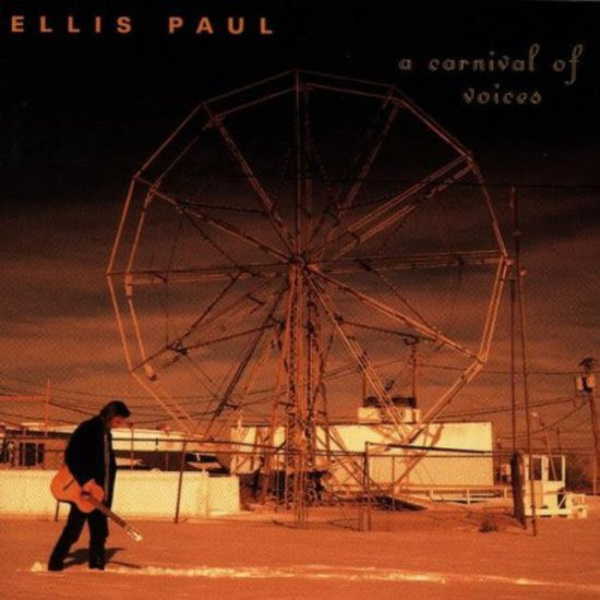 Hi everyone--

Tonight I am returning to Concert Window to do another Tiny Living Room concert from my home overlooking the Blue Ridge Mountains in Charlottesville, VA. I will be performing "A Carnival of Voices" song by song, and broadcasting it out to the Internet at 7pm EST... it was released in 1996! I love the commute to this show! This is the third installment of albums on Concert Window to commemorate my 25th Anniversary--- Translucent Soul will be happening in May.

Click here to come tonight!

"A Carnival of Voices" was my first album on Rounder/Philo Records. I recorded it under the production of Jerry Marrotta, who is one of the world's best known drummers with stints in Hall & Oates, Peter Gabriel, the Indigo Girls, and countless recordings. His playing can be heard everyday on the radio. He produced two of my albums over the years and watching him work was like seeing a circus act, and a mad scientist in the same breath.

We recorded in Concord, MA and Woodstock, NY, both places came with their own special set of historical importance and vibe. So many great musicians stumbled through our doors, including Tony Levin on bass-- one of the best in the world. Imagine having Peter Gabriel's rhythm section playing on your album. It was mind boggling. I've always thought that surrounding myself with better musicians than I am was how to make a great record. On this record we hit the ceiling. Jennifer Kimball, Stuart Ferguson and Patty Griffin came in to sing background vocals, Bill Dillon and Duke Levine helmed the guitars.

The album stands out from all of my other records lyrically-- I had a batch of songs I was going to record in December and through them all out, and wrote much of the record before entering the studio in December. Which was crazy. I remember Dar Williams had just come out with "Honesty Room" and her writing really impacted my perception of what Could be written about and how deep the intention of the song could go. So I poured myself into the lyric pages of my journal and emerged two months later with these long ponderous poems for Jerry to turn into musical pieces.

The average song on the album is well over four minutes long. And because of the lyrics driving the album not melody and chord changes much of the music had to be applied with production. He did a remarkable job of making "Paris in a Day" come to life-- Patty singing background gives it air and life and the whole piece with accordion and layered guitars really transports me to the day when I actually made that trip, step by step in Paris. It will forever be a postcard from that moment in my life. Ralph, my manager and his wife Coeli and my new wife and I were on a shared honeymoon adventure that was remarkable. Everything from the moment with the Mona Lisa to the spitting fountain actually happened.

A few of the songs from the album are about people I know and love-- Cathy in New York City in "Midnight Strikes too Soon" ; "She smiled like a cat would to a pigeon on the roof/ She says 'I look into Windows for universal truth'/ and we drank in the moment like whiskey hundred proof/'but if Orion fell,' she said, 'I'd tell you' and my friend Carol in "Weightless" 'But Faith has no weight,' she says, 'Now--Doubt-- now there's the burden... You're completely right to think you're grounded. Do you hear me?'

Sometimes I read these things and ask myself if I'm writing like this now-- and I'd say, yes, occasionally. My songs are more melodic and guitar driven these days, with simpler spare conversational lyrics. But I'm very proud of the kid that wrote these songs, even over 20 years later. He needed better song editing skills, but the poetry is pretty damn good! Way to go twenty something Ellis Paul!

The nice thing about looking back is the objectivity, and I can trace the choices on the path that brought me to today, 5,000 shows later from when I started. One thing we all see in hindsight is how lucky we were, we are. I wish I could've been someone who would've been more present back then, but my eyes and ears and thoughts were always looking forward. I'm certainly enjoying looking back and soaking it in!

Come join me tonight for more stories, more quotes, more songs!

Lots of dates including the Northwest and New England coming up!


Before I go, a few more things:

The Alaska Cruise and Alice's Champagne Palace Show!

Come join me and Radoslav Lorković for a Cruise to Alaska! With a show at Alice's Champagne Palace! May 25-June 1st, 2018! Next year we are taking a Cruise from Vancouver to Seward, Alaska and then we are stepping stage for a show in Homer at Alice's Champagne Palace. If you make a deposit this month, you guarantee onboard savings over up to $400!
Please contact Don Davidoff for more info.

The New England Songwriters Retreat!
I will be hosting and teaching this retreat from Aug 31- Sept 4, 2017 at the Guest House Retreat Center in Chester, CT. I've brought in Dan Bern, Vance Gilbert, Laurie MacAllister, Abbie Gardner, Ralph Jaccodine, George Wurzbach and Brittany Bethune to lead workshops and discussions. If you want to dive into your art, no matter whether you're a beginner or have been on the road for forty years and need a recharge, come join us for four days and nights of songs, shows, and Classes.
If you'd like to discuss your music, have your songs heard and edited, need business advice and guidance, or just want to tap into your creative self with a mentor-- I do one on one sessions via skype and in person!

I am also available with open dates for private shows, school shows, and events. More info can be found here.

Best to you all!
Ellis