Mar 4 2016: Oklahoma, Cape Cod Songwriting Retreat, and my next fan cruise!
Friday, March 4, 2016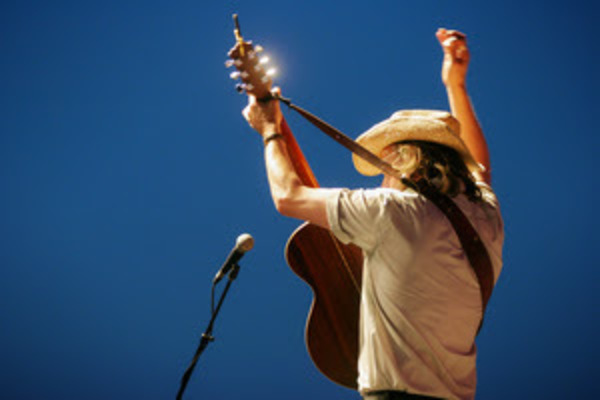 Hey Everyone!
I'm in the land of Woody Guthrie. I'm on an Oklahoma highway being driven to a school to play for kids this morning before I hit a radio interview and an evening performance up in Perkins.
I like it out here. Oklahoma has become a second home over time, mainly because of my interest in Woody's songs and being of like mind enough for people to like my songs as well. There's a conservative streak out here, but there's also a liberal cast of characters that just voted Bernie Sanders as their Democratic nominee. People live simply and have always been gracious to me.
Tomorrow I am performing at a
fundraiser for the Woody Guthrie Folk Festival
in Okemah, Woody's birthplace, and every folk singers' second home. I will walk by what remains of his old place and down the Main Street into the Crystal Theatre to play my show. That's the same theater that Woody watched movies in when he was a kid! I'm literally following in his footsteps. I wonder if
Gone with the Wind
is playing. I'll be back in Oklahoma on May 1st performing a kids show and an adult show as a part of the
Woody Guthrie Center's Third Anniversary Celebration!
Lots of upcoming shows! In Maine and the northeast, and some bigger events to talk about...
This summer I am having my
first annual songwriters camp/retreat
in Craigville, MA at the Craigville Retreat Center August 11-14. It's a short walk to the ocean and a beautiful setting. There will be a concert, an open mic, workshops on writing and editing and co-writing and performance and business! Special guest teachers will be Vance Gilbert and manager Ralph Jaccodine. If you want to dive into your art, explore different ways to think about your writing and music, and dance with the muse for a weekend, come join us! Lodging and food will be part of the weekend as well, though some commuter spots are open! You will emerge as a more inspired songwriter and you may even leave with a new song in hand!
Click here for more info!
I am also hosting a group cruise to the Cayman Islands next year from
February 20-25
! Rad and I recently did a cruise within a cruise for fifty people to Cozumel, and it was like a working vacation for us! We walked in Mayan ruins and explored the beaches and did shows and workshops on the ship as well. The food was extraordinary. It was a complete blast, so we are adding a new voyage. We will be doing shows and workshops, plus you will have access to the activities and shows on the boat.
Meanwhile, I am in the dust bowl! Looking for an elementary school!
Hope to see you on the road soon!

Best--
Ellis